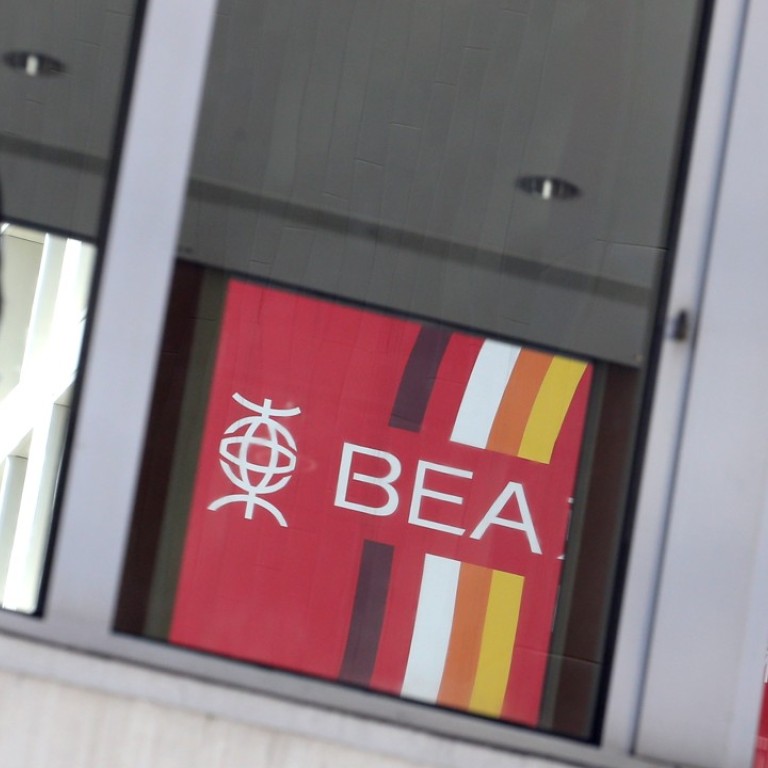 BEA to focus on mainland consumer lending, as 2017 profit up by more than 150 per cent
BEA's profit upswing was related to 'improvements in its asset quality and the bank's net interest margin mildly expanding by 5 basis points, said one equity analyst
Bank of East Asia, the largest of Hong Kong's remaining independent banks, said on Thursday its profit rose 151.1 per cent in 2017, beating analysts' forecast, thanks to the sale of a number of assets in the first half of the year, and improving asset quality, especially in mainland China.
The bank's management also said that this year they would look to start growing again on the mainland, particularly in consumer lending. Mainland China accounts for a larger proportion of BEA's assets and revenues than it does for any other bank based outside the mainland, and losses on bad loans there forced the bank to take a conservative approach to growth in recent years.
BEA's profit for 2017 was HK$9.35 billion (US$1.19 billion) compared with HK$3.72 billion in 2016, the bank said in a stock exchange filing.
A poll of analysts carried out by Thomson Reuters found an average profit forecast of HK$6.7 billion.
In the first half of the year, BEA completed
the sale of Tricor
, a professional services company, which saw the bank gain HK$3 billion in net profit.
Excluding the benefit from the asset sales, BEA's profit increased by 79.7 per cent last year to HK$6.37 billion.
BEA's figures were down to "improvements in its asset quality and the bank's net interest margin mildly expanding by 5 basis points," said one equity analyst covering the bank, who asked to remain anonymous as they were not authorised to speak to the media.
"The global economy entered a Goldilocks phase in 2017, neither too hot nor too cold, bringing welcome relief from the credit pressures that the bank faced in the previous two years," David Li Kwok-po, BEA's chairman and chief executive said at a press conference on Thursday.
The bank was founded by a consortium of Hong Kong businessmen including Li's grandfather in 1918.
In 2016, profits at BEA fell sharply as it struggled with asset quality in Hong Kong, and on the mainland, where provisions for bad debts pushed its operations into a loss.
The bank said today that its impaired loan ratio on the mainland fell from 2.87 per cent in 2016 to 1.79 per cent in 2017, while its overall impaired loan ratio also improved by 40 basis points to 1.09 per cent.
"In 2017 our priority was still very much asset quality over yield, and loan growth was secondary to both. That has born some results, and our asset quality has improved," Brian Li Man-bun, BEA's deputy chief executive responsible for its China business said on Thursday.
"Asset quality is still a priority, but in 2018, we will focus more on growth."
BEA China, the bank's mainland operations, is hoping to double its consumer loan customer base by 2020, management said on Thursday.
Brian Li said that there were two main reasons for this strategic approach.
"One is the government's policy of deleveraging the financial system, and curbing shadow banking. We believe that this would channel a lot of the retail business, which used to be covered by shadow banking, back to the banking system. The other is that technology can help us to reach customers in a way that we were never able to do before."
Mainland lenders are also targeting consumer lending for the same reason.

"Bank loan growth may have to stay much faster … to meet rising corporate refinancing needs as shadow banking avenues are blocked," said analysts at S&P ratings in a research report on the mainland banking sector.
This article appeared in the South China Morning Post print edition as: B.E.A. surprises with 151pc profit gain