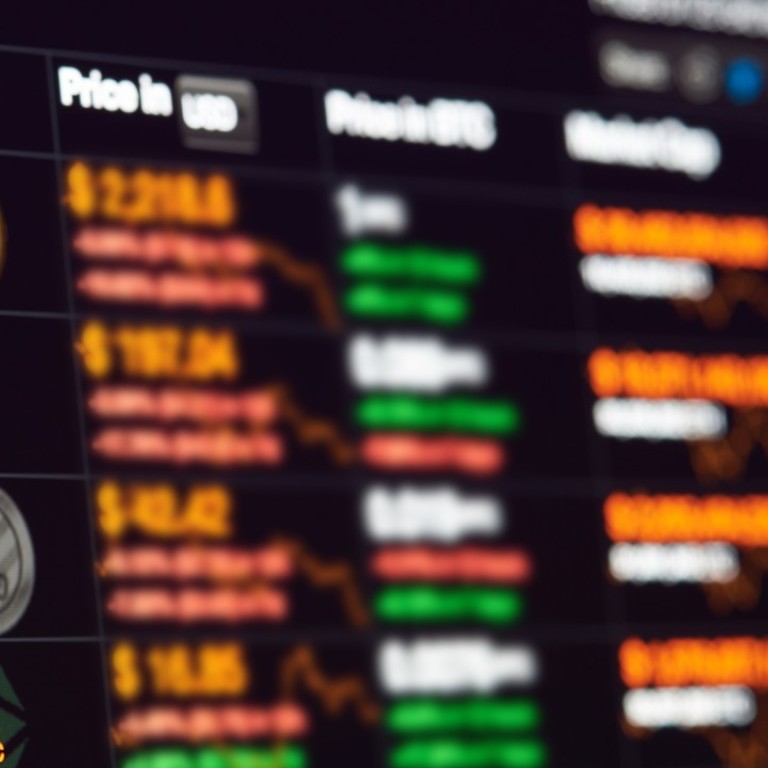 Life beyond cryptocurrencies – Hong Kong and China fintech firms show there is more to blockchain
By deploying blockchain in their back offices, several companies are aiming to disrupt the traditional role of banks in extending loans and attracting deposits
Several financial technology companies in China and Hong Kong are showing how blockchain has so much more to offer than just cryptocurrency trading.
By applying the decentralised ledger technology to various parts of their back office, these companies have dramatically boosted their clientele while cutting back-office manpower. The use of blockchain also protects investors as it preserves incorruptible transaction records.
And, in this process, they might also be disrupting the role traditionally played by banks in extending finance.
Although banks are also exploring ways of incorporating blockchain into their operations, it is fintech companies, which are more agile and flexible in their organisational structure, that are embracing innovation faster than their banking counterparts.
Financial inclusion – extending credit to underserved segments that have limited access to bank services – is also being advanced further through blockchain. And as the technology becomes more widely deployed at the enterprise level, some argue it has the potential to replace jobs performed by auditors, notaries and lawyers, and other back-office roles in financial institutions.
Chong Sing Holdings Fintech Group, a Hong Kong-listed company that provides loans to small and medium enterprises and retail borrowers in China, has registered more than four billion transaction records using blockchain platforms developed in-house over the past six months.
Chief executive Phang Yew-Kiat said he anticipates blockchain will help the company save at least 30 per cent of its back-office support resources in the coming 12 months.
"With blockchain, we have a single record on a distributed ledger. It simplifies the entire operation as we only need to deal with one single record of truth – and manpower savings will come from the elimination of account reconciliation and account maintenance work. Blockchain technologies are particularly suitable for Chong Sing Holdings [as we operate] multiple fintech platforms offering different services to our customers," said Phang.
Chong Sing Holdings currently runs four major businesses: a P2P-based online investment service, traditional loan services, big data-driven lending services and third-party payment services.
Last year, it invested US$30 million in full-service blockchain technology company BitFury Group, which gives Chong Sing Holdings a minority stake in the Amsterdam-based company and access to its technology. The companies have also formed a joint venture in Shenzhen to make mobile bitcoin mining hardware.
Unlike commercial banks that operate across several branches, fintech companies often rely entirely on their online presence to facilitate loans and investments from individuals looking to lend their money for a yield. Hence, for fintech companies such as Chong Sing Holdings the ability to execute borrowing or investment requests around the clock is important for growing their user base – and ideally, transaction volume.
Chong Sing Holdings is also using blockchain "smart contracts", which are embedded in the blockchain protocol, in its lending business. This means a repayment from a borrower can be automatically allocated to the accounts of investors once the repayment is recorded in the designated bank account. Some industry players say smart contracts can be thought of as digital, self-executing contracts that are stored and executed by a network of computers that run the blockchain.
Chong Sing Holdings has a team of 100 programmers dedicated to the deployment of blockchain technology in its businesses. As of end 2016, the company had 837 staff members, according to its 2016 annual report. It has not released its 2017 annual results yet.
Smart contracts are also being used by FinEx Asia, a Hong Kong-based asset manager focusing on facilitating Asian investments in US consumer loans, to strengthen protection for investors putting money into cross-border assets.
FinEx Asia has partnered with leading Chinese fintech company Dianrong and is using its blockchain technology, which is based on ethereum, to offer investors on its platform immutable records of their investments. The investors' money is pooled into a Cayman Island fund and invested into US consumer loans, which are facilitated on US marketplace lending platforms.
Its founder and chief executive, Maggie Ng, told the South China Morning Post in November that these US platforms issue promissory notes backed by the consumer loans. FinEx Asia then stores these notes in the form of smart contracts "locked" in a decentralised ledger.
"The contents of these smart contracts are verified and authenticated by several parties involved in transacting these US consumer loan assets. All these parties hold a permission key to the blockchain, so that if anyone wants to amend anything on the contract they will have to produce all the permission keys held by all these parties," said Ng.
Ultimately, this lowers the risk of data tampering and blockchain is a cost-effective way of enhancing data protection, industry players say.
Smart contracts are digital contracts that have been coded with the specific rules and penalties included in an agreement just like a traditional contract, and the validating nodes within a blockchain network, which receive transaction data from users and transactions, will automatically enforce these obligations. In FinEx Asia's case, investing in assets that are originated by entities in a different jurisdiction means investors in Asia, no matter where they are based, can still seek legal recourse in US courts. The use of smart contracts provides the basis for investors to lodge their claims if, for example, the US borrowers default on their loans.
It, however, remains untested whether foreign investors can indeed seek, for example, a class action against defaulting US borrowers using smart contracts to enforce their claims.
Fund distribution on blockchain
Meanwhile, in the asset management industry initial tests have been carried out on a blockchain-based digitalised transaction network for trading and settling mutual funds across all the intermediaries involved. These parties range from banks or financial advisers to fund distributors, fund manufacturers, transfer agents and custodians.
The life cycle of a mutual fund transaction, from routing the subscription orders to settlement, reconciliations, and the distribution of market data and analytics, involves various parties that need to record and reconcile their interactions independently using their own processes and IT systems.
According to Ken Tregidgo, deputy chief executive at Calastone, the London company that provides fund order routing and connectivity services to the fund industry, said in Asia the industry still relied on manual processes and paper forms, often transmitted through fax, to process fund transactions. This creates inefficiencies, high costs, operational risks and delayed settlements, which can increase during peak processing times and times of market stress.
"By migrating the entire market on a distributed market infrastructure based on blockchain, a fully linked trade life cycle from order, settlement, all the way to payment and post trade services – all these become smart contracts. Reconciliations can occur in real time as the transaction chain cannot be broken," said Tregidgo.
But this will still be based on a private blockchain – or a permission-based network that places restrictions on who is allowed in – to protect privacy. Calastone plans to go live on blockchain starting 2019.
Birth of a new blockchain
Block.one is a start-up that is working on an open source blockchain platform, EOS.IO, which, upon its expected launch in June, will enable developers to build and deploy decentralised blockchain applications at the enterprise level.
Block.one was founded by 31-year-old Brendan Blumer, its chief executive based in Hong Kong. It started a token sale process in July 2017 that will last until June this year. Block.one is targeting the distribution of one billion EOS tokens to investors, of which 10 per cent will be reserved for Block.one founders. As of December 2017, about US$700 million had been raised from investors, all paid for in ether, which is the token for the ethereum blockchain.
Tama Churchouse, a partner, said the token sale was not a fundraising exercise, as Block.one is not reinvesting the proceeds raised to build the decentralised platform with the aim of increasing the value of the EOS tokens sold. Instead, Block.one has carried out a token distribution process so that when the EOS.IO community eventually launches the first block – the "genesis block" – the distribution list will then be referenced to decide who gets how many EOS tokens.
A block contains a collection of validated transactions. Blocks are created by miners who perform computationally intensive "block mining" operations and add them to the blockchain ledger.
"If you own a token when the platform is launched, it is akin to owning a proportional share of the total network bandwidth of computational capacity, throughput and storage of this global decentralised network," said Churchouse.
Several blockchain platforms exist today and some, such as hyperledger or corda, are restricted to registered members only. Churchouse said, however, not many developers of the world's top 100 blockchains by market capitalisation managed to create decentralised applications that create new, real economic value.
EOS.IO is being developed to fill that gap, as it is an operating system that is more cost-effective than other blockchains.
"If a user wants to use the ethereum blockchain, every time they record a transaction on the blockchain it incurs a fee on a transactional basis. With EOS, users do not pay on a transactional basis. If they need to use 1 per cent of the global EOS.IO network bandwidth, they will buy 1 per cent of the outstanding tokens. They are then free to use it, or rent it out to others, or sell the bandwidth," said Churchouse.
Currently, EOS.IO has a global community of 30,000 developers, advisers and miners.
Industry players, including the city's de facto central bank the Hong Kong Monetary Authority, say one possible application for the blockchain application was a shared ledger of digital IDs for financial institutions to perform the know your customer process. KYC is a customer onboarding process that financial institutions perform before doing business with them.
As interest grows among banks, the financial industry is on its way to directing more resources towards blockchain and its use for increased transparency, data and record authenticity and faster access to credit – ultimately a more financially inclusive society unachievable by just the trading of cryptocurrencies.
Additional reporting by Karen Yeung
Illustration: Joe Lo