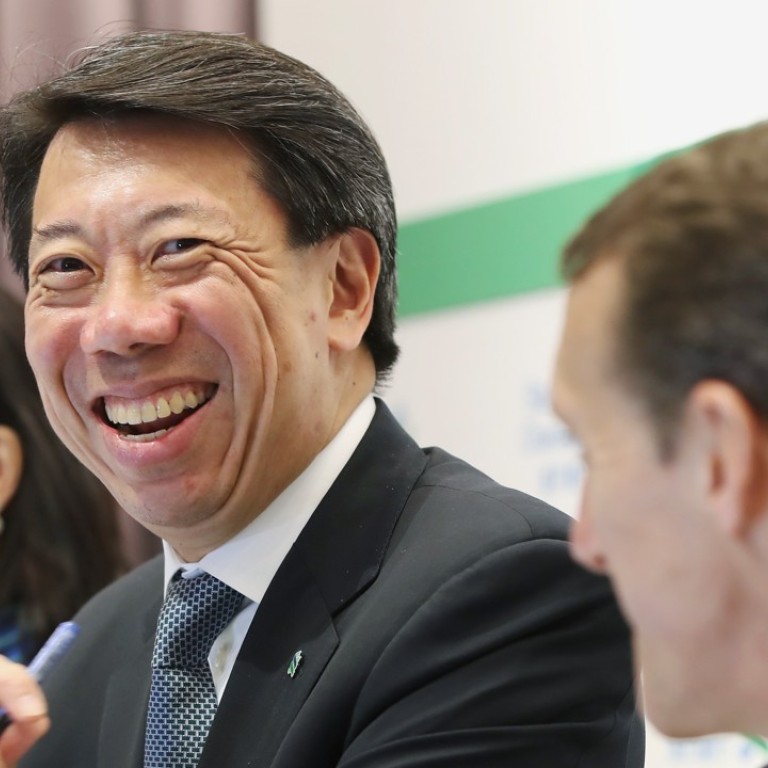 Standard Chartered issues first dividend since 2015 as profit almost triples
Lender's underlying pre-tax profit for 2017 was US$3 billion, just short of the US$3.06 billion forecast by analysts in a Thomson Reuters poll
Standard Chartered said on Wednesday it would issue a dividend to shareholders for the first time since 2015, as it announced pre-tax profit rose 175 per cent in 2017.
The emerging market focused lender said its underlying pre-tax profit last year was US$3 billion, just short of the US$3.06 billion forecast by a poll of analysts carried out by Thomson Reuters.
The increase was due to a rise in operating profit at the bank's corporate and institutional banking division, in particular.
Its shares ended the day 0.66 per cent higher at HK$91.4 (US$11.68).
Its operations in Hong Kong, mainland China and Korea accounted for the bulk of the bank's profit.
Earnings from its Greater China and North Asia division rose by 45 per cent to US$1.94 billion, which the bank said was due to higher income and lower impairment charges on bad loans.
It is paying a dividend of 11 US cents per share for 2017 – the first such reward to shareholders since the first half of 2015.
In the following quarter, the bank posted a l
oss of US$139 million
and announced it would slash 15,000 jobs over the next three years.
Ben Hung
, Standard Chartered's head of greater China north Asia, and group head of retail banking said at a press conference in Hong Kong the bank was "very pleased to resume the dividend", however, he adding it had done so at a prudent and conservative level as the bank's "return on equity was not yet where it needed to be".
The chairman Jose Vinals added in its statement: "The board understands the importance of the ordinary dividend to shareholders and intends to increase the full-year dividend per share over time taking into account the earnings outlook, group and local regulatory capital requirements and opportunities to invest to grow the business."
Return on equity (ROE) is an important measure of a bank's profitability.
"Hopefully our dividend will rise in future, commensurate with our improving performance," Hung said.
Standard Chartered's ROE was 3.5 per cent, against its medium term aspiration of 8 per cent.
Removing restructuring costs and one-off items, Standard Chartered's statutory profit before tax last year was US$2.4 billion, also slightly below Thomson Reuters expectations.
"The miss is mainly driven by weaker trading income," said Ronit Ghose, head of bank research at Citi in a report, noting Standard Chartered had seen strong net interest income supported by continued loan growth and net interest margin expansion." Ghose has a buy rating on the stock.
However, Anil Agarwal, head of bank research at Morgan Stanley, who has an underperform rating on the stock compared its performance in the fourth quarter unfavourably against that of rival HSBC.
"Excluding the UK bank levy, pre provision operating profit, [the amount it made before taking into account funds set aside to provide for future bad debts], was down year on year.
"The results come against the backdrop of very strong Asian bank reporting (HSBC Asia's Pre provision operating profit grew 22 per cent YoY in 4Q17) indicating the continued struggle for profitability at Standard Chartered," he said in a report. Last week, the bank posted group adjusted 2017 pre-tax profit of
US$21 billion
, 11 per cent higher than 2016.
The two banks are both UK headquartered Asian focussed lenders, though HSBC's European presence dwarfs that of Standard Chartered, which has larger operations in Africa.
Standard Chartered's underlying pre-tax profit in Hong Kong was US$1.38 billion or HK$10.8 billion, due to improved income from cash management and corporate finance and a reduction in impairment charges on bad loans.
Standard Chartered said it was involved in more than 50 deals related to the project, though Hung clarified these were not all large project financing deals.
"In reality a lot of these projects tend to start with some form of bidding. You have to do escrow accounts [a form of temporary accounts] and FX [foreign exchange] services before you get into project financing," he said.
"But it doesn't matter at what stage these projects are – our footprint is 'so Belt and Road'."
This article appeared in the South China Morning Post print edition as: StanChart issues dividend for first time since 2015