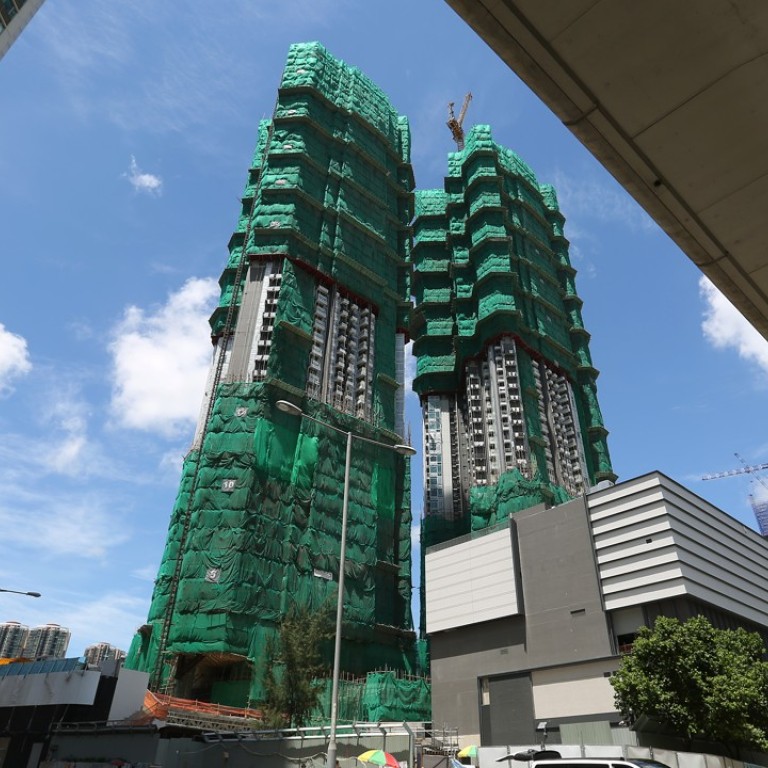 Hong Kong builder New World Development's interim core profit falls 16pc, but still beats estimates
Company generated revenue of HK$27.93 billion in the six-month period, up 4.9 per cent from HK$26.63 billion a year earlier
New World Development, the Hong Kong developer, plans to splash out HK$20 billion (US$2.55 billion) this year buying more land in mainland China in a move to strengthen its market presence there, particularly in the Greater Bay area. 
"Currently we mainly focus on Guangzhou, Foshan and Shenzhen and we are hoping to develop in Zhuhai, Zhongshan and Shunde in future," said Adrian Cheng Chi-kong, the executive vice-chairman and general manager said at its annual results briefing on Tuesday.
At the end of December 2017, the company had a land bank of 2.65 million square meters in Guangzhou, Foshan and Shenzhen, accounting for 41 per cent of its total of 6.47 million square meters earmarked for major property development projects, excluding car parks, in the mainland. 
The multibillion-dollar Hong Kong-Zhuhai-Macau bridge allows shorter and more convenient transport to the cities in the Greater Bay Area, which consists of nine cities in Guangdong and the two special administrative regions of Hong Kong and Macau.
Cheng also said the company plans to continue its NewGen First Home Program – for which home-seekers aged between 25 and 35, who are permanent residents and have never owned property in Hong Kong can apply – and aims to provide more flats under the scheme by the end of 2018. 
Last year, the developer offered 15 flats at The Parkville residential development in Tuen Mun with initial down payments as low as 7.5 per cent to such young buyers, in a way to help them onto the housing ladder. 
The company reported a 16 per cent decline in interim core profit for the six months ended December as property sales fell 24 per cent, although they were higher than estimates from two brokerages. 
Underlying profit, excluding revaluation gain on investment properties, was HK$4.2 billion for the six months to December, down from HK$5 billion a year earlier, according to a filing to the Hong Kong stock exchange. 
Revenue from property sales decreased to HK$9.89 billion from HK$13 billion a year earlier, but the earnings were well above estimates of HK$2.97 billion to HK$3.6 billion from Morgan Stanley and CIMB Securities. 
"Notwithstanding the uncertainties, the group will adhere to its development policy of gaining a foothold in mainland China while aggressively expanding its businesses in Hong Kong," said Cheng, who is also the chairman, in a statement. 
The company generated revenue of HK$27.93 billion in the six-month period, up 4.9 per cent from HK$26.63 billion a year earlier. 
Net profit, including a HK$7.2 billion revaluation gain in investment properties, jumped 160 per cent to HK$11.26 billion for the half-year ended December, from HK$4.33 billion last year. 
 The company's contracted sales in Hong Kong amounted to HK$5.1 billion, 51 per cent of the HK$10 billion sales target and at mid-February 2018, the contracted sales in Hong Kong have surpassed HK$7.0 billion. 
 The company declared an interim dividend of 14 HK cents per share. 
"Core profit [derived from the company's main or principal business, less all expenses for the main activities as well as non-recurring income or expense items that lie outside the normal business] should resume growth upon the completion of Pavilia Bay in the second half," said Raymond Cheng, director of property equity research at CIMB Securities, in a research note. 
The developer plans to launch more projects later this year. The Fleur Pavilia in North Point will offer 611 units while its project with the Urban Renewal Authority in Sheung Heung Road will have 300 units.
New Word is also cooperating with Henderson Land Development to offer 240 units in Waterloo Road in Ho Man Tin and 500 units in Tai Tong in Yuen Long. 
 Shares in New World Development dropped 0.67 per cent and closed at HK$11.88. 
 Its 71-year-old chairman Cheng Kar-shun did not attend the briefing.
This article appeared in the South China Morning Post print edition as: New World eyes HK$20b for China land push