Robotics
Get more with myNEWS
A personalised news feed of stories that matter to you
Learn more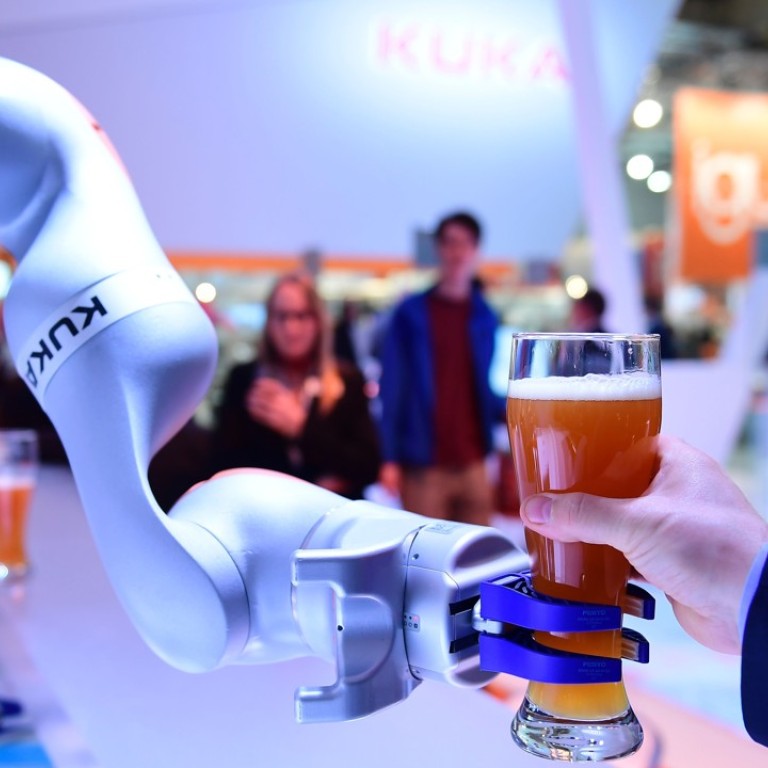 German robot maker Kuka eyes €1b sales in China by tapping parent's Midea Group's network
Expansion of Kuka's facilities in Shanghai will be completed by the second quarter of this year
German robot maker Kuka is envisioning sales of €1 billion (US$1.24 billion) in China by 2020, more than double its current business in the world's largest robotics market by leveraging parent Midea Group's local network.
"We have to speed up and make it happen quickly," said Wilfried Eberhardt, chief marketing officer of Kuka, adding that combining Kuka's innovative DNA with Midea's high-volume electrical appliance production bodes well for the robot maker's outlook in China.
In late 2016, Midea paid US$5 billion to take over Kuka, after it bought an 80.1 per cent stake in Toshiba's home appliance unit in March 2016.
Kuka's sales on the mainland stand at €450 million now.
China is expected to have 1 million industrial robots in operation by 2025, from about 300,000 units in 2016, according to the International Federation of Robotics.
The country's ramped-up efforts to improve manufacturing efficiency and move its products up the value chain have ushered in strong demand for automation amid an ageing population.
Service robots are also in high demand in the world's most populated market to cater to the senior care sector.
Kuka will complete construction of its expanded facilities in Shanghai by the second quarter of this year, said Olaf Gehrels, general manager of Midea Robotics.
In 2017, Kuka reported a record sales of €3.5 billion worldwide, up 18 per cent from a year earlier.
"We will not be limited to the field of manufacturing," said Gehrels. "Robotics will become important parts of logistics, medical care and even smart home."
China's burgeoning middle class has been demanding higher-quality household goods as they splash on expensive foreign-made products during overseas tours.
Midea is among the pioneering Chinese manufacturers that are either assimilating advanced technologies to fine-tune their product lines or acquiring mature businesses to support their growth on the vast mainland market.
Simon Zhang, chief information officer of Midea, said that a synergy between Midea's appliance businesses and Kuka will help both increase market share in the domestic market.
Midea plans to apply mature robotics and automation technologies to household products such as wheelchairs, smart cookers and artificial intelligence-powered refrigerators.
The country's largest home appliance maker said it aims to transform itself into a technology conglomerate amid an accelerated pace of digitalisation in China's economy.
It is now building an internet of things platform, which connects physical devices embedded with electronics, software, sensors and enables the objects to collect and exchange data.
Fitch Rating expects Midea's market position to remain solid buoyed by its strong brand awareness in China, enhanced research and development capabilities and improved distribution system.
For the first nine months of 2017, its revenue jumped 60 per cent to 188 billion yuan (US$29.7 billion), driven by organic growth and contributions from newly acquired Kuka and Toshiba's home appliance unit.
This article appeared in the South China Morning Post print edition as: Kuka targets China sales of €1b by 2020