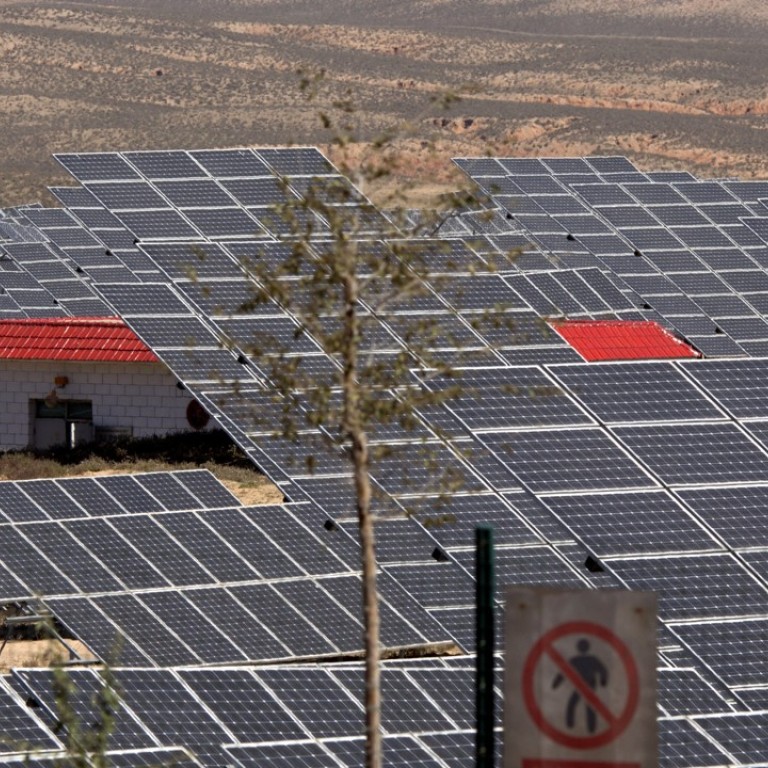 Developing
Chinese solar power stocks plunge as government moves to contain industry size
Shares in Sungrow Power Supply and GCL-Poly Energy Holdings led Chinese solar power stocks lower in mainland China and Hong Kong on Monday, after the government moved to rein in the expansion of the industry, by suspending the allocation of more quotas for new farms and cutting subsidies in a surprising decision.
Sungrow Power, the country's biggest maker of inverters for solar and wind power, tumbled by the 10 per cent daily limit to 12.56 yuan in Shenzhen, capping a decline of 23 per cent over the past seven days. LONGi Green Energy, a manufacturer of silicon wafers, also plunged by the same amount to 20.12 yuan in Shanghai.
GCL-Poly, the world's largest producer of solar wafers used to make solar panels, slumped by 9.2 per cent to HK$0.79.
A
joint statement
put out on Friday by the National Development and Reform Commission, Ministry of Finance and National Energy Administration said the allocation of quotas for new projects had been halted until further notice, and tariffs on electricity generated from clean energy will be lowered by 0.05 yuan per kilowatt hour, a cut of 6.7 to 9 per cent depending on the region, effective June 1.
After the announcement, Dennis Ip, head of Hong Kong and China utilities, renewables and environment at Daiwa Capital Markets, slashed his forecast for solar power installation in China to 30 gigawatts from 45GW this year. Installation rose to a record 53GW in 2017.
Frank Haugwitz, the founder of Asia Europe Clean Energy (Solar) Advisor, slashed his forecast for this year's solar installation in mainland China to between 30 and 35GW, from 40 to 45GW. He also cut his annual volume projection for next year and 2020 to between 20 and 25GW.
Friday's announcement is the most aggressive paring back of state support for solar power, and comes close on the heels of another policy announcement last month, which stated that the awarding of all new wind farm development rights would be subject to competitive bidding.
Both moves are aimed at keeping in check the more than 100 billion yuan (US$15.6 billion) deficit in a state-run renewable energy fund, which is financed by a surcharge on power users' bills.
The measures are aimed at "promoting the solar energy sector's sustainable development, enhancing its development quality and speeding up reduction of subsidies", the joint statement said.
The subsidised installation volume for so-called distributed solar farms – rooftop panels at factories, fish farms and buildings whose owners can sell volumes in excess of their own consumption to grid operators – will be capped at 10GW, according to the statement.
The solar industry will endure a "painful" reshuffle before leading players can benefit from consolidation in the long run, said Kai Wenming, an analyst at New Times Securities.
Hangzhou First PV Material, a maker of solar cell film, slid by 10 per cent to 24.95 yuan in Shanghai. The weak sentiment spilled over to wind power stocks too, sending Xinjiang Goldwind Science & Technology, China's biggest maker of wind turbines, plunging by 10 per cent to 14.01 yuan. Its Hong Kong-traded stock shed 13 per cent to HK$10.62.
GCL New Energy Holdings, a developer of solar farms, plummeted by 13 per cent to HK$0.36 in Hong Kong. Solar panel glassmaker and solar farms developer Xinyi Solar Holdings sank by 15 per cent to close at HK$2.72.
"The contraction in the photovoltaic industry will intensify competition in the short term because of the policy's sudden brake," said Gong Yongfeng, an analyst at Citic Securities. "The prices of the industry chain will come under big pressure. Industry consolidation may last for six to 12 months."
This article appeared in the South China Morning Post print edition as: Solar stocks melt as state moves to consolidate sector