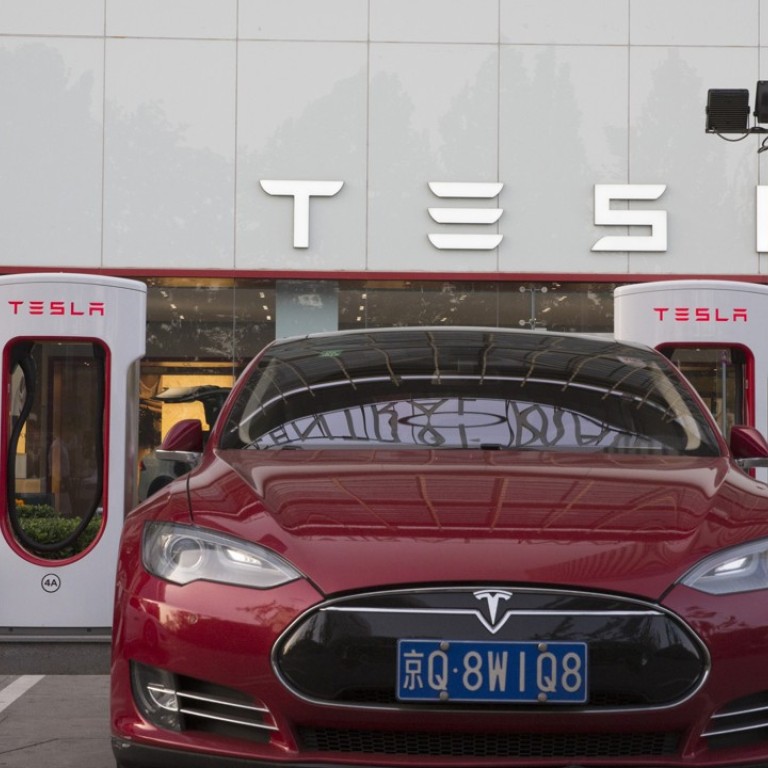 Tesla sets up Shanghai beach head with wholly-owned plant in world's largest electric car market
Tesla will set up its first overseas assembly in China's premier commercial city, establishing a beach head in the world's largest vehicle market even as a trade war simmers between Washington and Beijing.
The Palo Alto, California-based carmaker will establish its Gigafactory 3 at Lingang near Shanghai's free-trade zone, with an annual capacity to produce 500,000 electric vehicles, according to an announcement. The wholly foreign-owned plant – the first car plant in China to operate without a local partner – will also be the largest overseas manufacturing investment in the Chinese city, possibly surpassing Walt Disney's US$5.5 billion spending in Shanghai Disney Resort.
Shanghai city officials did not disclose the amount of investment, and Tesla officials were not available for comment. Tesla's Chief Executive Elon Musk, on a three-day visit to Shanghai and Beijing, met Shanghai's mayor Ying Yong, a governmental source familiar with the matter said.
"It is in line with expectations that Tesla will establish its mainland factory in Shanghai, after it set up a research and development subsidiary in Lingang in May," said Qian Kang, an entrepreneur dealing in car parts. "Chinese Telsa buyers will benefit as local production will eventually result in lower prices for the cars."
The investment by Tesla, the smallest among local and overseas makers of electric vehicles in China, followed the Chinese government's April announcement to scrap the 50 per cent foreign ownership limit for vehicles powered by alternative energy.
Besides Tesla, every foreign carmaker from General Motors to Toyota Motor can only assemble in China with the help of a 50-per cent local venture partner. The lifting of the foreign ownership limit is part of the pledge by Chinese President Xi Jinping to further open up the car manufacturing industry to competition under commitments to the World Trade Organisation.
The liberalisation was expected to pave the way for global companies such as Tesla to set up their own production plants in the world's largest car market.
China, a late comer to the world of automotive engineering, took a mere four years to become the biggest global market for electric vehicles, extending the lead in 2017 to 1.2 million units in annual sales. That lead may further extend from last year's 2.3 per cent share of the world market to 12 per cent by 2025, according to a projection by JPMorgan Chase & Co.'s 2025 EV Outlook report.
At half a million units, Tesla's Gigafactory is a minnow compared with GM's ventures, with the combined capacity to produce more than 4 million vehicles every year.
Still, local production makes sense for Tesla, as it brings the vehicle closer to the customer, where an average waiting list for a Model S could take up to six months, and a Model X could take more than a year.
It also makes economic sense, after the Chinese government last week raised the import duty on US-made cars from 15 per cent to 40 per cent. Tesla, the biggest-selling electric car maker in the US, had to raise its China price list after Beijing imposed the additional tariff.
The announcement marks the end of a year of speculation that Tesla will set up a plant in Shanghai. The company signed a memorandum of understanding with the Shanghai authorities last year on building the plant, but the ownership structure appeared to be a sticking point.
Chinese authorities had insisted the plant be set up through a joint venture with local partners, while Musk wanted it to be fully owned by Tesla.
In May, Tesla announced the set up of a 100 million yuan (US$15.06 million) subsidiary focusing on R&D in Lingang, in a sign it was edging closer to the setting up of a manufacturing plant in the city.
This article appeared in the South China Morning Post print edition as: Tesla confirms Shanghai as site of first overseas factory