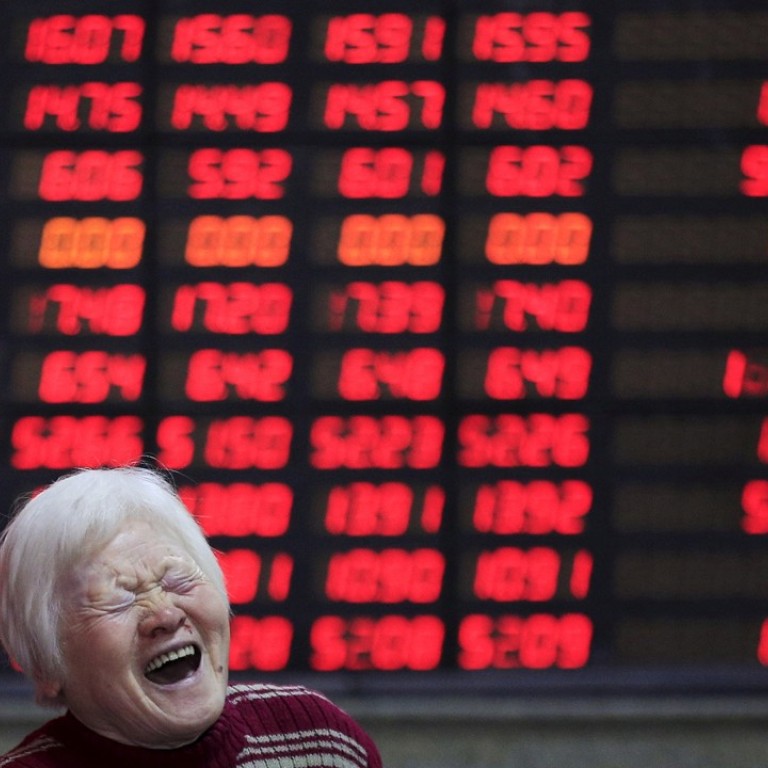 China's day traders find solace in black humour as stocks languish in bear market territory
To understand Chinese investors' exasperation with the stock market, take a look at the punchlines circulating online.
A husband's most sincere vow of everlasting love? Promising he'll only divorce his wife after recouping all trading losses. How do ambitious teens see themselves in 2035? Telling their brokers to buy the Shanghai Composite Index at 2,000 points - 30 per cent lower than its close on Monday at a level almost exactly the same as a decade ago.
Individual investors drive an estimated 85 per cent of the nation's equity trades but some are now throwing in the towel as Chinese stocks languish in their eighth bear market in 10 years. Beyond investors' bleak humour, pessimism is evident in the lowest market turnover in almost four years, a rally in bonds, the smallest mutual fund allocation to equities since at least 2003 and a slowing pace of new stock trading accounts.
Investors lose faith in Big Pharma as China's vaccine scandal recalls memories of product safety woes
Chinese equities have shed almost US$2 trillion since January on concerns that tightening credit conditions and a trade dispute with the US would derail China's slowing economy. As a good start to the year quickly faded, waning interest from the country's 141 million retail investors will deprive stocks of their biggest source of capital. Overseas investors own just 2 per cent of the market, according to UBS Group's data.
"Stocks are not a very efficient investment in China," said Li Wei, a freelance film screenwriter in southern China's Kunming. He sold everything in January. "The problem with China's stock market is that it is too young. It's like a restless teenager."
Trading in China's equity market tends to be speculative and average daily turnover is high, reaching a record 2.4 trillion yuan (US$353 billion) at the height of the melt-up in 2015. That fell to 400 billion yuan in the three months through June, the lowest since the third quarter of 2014, data compiled by Bloomberg show.
Chinese property developers fall on a weak yuan
China's mutual funds held 13 per cent of their assets in stocks in the second quarter, down from about 15 per cent in March, China International Capital analysts wrote in a note Monday. Bond holdings rose to a six-year high of 42 per cent, they said, as risk-averse investors flocked to what they perceived to be safer investments. China's benchmark 10-year government bond yield fell to a 15-month low last week.
'When my mom walked me to kindergarten, the Shanghai Composite was at just over 2,000; when my mom sent me off to high school, the Shanghai Composite was at just over 2,000; when my mom attended my graduation, the Shanghai Composite was at just over 2,000. I wish my mom eternal youth and never to age, just like the Shanghai Composite.' (A joke that circulated around Mother's Day in mid May.)
Plenty of alternatives have been a better bet. While shares in liquor maker Kweichow Moutai have risen about 500 per cent since 2008, hoarding a vintage bottle of the company's baijiu would have yielded even more.
Investors who prefer stocks have little in the way of choice. Facing significant capital controls, they're mostly limited to buying stale mainland stocks like state-owned banks or industrial giants which together comprise about half the CSI 300 Index.
China's stocks post longest losing streak in almost two months as yuan drops to one-year low
While they've been able to buy shares like Tencent Holdings through a link with Hong Kong that started in 2014, they're restricted by daily quotas and a minimum account requirement. A trial for a new type of security aimed at bringing tech stars home hit a snag after its first candidate, Xiaomi, failed to satisfy regulators.
Lan Qichang, who works in the tech industry in Shenzhen, says he is buying shares of Chinese companies trading on the Nasdaq and in Hong Kong instead.
"I'm out of my depth in the A-share market, with state-owned power firms and obscure component makers whose names I've never heard," the 27-year-old said. "It's an irrational place. Very few investors really research their investments."
There are bright spots. Sectors like health care and consumer staples have risen more than threefold in the past decade - although the former has started to stumble this month. Shares with the best dividends, profit revisions and earnings yields are outperforming, indicating that fundamentals matter. Anyone who bought Jiangsu Hengrui Medicine in 2008 would be sitting on a 1,178 per cent return.
In a nation famous for playing the long game, this Shanghai fund manager is taking the long view
There are also signs that the so-called smart money is getting ready to pile in as valuations slump. Chinese hedge funds have come out in force saying they're buying more shares, even though being bullish on China backfired in June. The nation's sovereign wealth fund has expressed a desire to invest at home and even an Australian pension fund said it's building its first-ever significant position. Bulls are pointing to expectations that corporate earnings will jump as a reason for optimism.
But painful memories still haunt those who lost everything in the boom-and-bust three years ago.
"I've lost all hope in the stock market," said Liu Junmin, a retiree in Beijing who traded equities for over a decade until the 2015 crash. He has stayed away since. "Retail investors like me don't stand a chance because it's impossible to seize the right opportunities to enter and leave."