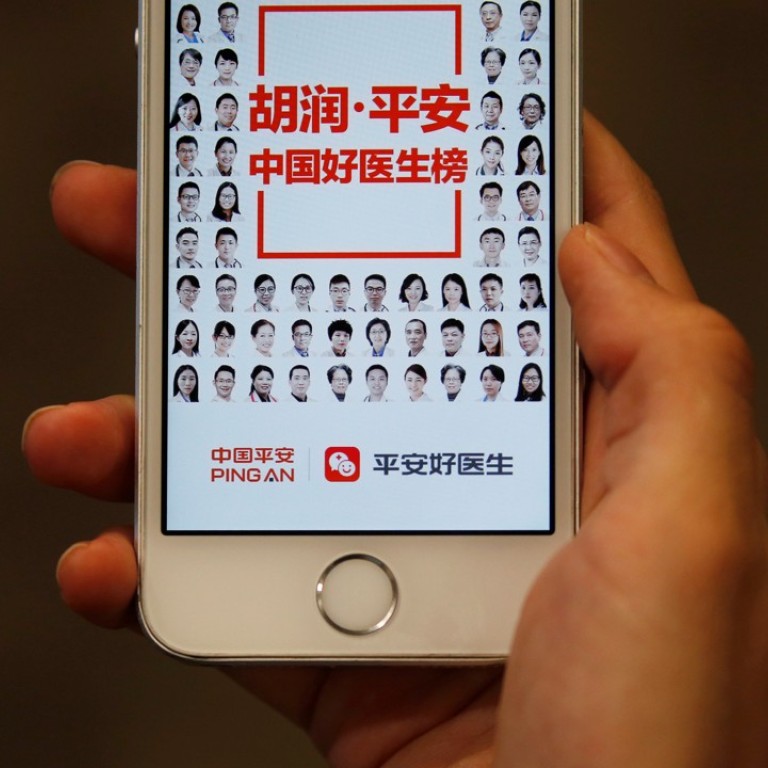 Ping An Good Doctor to expand medical services platform in Southeast Asia this year
The company will give users in the region access to artificial intelligence-assisted online medical consultations, medicine delivery and appointment bookings
Ping An Good Doctor, China's biggest online health care platform, aims to expand its services in Southeast Asia later this year to cater the growing demand from the region and mainlanders travelling for medical tourism.
The company, officially known as Ping An Healthcare and Technology, last Thursday announced the formation of a 70:30 venture with Southeast Asian ride-hailing platform Grab, which will give users in the region access to artificial intelligence-assisted online medical consultations, medicine delivery and appointment bookings.
"After signing the joint venture agreement, we now need to form the management team," said Wang Tao, chairman of Ping An Good Doctor. "We hope to see the services in at least one country this year. It is possible Thailand will be the first one."
He said Thailand is good because of the availability of low-cost, high-quality services provided by private medical centres.
Last week , a spokeswoman for Grab said that the company is "looking at Indonesia closely".
It will also keep an eye on the growing medical tourism market as an increasing number of mainland Chinese looking for international medical services. Wang said they would also cooperate with hospitals in the region to provide online and offline medical services to Chinese users.
"Medical institutions in Thailand and Indonesia provide good services, and costs are low. And they have a large number of young mobile user population," he said.
Southeast Asia, with a population of about 660 million, has over 200 million mobile users.
According to Ctrip, China's largest online tourism agency, in 2016 over 500,000 outbound medical trips were taken, five times the number in 2015. Average spending was over 50,000 yuan (US$7,286), 10 times the expenditure for individual overseas trips.
"Both China and Southeast Asian countries face a shortage of medical services. People in Southeast Asia are willing to pay small amounts for medical consultancy services. I see the market has great growth potential. It will see quicker profit return as we have already built up the infrastructure and Grab has provided a strong network in the region," Wang said.
Grab has built up a strong network in eight countries and it also has good relationships with governments in the region, he added.
Spun off from Ping An Insurance Group, China's biggest insurer by market value, Ping An Good Doctor was the first technology unicorn, a start-up valued at over US$1 billion. It listed in Hong Kong in May this year.
The company last week reported its first six-month earnings since going public. Losses narrowed by 2.6 per cent to 444.2 million yuan, while revenue jumped 150 per cent to 1.1 billion yuan from the year-earlier period.
Wang said the two companies only took three months to form the joint venture, with help from Masayoshi Son, chief executive of Japanese conglomerate SoftBank.
In China, Wang said the company was actively exploring diversified forms of partnerships with insurance companies and could form the first one with its parent Ping An Insurance this year, having already built a payment mechanism for companies to settle their policyholders' claims.
Wang said he has a target to turn the company profitable. But he does not plan to disclose it as new investment opportunities may alter the timetable.