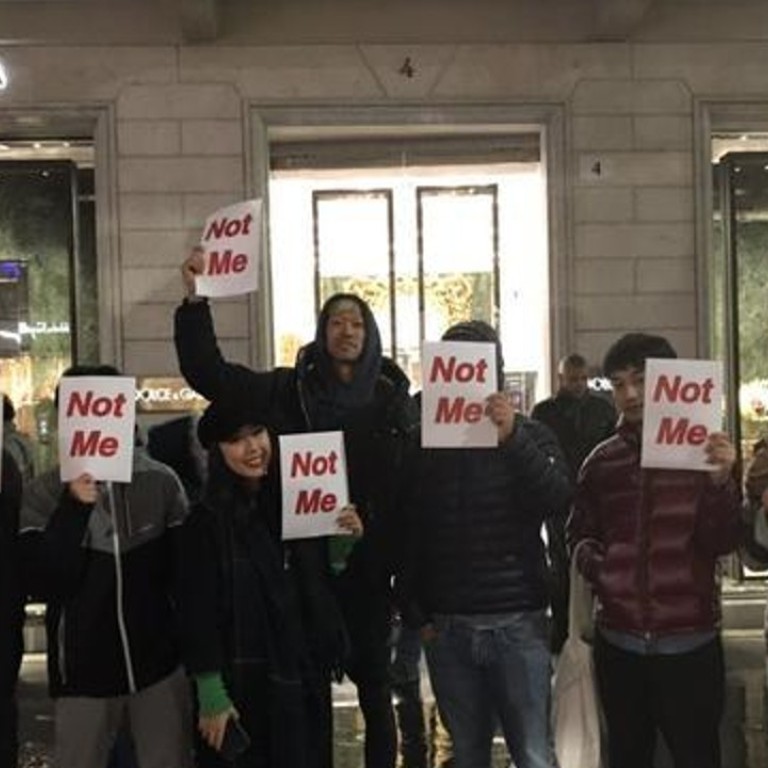 Dolce & Gabbana's brand image takes a hammering from Chinese consumers: YouGov survey
D&G's overall brand health score was negative among Chinese consumers in about a week after its fashion show was cancelled, according to YouGov
It was the biggest drop in public perception of a luxury fashion brand in China since YouGov began compiling the BrandIndex in Asia about five years ago
Italian fashion house Dolce & Gabbana's brand image has taken a massive beating because of its controversial advertisement and co-founder Gabbana's crude reaction on social media to the criticism, in which he mocked China as "a country of s***", a YouGov survey has found.
The fallout from the "racist" ad, in which a Chinese model in a red D&G dress is trying to use chopsticks to eat pizza, spaghetti and a giant version of the Italian pastry cannoli, led to the company cancelling its Shanghai fashion show amid an onslaught of criticism from Chinese celebrities and internet users.
Even Chinese online shopping platforms such a Tmall, a business-to-consumer online retail site operated by Alibaba Group Holding and JD.com, among others, removed D&G items from their websites. Alibaba owns the South China Morning Post.
D&G has since deleted the insensitive ads from their official Instagram account. The company's two founders also apologised in a video post saying "sorry" in Mandarin five days after the fracas first erupted.
D&G's overall brand health score fell from +3.3 to -11.4 among Chinese consumers in about a week after the fashion show was cancelled, according to YouGov's BrandIndex, which measures public perception of thousands of brands across dozens of sectors.
BrandIndex compiles overall brand health based on consumer feedback on quality, value, satisfaction, recommendation and reputation.
It was also the biggest drop in public perception of a luxury fashion brand in China since market research company YouGov started to compile the BrandIndex in Asia about five years ago.
"It's a very big and very significant drop," said Ervin Ha, head of data products at YouGov, adding that this was the first time D&G image has been perceived as negative.
"It remains to be seen how long the downward trend continues and whether the company can salvage its brand image in the eyes of Chinese consumers."
When asked if D&G can weather the storm in its biggest overseas market, Ha said that despite the uproar caused by the ad, many more people in China are now aware of D&G.
He said that they can leverage this awareness by using a local public relations and communications agency that understands the Chinese market and its consumers.
D&G's troubles have benefited its competitors. Italian luxury fashion brands Gucci and Prada have seen their brand health scores improve by 3.6 and 3.1 points, respectively.
"These brands were not affected [by the boycott of D&G] and, of course, they have learned what not to do from D&G," Ha said.
South Korea's Samsung had seen a bigger drop of more than 30 points in a BrandIndex survey in September 2016 after its Galaxy Note 7 smartphone was prone to catching fire because of exploding batteries. Samsung later stopped producing the phone.
This article appeared in the South China Morning Post print edition as: D&G image takes beating after ad controversy