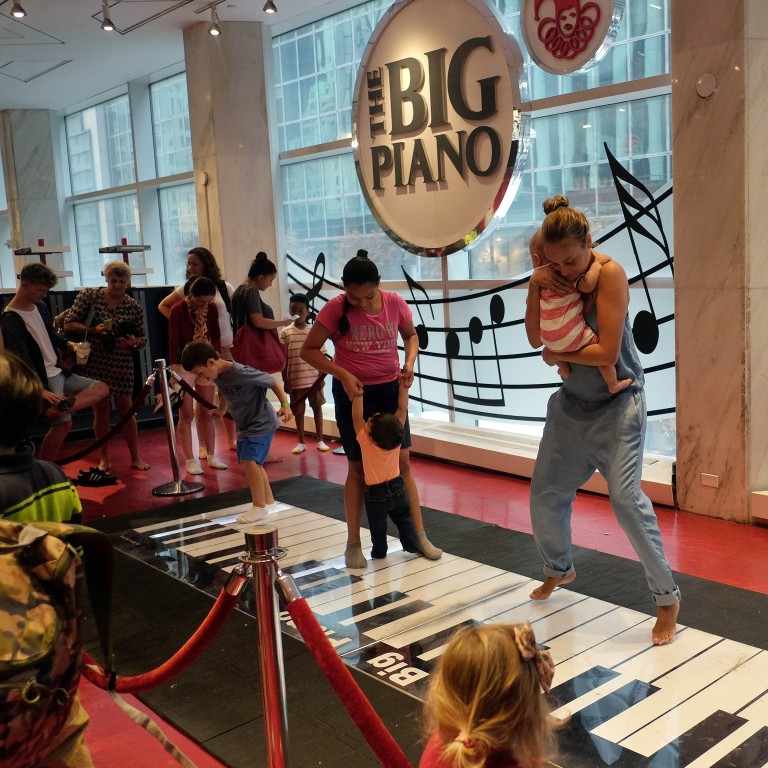 FAO Schwarz to open its largest flagship toy store in Beijing to introduce Chinese consumers to 'experiential' shopping
FAO Schwarz will open a 2,600 square meter (28,000 square feet) flagship at the China World Trade Center mall in Beijing
FAO Schwarz
, the oldest American toy store, is poised to open its largest worldwide flagship in the Chinese capital this year, taking its iconic brand and interactive experience to a market where spending is expected to outpace the rest of the world.
The store at the China World Center mall in Beijing's central business district will offer 2,600 square metres (28,000 square feet) of retail space, 40 per cent larger than its existing flagship outlet at the Rockefeller Center in New York city. A second store in Shanghai is on the drawing board, while 30 smaller speciality shops are also being planned for China in the next five years.
"FAO Schwarz is focused on creating a theatrical experience, where there will be many demonstrators to interact with children and parents" in store, said Sherman Hung, chief financial officer of The Kidsland Group, China's largest toy retailer and the Chinese partner to FAO Schwarz. "This is part of our exploration into providing new experiences for customers."
China, which already designs, assembles and produces toys for the world – including such customers as Mattel, Hasbro and FAO Schwarz – is also the largest global market for recreational and education products, where toy sales may reach 92.45 billion yuan (US$US$13.8 billion) by 2022.
A seismic shift is taking place in the country's retail industry, where the popularity and convenience of online shopping have reduced foot traffic in bricks-and-mortar stores, slashing sales growth to an estimated 4.3 per cent between 2018 and 2022, from 8.2 per cent between 2012 and 2017, according to Euromonitor.
"Traditional retail has suffered. Big retailers are starting to use the physical shop on high streets and in shopping centres to showcase their products … more of a showroom rather than an actual point of sale," said David Faulkner, the managing director of valuation and advisory services at Colliers Asia.
That's posing a challenge for retailers such as Kidsland, which operates more than 700 stand-alone stores and department store counters across China. It's teaming up with FAO Schwarz to reproduce the US retailer's "experiential" look and feel, which cannot be replicated online. At the Beijing flagship, customers enter the store through a clock tower, where oversized teddy bears, giant stuffed animals and even the dance-on piano made famous in Tom Hanks' Big will be on offer.
FAO Schwarz, which first opened its doors in 1862 in Baltimore, Maryland, is one of the most storied retailers in the US. Its myriad brands include Steiff, the world's first mass producer of the Teddy Bear. The retailer also features one-off luxury items, like a US$25,000 child-size Mercedes-Benz encrusted with 40,000 Swarovski crystals.
Still, the toy store had gone through several ownership changes, tracing the onslaught of e-commerce in US retailing. Its iconic Fifth Avenue store in New York was closed in 2015 before its previous parent Toys'R'Us filed for bankruptcy in 2018. It returned to the city under new owner ThreeSixty Group, a private equity fund, in November 2018.
The outlook may still be bright in China, where there were 233 million children younger than 14 years as of 2016, equivalent to the world's fifth-largest population.
Rising income levels in the urban areas lead to "more demand for innovative and upmarket toys," said Tiffany Lung, an analyst at Tofugear, a retail innovation and technology company. "Despite e-commerce, Chinese consumers still like to go to shopping malls for the experience and enjoy spending family time shopping as leisure."
FAO Schwarz will be going head to head against another old school Western toy store – Hamleys. With almost 260 years of history, the British chain is the world's oldest toy retailer. It entered China in 2016 after being acquired by Chinese shoe brand C. Banner. Hamleys has opened four locations in China, with the world's largest Hamleys store occupying 10,700 square metres in Beijing's Wangfujing area. Its newest location was unveiled in January 2019.
The two toy retailer brands have similar positioning. Both focus heavily on providing fun experiences for customers and a wide variety of toys on display.
This article appeared in the South China Morning Post print edition as: Toy shop explores new worlds