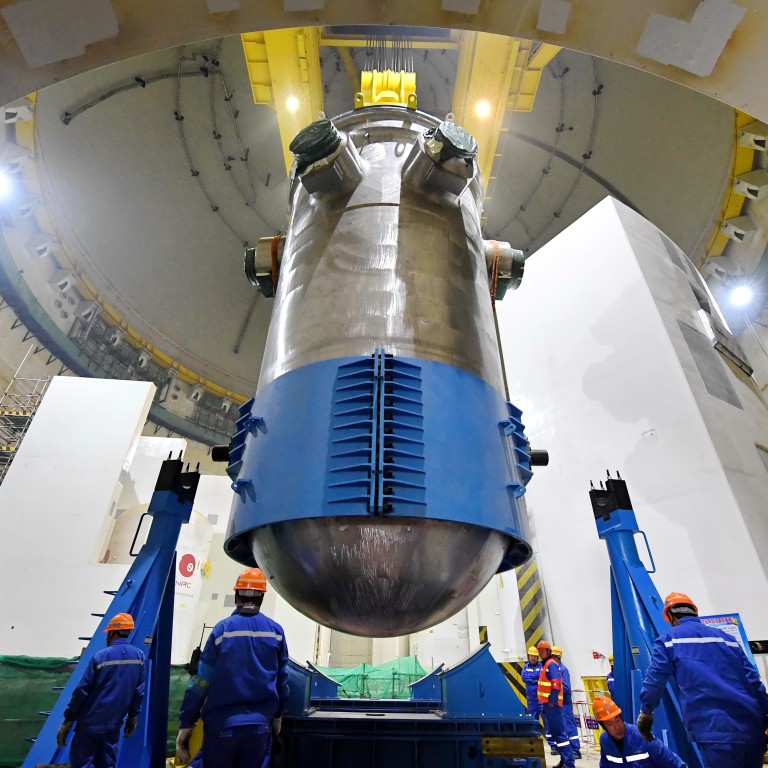 Nuclear shares soar after China plans to invest US$12 billion in new reactors for first time since 2016
The plan will end a three-year hiatus in China's nuclear reactor construction and boost the country's nuclear export ambitions
China did not approve any new reactor from 2016 to 2018, partly due to the slow progress in the use of advanced and safer third-generation reactors
Nuclear power related shares soared across the board on Tuesday in Hong Kong and China after Beijing announced plans to invest 81.2 billion yuan (US$12 billion) in four new reactors for the first time since 2016.
CGN Mining, a unit of state-owned China General Nuclear Power Group (CGN) that trades in uranium fuel, jumped 15 per cent to 38 Hong Kong cents in Hong Kong. CGN Power, a nuclear power station operator under CGN, also climbed 3.2 per cent to HK$2.27, extending a four-day winning streak.
Nuclear power equipment maker Lanzhou LS Heavy Equipment soared by the maximum-allowed 10 per cent to close at 6.33 yuan in Shanghai.
Shenzhen Woer Heat-Shrinkable Material, which manufactures materials for nuclear reactors, also surged 10 per cent on the Shenzhen Stock Exchange.
Industrial valve maker SUFA Technology Industry rose 7.1 per cent to 15.59 yuan in Shenzhen.
China Nuclear Industry Construction, a unit of China's sole nuclear power engineering firm CNEC, jumped 5.6 per cent to 9.47 yuan in Shanghai. CGN Nuclear Technology Development, which mainly makes electron accelerators, gained 5.5 per cent to 9.65 yuan in Shenzhen.
The broad surge came after China's Ministry of Ecology and Environment said in a statement carried on its website on Monday that China National Nuclear Power (CNNP) and CGN plan to build two reactors each starting in June.
CNNP's reactors are planned in Zhangzhou city, Fujian province, while CGN will build the other two in Huizhou city, Guangdong province.
The companies will adopt China's domestically developed nuclear reactor design, namely the Hualong One third-generation reactors. It has been developed by CNNP and CGN based on the ACPR1000 and ACP1000 designs, derived from the French technology.
CNNP officials have hailed it as China's independent innovation.
If advanced on schedule, the launch will end a three-year hiatus in China's nuclear reactor construction and boost the country's nuclear export ambitions.
Beijing did not approve any new reactor from 2016 to 2018, partly due to the slow progress in the use of advanced and safer third-generation reactors, including Westinghouse's AP1000 and Hualong One.
The ministry said that if it does not get any objections on the environmental impact of the projects by March 29, the two firms may go ahead and start construction as scheduled. The projects are subject to other regulatory clearance.
As of January, China had 46 nuclear reactors in operation with a capacity of more than 45 gigawatts, making it the world's third largest in installed capacity, according to the government. Another 11 are under construction with a planned capacity of 12.2GW.
Last year, about 3.9 per cent of electricity generated in China came from nuclear power.
China's nuclear power development strategy has set a goal of 58GW in total installed nuclear generation capacity by 2020.
This article appeared in the South China Morning Post print edition as: Plans for nuclear reactors lift stocks