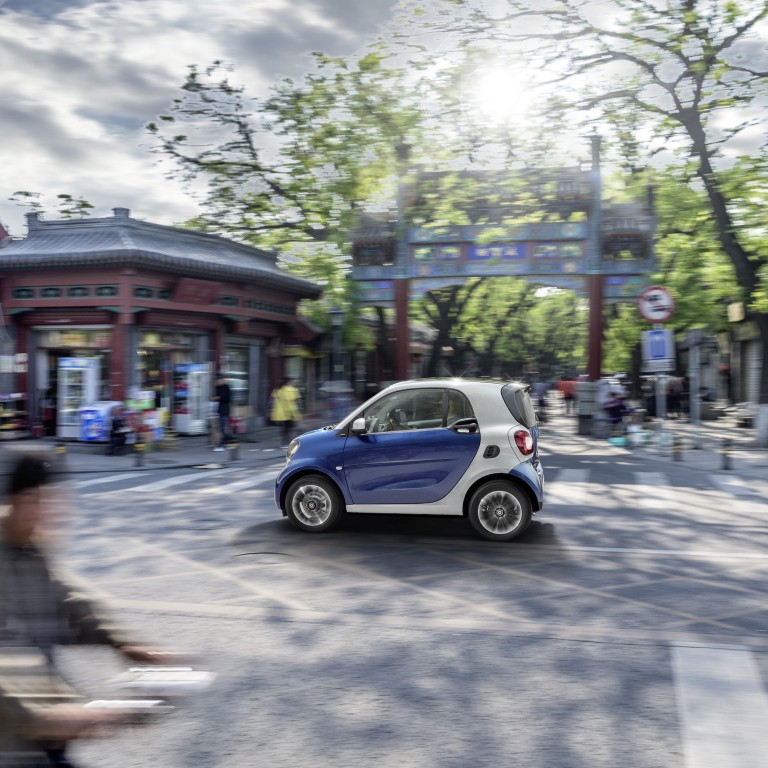 Daimler is finalising plan to make all-electric, 5G-enabled Smart micro cars in China for export with largest shareholder Geely
Plans for the 50:50 venture will be finalised by the end of this year, with the aim of putting the first vehicles on the road by 2022
The all-electric, 5G-enabled micro cars will be made at a new factory in China for exports, while Daimler continues making its current range in Europe
Daimler, the maker of the Mercedes-Benz luxury cars, said it is finalising a plan with its biggest shareholder Zhejiang Geely Holding Group to assemble Smart micro-cars in China for export.
The all-electric vehicles, to be assembled at a new factory in China, will be available for sale in 2022. The agreement for the venture will be finalised by the end of 2019, Daimler
said in an announcement
.
"As equal partners, we are dedicated to promoting the smart brand globally," said Geely's founder Li Shufu, who is a board member of the new venture. Li owns 9.7 per cent of Daimler, as the largest single shareholder of the German carmaker.
The venture adds an iconic marque to Geely's
growing portfolio of automotive brands
– comprising Sweden's Volvo, Malaysia's Proton and British sports marque Lotus – as it acquires businesses around the world to fuel its expansion. Smart, first released in 1998, was conceived as a fuel-efficient microcar that would consume 3 litres of petrol for every 100 kilometres of driving.
Infographic: Global vehicle assemblers and their venture partners in China
Over two decades, the brand has produced the ForTwo and ForFour models that ran on petrol, a hybrid petrol-electric model and an all-electric variant starting in 2009. The division had never been profitable, incurring €700 million (US$786 million) in annual losses for Daimler, according to Motley Fool's report. Still, the development of the series helped to improve the fuel efficiency average of Daimler's vehicles.
The new venture will involve equal number of board representation by Geely and Daimler, according to the statement.
Infographic: Made in China 2025 – Clearing the way for a global new energy vehicle industry
Daimler will continue to produce its current range of Smart's ForTwo, ForTwo Cabrio, ForFour models in Hambach in France and at Novo Mesto in Slovenia.
The new range of Smart cars made in China will be styled by Mercedes-Benz designers, while Geely provides the engineering. A so-called B segment model – compact cars that are slightly larger than Smart's ForTwo micro-cars – will also be in development.
The made-in-China Smart cars will also be enabled for 5G connectivity, according to a blog post by Daimler's chairman Dieter Zetsche.
"Today, connectivity at 5G speed opens up a whole universe of opportunities," said Zetsche, who will not be on the board of the new venture. "Together with Geely, we are therefore investing not only money but also talent and experience of both of our companies to use all this potential for our smart customers around the world."
The latest standard in global telecommunications, which allows for faster data transmission, allows cars and devices to communicate with each other more easily. It's also a
contentious field
, where Chinese technology companies such as
Huawei Technologies and ZTE
have a distinct advantage over
global competitors
.
This article appeared in the South China Morning Post print edition as: Daimler, Geely in China venture for Smart cars