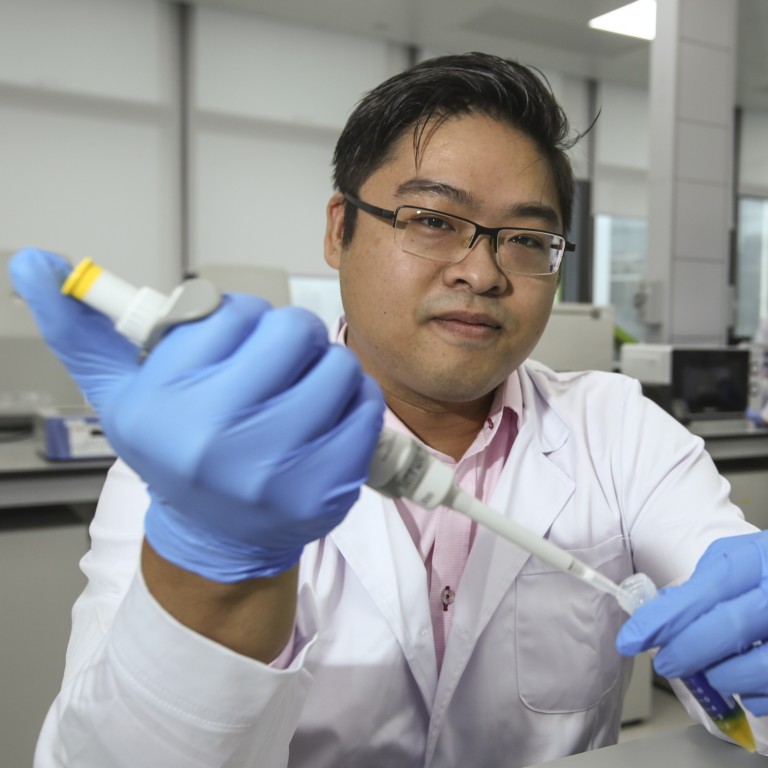 Bill Gates is backing this Hong Kong biotech start-up that can screen for cancer through a sample of urine or blood. Here's why
Kwun Tong-based Phase Scientific International says it has developed a new method of sample preparation that addresses shortcomings in current screening procedures
The Bill & Melinda Gates Foundation is among the financial backers who have put US$12 million behind this start-up
A Hong Kong biotechnology start-up claims to have come up with a new procedure that could dramatically improve the efficiency and lower the cost of cancer screening.
Phase Scientific International's has developed a new way of preparing samples for liquid biopsy, a diagnostic screening tool to detect cancer cells or their DNA fragments in fluids such as blood and urine.
In the short to medium term, the nascent technique of liquid biopsy could allow doctors to more accurately monitor a tumour's progress and its response to drugs, without the need to obtain a tissue sample – an invasive, costly and time-consuming procedure.
This would also be helpful for detecting relapses in patients who had undergone treatment to remove or shrink tumours to the point that they are undetectable by magnetic resonance imaging (MRI) scans, which themselves carry the risk of exposing patients to radiation.
In the longer term, researchers hope liquid biopsy can be used to test asymptomatic populations – people showing no symptoms – for different types of cancer to achieve early detection and increase the odds of successful treatment.
"The potential of [blood cancer cells capturing] as an aid to cancer management was limited by the low abundance of the cells, detecting and counting them has been compared to finding a needle in a haystack," wrote Peter Charlish, a retired editor, in the life science publication In Vivo.
"Companies have been trying to come up with methods to capture enough of the target cells and maintain their integrity for identification."
Ricky Chiu Yin-to, who founded Kwun Tong-based Phase Scientific International in 2012, claims it has developed a sample preparation method that would address just that.
He said the method has been shown in around two dozen blood samples to be able to capture four times more DNA fragments than the current industry "gold standard" – the sample preparation kit of Germany-based Qiagen, which last year booked just over US$1 billion in sales.
The method also contains reagents that can separate fragments that belong to cancer cells from those of healthy cells, he claimed.
Infographic: Beijing is betting big on biotech for its 'Made in China 2025' strategy
Chiu said Phase Scientific has been asked by professors at the University of Texas' MD Anderson Cancer Centre – one of the world's top cancer hospitals – to demonstrate his claims in over 100 samples, with the results expected in a few months.
"[The current gold standard] is a bit like having a whole library of books and one has to go through each word to find out whether there was a spelling error … our technology can siphon out until there are only certain pages that need to be checked," he said. The method could lower the cost and enhance the efficiency of DNA tests, he added.
Phase Scientific has since inception raised just over US$12 million from backers including the Bill and Melinda Gates Foundation, US governmental agencies the National Science Foundation and National Institute of Health, and Joseph Tam, founder of Hong Kong-based test laboratory DiagCor Bioscience.
So far liquid biopsies have been approved by regulators in only a limited number of oncology applications, such as detecting genetic mutations of late stage lung and colorectal cancer so that patients can be prescribed suitable therapies targeted at the specific mutations.
Even if Phase Scientific's method proves successful, proliferation of early-stage cancer liquid biopsy tests is likely to still be years away.
That is because downstream test developers – such as Grail, which has raised US$1.5 billion to fund operations in California and Hong Kong – have to conduct clinical studies on tens of thousands of participants across multiple cancer types to validate their reliability.
"The key in any diagnostic test – including liquid biopsy – is accuracy, that is, sensitivity, high true-positive rates, specificity, and high true-negative rates," said Hong Kong-based independent health care analyst Tony Ren. "We can only test sensitivity and specificity against a large sample of validated tissue-based diagnoses, which takes a long time to bear out."
The global liquid biopsy market, which includes non-invasive prenatal tests, was estimated by Transparency Market Research to be worth US$3.9 billion in 2017, and is projected to rise at an average annual rate of 10 per cent from last year to US$9 billion by 2026.