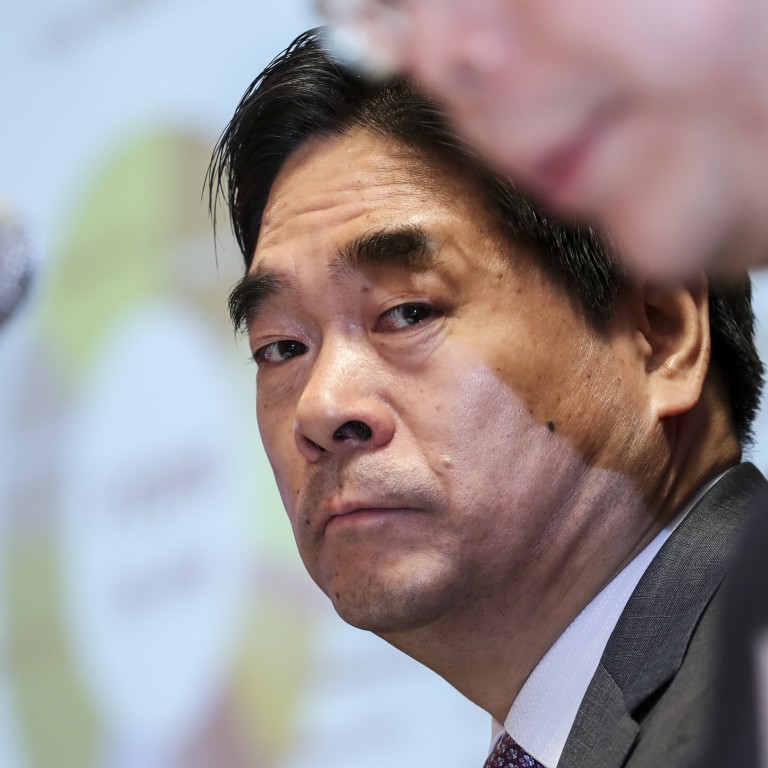 Future Land's shares make their biggest one-day plunge since 2012 Hong Kong IPO, wiping out US$1.9 billion after founder's arrest
Wang Zhenhua, the founder of Future Land, was arrested in Shanghai, according to Chinese media, citing the city's police
Shares of his Hong Kong-listed company plunged 23.9 per cent while his Shanghai-listed stock rose as trading ended before news of his arrest broke
Shares of Future Land Development
Holdings Limited
, a Shanghai-based property developer, plunged by the most since their 2012 listing in Hong Kong after the company's founder and chairman Wang Zhenhua was detained by Chinese police over a child molestation charge.
The stock plummeted by 23.9 per cent in the last hour of trading in Hong Kong to a five-week low of HK$8.04, wiping out HK$14.86 billion (US$1.9 billion) in market value. Shares of Seazen Holdings, also founded and chaired by Wang, rose 3.8 per cent in Shanghai trading to 42.69 yuan when transactions for the day ended before news broke about the founder's arrest.
Shares of Xinchengyue Holdings, which provides property management services in Shanghai, lost 23.6 per cent to HK$5.79 in the Hong Kong market.
Wang, 57, was detained on Monday on a charge of molesting a nine-year-old girl in a Shanghai hotel, according to Chinese media reports. A company official in Shanghai, who declined to be identified, said Seazen was conducting an internal investigation, declining to elaborate when contacted by the Post. Wang could not be reached, and the Shanghai Public Security Bureau declined to comment.
Wang began his business career working in a textile mill during the early 1980s, before branching into real estate in 1993 in his hometown of Changzhou in Jiangsu province. He listed Future Land in Hong Kong in 2012, followed by an initial offering of Seazen on the Shanghai bourse in 2016.
Under Wang, Seazen became
one of China's most aggressive developers
, with 20,000 employees as of March 31, and 366.6 billion yuan (US$53.3 billion) in assets. The developer specialises in constructing residential property next to shopping centres, building 19 malls last year alone, with another 22 openings in the pipeline for 2019.
With 170.7 billion yuan in first-half sales, Seazen was China's eighth-largest developer by revenue, ballooning in size from 13th place in just two years, according to the consultancy CRIC.
Seazen's shares were also the best-performing stock among mainland China's real estate companies, soaring by 76.7 per cent this year, trading at 116 times its 2018 earnings, almost triple the industry average.
With his wealth estimated at US$6.4 billion, Wang was ranked China's 108th richest man last year by Fortune. The tycoon, known as a philanthropist to teenagers in poor rural areas, received a Master of Business Administration degree from Macau University, and an Executive MBA from the Cheung Kong Graduate School of Business in Beijing.
Wang represents his home province of Jiangsu at the nation's legislature the National People's Congress, and is a Shanghai delegate at the Chinese People's Political Consultative Conference (CPPCC), as the legislature's advisory body is called.