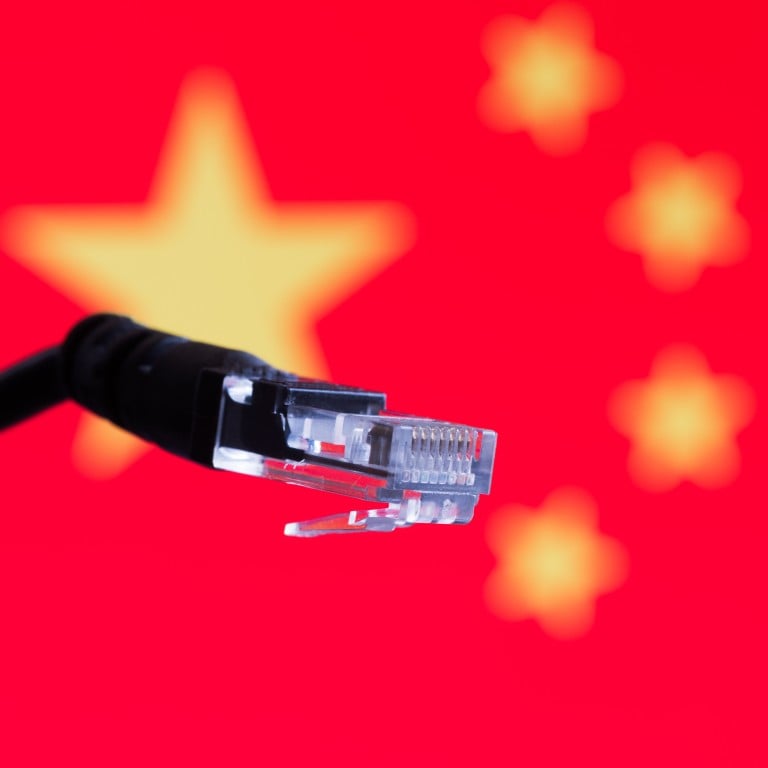 Exclusive

|
China's government mulls special stake in wallstreetcn.com as it looks to control the flow of information on trade, economics
China's internet regulator is in talks to take up a stake in wallstreet.cn, whose financial news aggregation service had been suspended since June 10
The regulator's stake, known as 'special management shares', may be held via a local state asset supervision authority or a government-backed fund, sources say
The Chinese government is trying to extend its oversight of sensitive subject matter to trade, economics and business – in addition to politics, religion and race – by muscling in on the ownership of private media organisations.
The Cyberspace Administration of China (CAC), which regulates the country's internet, smartphone applications and websites, is working on a plan to take a minority stake with super voting power in Shanghai Aniu Information Technology, the operator of the wallstreetcn.com service, according to several sources familiar with the matter.
The wallstreet.cn aggregation site, which provides free news and information about finance, trade and business, has been suspended since June 10 by the CAC for violating cybersecurity laws.
The stake, known as "special management shares" may be held via a local state asset supervision authority (SASAC) or government-backed investment fund, said the sources who declined to be identified for speaking about a matter under deliberation.
Aniu, founded in 2013 by a former financial reporter, counts CMC Capital Partners - a unit of one of the country's biggest media conglomerates China Media Capital (CMC) - as a shareholder. Aniu and CMC would not comment. Calls to the CAC's office in Beijing went unanswered.
Other investors are Ping An Ventures and Haitong Leading Capital Management. Bytedance, the owner of China's largest news aggregator Jinri Toutiao and second-round participant of Aniu's fundraising, said it is no longer an investor.
The suspension of wallstreetcn.com comes at a time when Beijing is tightening its grip on information circulation to mitigate the impact from politically uneasy events like the trade war.
Before wallstreetcn.com was abruptly shut down, it was translating and quoting foreign media like Bloomberg on the progress of the trade war negotiations. Sources said the regulator targeted the app because it was spreading negative news that weighed on mainland China's stock markets, rendering the government's censorship of information from outside the country ineffective.
For example, the aggregator translated and circulated US President Donald Trump's surprise tweets on May 5 about raising tariffs on Chinese imports. Twitter is banned in China.
The regulator has been mulling the use of special management shares to tighten its control over the country's internet and media industry since 2015.
In August 2017, state mouthpiece People's Daily took a 1.5 per cent stake in Beijing Tiexue Tech, an app related to defence news, under the special management shares framework, according to a Shanghai Stock Exchange filing.
Yidian Zixun, another popular news app, also received investment from a state fund backed by the Beijing Culture Investment Development Group the same year.
The Chinese government was considering promoting the special management rights framework in the country's biggest tech companies, including Alibaba Group Holding and Tencent Holdings, circulating a proposal internally about using a 1 per cent government stake in exchange for board representation, The Wall Street Journal reported in 2016. Alibaba owns the South China Morning Post.
"The government has the authority to supervise media organisations," said Chen Xinlei, a professor at Shanghai Jiao Tong University. "So if this company has violated the law, be it copyright infringement, or breaking rules regulating information circulation, the government has the power and legitimacy to punish it."
He said that by injecting state capital, the company would be forced to toe the government line and also give it an additional layer of protection.
Zheng Zhigang, a professor at Renmin University of China, said that introducing a government party as a shareholder in wallstreetcn.com will not work because the rights of a shareholder were different from that of a regulator and could lead to a host of other issues.
This article appeared in the South China Morning Post print edition as: Beijing mulls share ploy to tighten grip on outlets