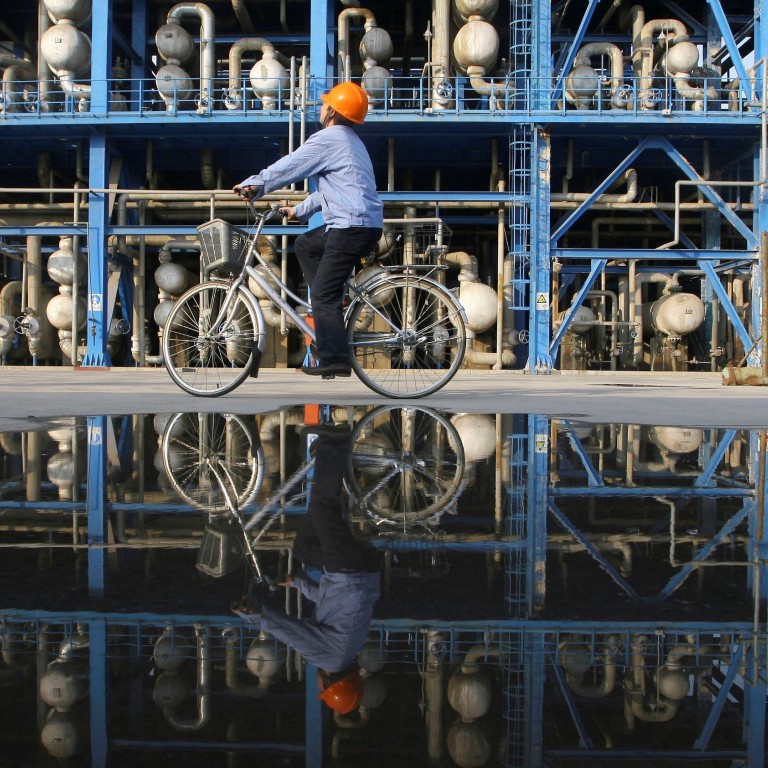 In a first, China has more companies on Fortune Global 500 list than the US
The number of US companies on the list has declined to 121 from 126 last year
The contribution of state-owned enterprises has risen to 80.2 per cent of Chinese companies on the list from 76.3 per cent last year
In a first, more Chinese companies have made it to Fortune magazine's list of the world's top 500 firms this year, than from the United States.
A total of 129 companies, including 10 from Taiwan, were ranked among the world's biggest firms by operating revenue, according to a list released on Monday. Their number rose from 120 last year, while the number for the US declined from 126 last year to 121 this year.
"Excluding Taiwan, 119 companies from mainland China and Hong Kong made it to the list, almost on par with the US. This is a historic shift," the magazine said in a statement.
The contribution of state-owned enterprises also rose, with SOEs representing 80.2 per cent of Chinese companies on the list, up for 76.3 per cent last year. The share of private companies fell to 19.8 per cent in 2019 from 23.7 last year, according to a calculation by the South China Morning Post based on the list. This calculation excludes companies from Hong Kong and Taiwan.
Three SOEs – Sinopec Group, China National Petroleum and State Grid – were among the top five companies this year. US retail giant Walmart retained the top spot for a sixth straight year, while Saudi Aramco took the fifth spot.
Chinese companies also accounted for 13 out of a total of 25 new entrants to the list. Gree Electric Appliances and Xiaomi Corporation were among the biggest new entrants, while Country Garden, China's largest developer by sales, was the fastest climber worldwide, rising by 176 spots over the past year.
In terms of profitability, Saudi Aramco overtook Apple as the most profitable company in the world. The Cupertino, California electronics giant and Industrial and Commercial Bank of China, the country's largest lender, were close behind.
The banking sector dominated the Chinese companies on the list, making up 47.5 per cent of all the Chinese companies' profits combined. The "big four" state-owned banks, including ICBC, dominated the Chinese companies on the list.
Chinese companies, however, underperformed when it came to profitability. They recorded, on average, net margins of 5.3 per cent, lagging behind the 7.7 per cent recorded by US companies, as well as the global average of 6.6 per cent. Their average net returns on equity stood at 9.9 per cent, behind US firms' 15 per cent and the global average of 12.1 per cent.
"If we don't count the banking sector's profit, the average annual profit at the remaining Chinese firms is US$1.9 billion. The same figure for the US is nearly three times [higher]," said Wang Zhile, an editor of the Fortune Global 500 list.
He said Chinese companies were also behind on internationalisation, as they had been unable to reap sizeable revenue from outside China.
This article appeared in the South China Morning Post print edition as: Chinese firms eclipse US in Fortune Global 500