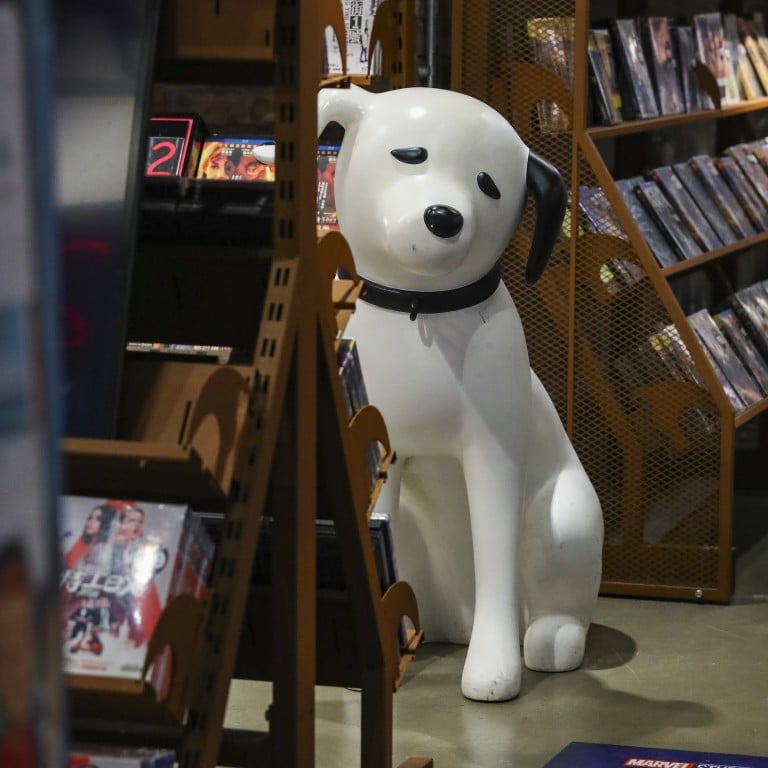 HMV's liquidation next week to give Hongkongers a chance to get their hands on 100,000 DVDs, records and its iconic dog statues
Sale to include 50,000 DVDs, 24,000 Blu-ray discs, 20,000 music CDs and 9,000 vinyl records among other items
Vision AS, which is handling the music retailer's liquidation, says that tender sale for the stockpile had to be scrapped as the bids were too low
HMV
, the collapsed music retailer, will hold a liquidation sale next week, allowing the public to buy some 100,000 CDs, DVDs and vinyl records at heavily discounted prices, according to its liquidator.
The largest liquidation sale in the city for more than a decade comes after a failed tender sale, said Wong Sun-keung, a partner at accounting firm Vision AS, which is handling HMV's liquidation.
"We tried to sell a whole lot of inventory by way of tender in June, but the offer prices from the 10 bidders were too low. We therefore decided to host a liquidation sale for the public to buy more than 100,000 items at a discount," Wong told the South China Morning Post in an exclusive telephone interview.
The sale will held from August 15 to August 29 from 11am to 9pm in W Square in Wan Chai. A presale restricted to ex-employees, creditors and the media will be held from 3pm to 8pm on August 14.
The price of most items was expected to be 50 per cent to 60 per cent lower than the original price, while some could be as much as 90 per cent off, Wong said, adding that it was a cash-only sale.
Wong said that their application for other payment methods such as Alipay, WeChat and EPS was under process.
The sale would include about 50,000 DVDs, 24,000 Blu-ray discs, 20,000 music CDs, 9,000 vinyl records, 1,000 toys and accessories, 200 headphones, dozens of iPhones and iPads, and about 3,000 other items.
Wong said the 10 iconic HMV dog statues which were on display at its stores may also go on sale.
"We found that many people are mostly interested in the vinyl records and the HMV dog statues. Hopefully, they could be sold for a good price to recoup some money for the creditors," he said.
The unsold stock has a face value of around HK$9 million (US$1.1 million), but the company has debts amounting to more than HK$40 million, forcing the music store into liquidation last December.
The British music retailer entered Hong Kong 25 years ago. The store was popular with music lovers and saw superstars like Mariah Carey, Backstreet Boys and Boyzone interact with their fans at its stores.
The rise of online music and movie streaming, together with the economic downturn triggered by the US-China trade war, led to a decline in income that could not even cover the rent for its seven stores.
The last time a liquidation sale of a similar magnitude took place was in 2008 when retailer Tai Lin Radio Services, that had been in business for more than 60 years, collapsed. The sale attracted thousands of customers who bought washing machines, televisions and other electronic items at massive discounts.
This article appeared in the South China Morning Post print edition as: HMV stock of CDs and DVDs to be sold to public