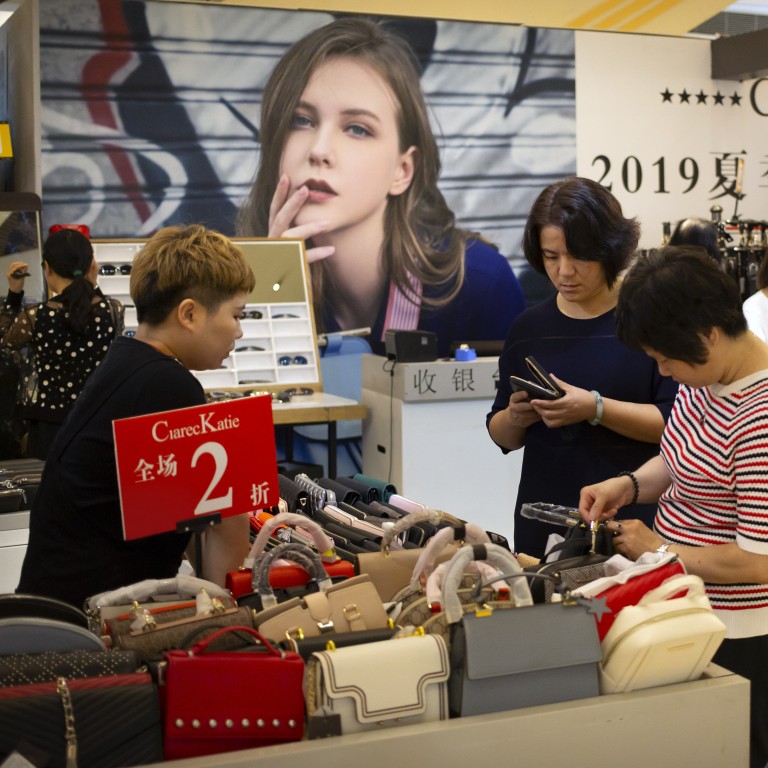 Chinese consumers shrug off impact of trade war on economy with increased spending to improve quality of life
UBS survey shows that consumers were not only spending more on consumer goods and services, but they plan to increase it over the next 12 months.
China's consumers, among the world's biggest spenders on goods and services, appear determined to spend their way through their nation's slowest economic growth pace in decades, even as Beijing's tit-for-tat tariffs on US products add to the cost of imports.
One in three consumers said they were spending more money on consumer goods and services, and one in five said they would increase spending over the next 12 months, according to a UBS survey of 3,000 respondents in May. Both responses were more upbeat than a similar survey last year.
"We have seen consumers' increasing penchant for buying goods and services that can improve their family members' life and enhance health care," said Christine Peng, the UBS analyst tracking the survey. "With or without the trade war, they are determined to spend more to achieve the goals."
The survey's findings underscore the economic foundation that undergirds China's economy, and may go some way towards explaining why Chinese President Xi Jinping is preparing his nation of 1.4 billion people to brace for
what he called the new Long March
, in the trade war with the United States.
China's retail sales rose 8.6 per cent in May when UBS conducted its survey, just as US President Donald Trump more than doubled his tariff on US$200 billion of Chinese products to 25 per cent. June retail sales rose 9.8 per cent from a year ago.
Monthly retail sales had increased year-on-year for more than a decade, soaring by 23.3 per cent in July 2008 through the depth of the Global Financial Crisis. The last time retail sales grew by a single percentage point was in June 2003, when the outbreak of the severe acute respiratory syndrome (Sars) kept people away from public places like shopping centres, cinemas and restaurants.
"Consumers like me will spend more, for as long as we keep our jobs and our income continues to rise," said Roman Wu, a 30-year-old clerk who works with a property developer in Shanghai. "The impact of the trade war appears to be small, for the moment."
Early this year, global consultancy Bain & Company forecast that spending on luxury goods in mainland China was expected to increase by 10 per cent in 2019 driven by increasing purchases by millennials, those aged 25 to 39 years old.
In Shanghai, the mainland's commercial capital, average income rose 6 per cent to 35,294 yuan (US$4,999) per person in the first half of this year, from the same period last year. In Beijing, average income climbed 6.9 per cent to 33,860 yuan compared to a year earlier.
Chinese consumers are still sanguine about the prospects of their economy, even as second-quarter growth slowed to 6.2 per cent, the weakest quarter since record-keeping began in 1992. Almost one in five survey respondents, or 19 per cent of the sample, said they would be buying more consumer goods and services over the next 12 months, 8 percentage points more than a similar finding last year.
In particular, Chinese consumers spent more on premium food and drinks, sportswear and health care products, education and leisure travels, UBS said.
Large consumer items such as cars, however, were declining and show no easing of easing up. Figures from the China Association of Automobile Manufacturers on Monday showed that car sales fell 3.9 per cent year on year in July for the 13th month in a row.
On August 1, Trump threatened to impose 10 per cent tariff on US$300 billion of Chinese goods from September 1, just one day after a meeting between top trade negotiators finished in Shanghai.
UBS said that it expects the additional tariffs to reduce China's gross domestic product growth by at least 30 basis points over the next 12 months. The Swiss investment bank cut its 2019 GDP forecast to 6.1 per cent from 6.2 per cent and its 2020 growth forecast to 5.8 per cent from 6.1 per cent.
This article appeared in the South China Morning Post print edition as: US tariffs fail to dampen mainland consumer mood