Alibaba
Get more with myNEWS
A personalised news feed of stories that matter to you
Learn more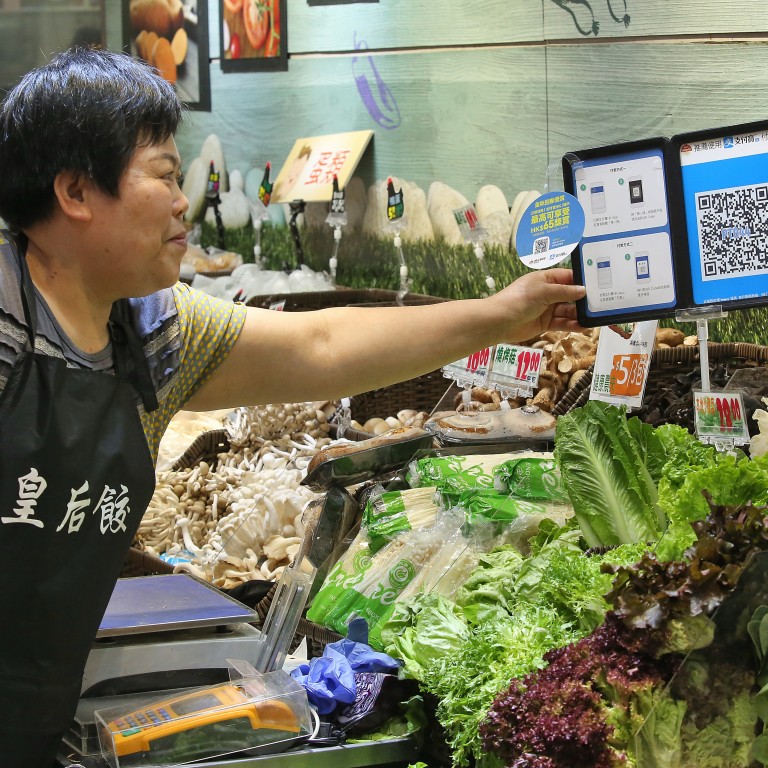 Global fintech investments nosedive as Chinese fundraising falls sharply, report says
US remains world's biggest fintech market with US$12.7 billion in first-half fundraising, according to Accenture
Fintech investments in China totalled US$820 million in the first half of 2019 vs US$17.7 billion a year earlier, Accenture says
Global investments in fintech firms tumbled 29 per cent in the first half of the year as deal activity in China fell sharply amid an escalating trade war between Washington and Beijing, according to a new report by the consulting firm Accenture.
The value of financial technology deals worldwide in the six months ended June 30 declined to US$22 billion, compared with US$31.2 billion in the same period a year earlier. The number of deals globally, in contrast, increased 2 per cent to 1,561 in the first half of the year.
Ant Financial Services, the operator of Alipay and an affiliate of
Alibaba
Group Holding, raised US$14 billion in the first half of 2018, the largest fintech investment last year. Excluding that deal, global fintech investments would have increased 28 per cent in the first half of this year, according to Accenture. Alibaba is the parent company of the
South China Morning Post
.
The United States remained the biggest market for
fintech
transactions, with investments jumping 60 per cent to US$12.7 billion in the first half of 2019, according to Accenture. Investment in the United Kingdom nearly doubled to US$2.6 billion, while Germany, Sweden and France also saw strong gains.
"There's been a lot of interest and demand from consumers for new fintech propositions, particularly in the UK and elsewhere in Europe. Fundraising is also moving to support the scaling up of challenger and collaborative fintech, which will cause lumpiness in some [funding] rounds," said Julian Skan, a senior managing director in Accenture's Financial Services practise. "However, the question is: How long can that last? Fundraising is likely to reach a plateau soon and will most likely dip going forward."
Accenture used data from CB Insights, a global venture finance data and analytics firm, for its analysis.
In China, the number of fintech investments fell by nearly half to 79 transactions, compared with 155 fintech deals in China the first half of 2018, Accenture said. China was a major driver of fintech funding globally in 2018.
The overall amount of fintech investments in China was US$820 million in the first half of the year, compared with US$17.7 billion in the first half of 2018. Excluding the Ant Financial transaction, fundraising in China still fell 79 per cent in the first half.
The decline in Chinese fintech investments came as tensions intensified between the US and China over trade and technology in a trade war that has raged for more than a year.
The US has increased scrutiny of foreign investments in the US, including by Chinese firms, and placed restrictions on some Chinese firms to be able to access US technology, including blacklisting Chinese telecommunications company Huawei Technologies.
Fears also are growing about a potential global recession as the trade dispute has weighed on future business investment. US markets posted some of their biggest declines of the year on Wednesday, following signs of a slowdown in Germany and weak economic data out of China.
Overall, venture capital funding in China declined 69 per cent to US$15.1 billion in the first half of the year, according to data from Refinitiv. That compared with US$48.5 billion in the first half of 2018.
Globally venture capital investments were down 19 per cent to US$100.6 billion, according to Refinitiv.
The largest fintech deals in China this year included US$145 million raised by online insurance platform Shuidihuzhu in June, a US$100 million fundraising by risk management firm Tongdun Technology in April and a US$94 million Series A round by start-up Wiseco Technology in May, according to Accenture.
Fintech investments in Singapore nearly quadrupled to US$453 million in the first half of the year, making it the third biggest fintech market in the Asia-Pacific region, behind China and India. Investments in Indian fintech companies declined 25 per cent to US$811 million in the six months ended June 30.
Hong Kong also benefited from new fintech investments as the city's first virtual banks are expected to debut later this year.
Fundraising by Hong Kong fintech companies rose to US$152 million in the first half of 2019, compared with US$23 million a year ago. The number of transactions doubled to 12 from six in the first half of 2018.
In Southeast Asia, Vietnam had its largest fintech deal ever in the first half as e-wallet company MoMo raised US$100 million in January. In Indonesia, investments increased to US$65 million, compared with US$13 million in the prior year period.
This article appeared in the South China Morning Post print edition as: fintech takes nosedive as china deals decline