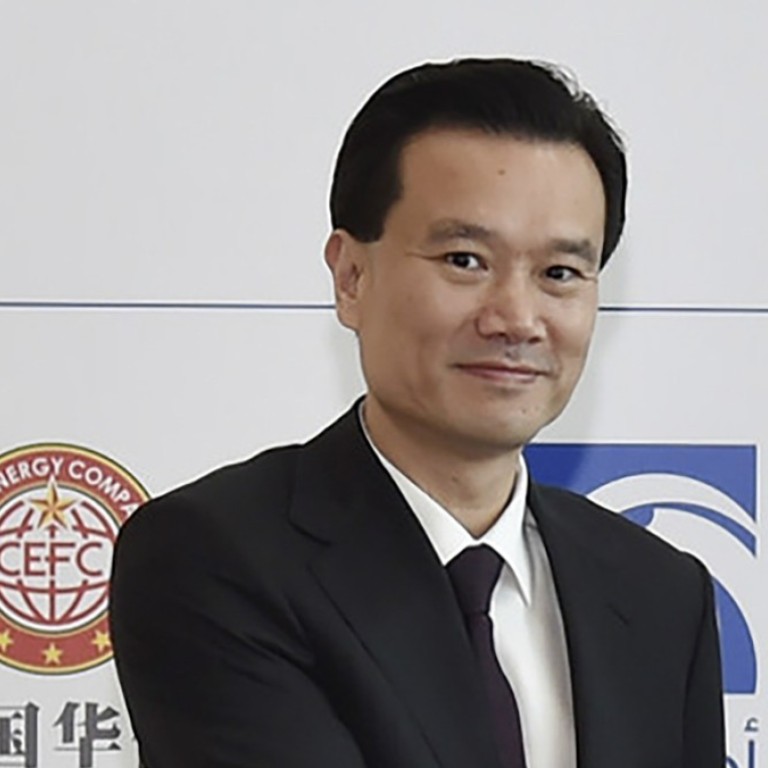 Missing oil tycoon Ye Jianming's firm faces delisting in China, 18 months after he was detained by Chinese authorities
Process likely to begin this week to give the boot to Shenzhen-listed unit of one-time powerful conglomerate CEFC China Energy
Huge empire spiralled out of control after its owner was detained by Chinese authorities
The latest turn in the dramatic downfall of one of China's most aggressive deal makers – CEFC China Energy – is the likely start this week of removing its only mainland-listed unit from the Shenzhen Stock Exchange.
CEFC China amassed a large portfolio of energy and financial assets in Europe, the Middle East, Central Asia and Africa under its mysterious founder, Ye Jianming.
The empire builder was detained by Chinese authorities 18 months ago and has not been seen since. His detention on still-undisclosed charges paralysed his former Fortune Global 500 conglomerate.
Its one mainland-listed unit is CEFC Anhui International Holdings. Under exchange rules, it is likely to be delisted soon because its stock price has fallen so low that it cannot meet the threshold of reaching its face value of one yuan by Friday.
In a filing Thursday with the exchange, CEFC Anhui warned of the delisting risk.
CEFC Anhui's stock closed at 0.67 yuan on Wednesday. Even if it hit the exchange's daily limit of a 10 per cent gain on each trading day for the rest of the week, it would fall short of meeting the threshold.
The clock is ticking: A company that sees its share price continually fall below its face value for 20 consecutive days faces delisting. Trading of shares is suspended at that point, and the stock exchange then decides whether to kick out the company within 15 trading days.
"Unless there is a stock merger plan approved by the Shenzhen bourse, it is highly unlikely that the exchange will give CEFC Anhui an exception," said Guo Shiliang, an independent stock commentator based in Guangzhou.
CEFC Anhui announced a restructuring agreement with Jiaozuo Zhongzhou Carbon on August 9, but the news failed to fuel a rise in its share price.
Delisted firms are removed from the stock exchange and traded on the over-the-counter market.
The company could apply for relisting if it reaches standards set by the Shenzhen bourse.
According to its annual report for 2018, CEFC Anhui generates its revenue by trading oil products and providing related finance and logistic services. But its business and financial situation sharply deteriorated in 2018, "affected by incidents" related to its controlling shareholder CEFC Shanghai International Group, it said.
CEFC Anhui is 60.78 per cent owned by CEFC Shanghai, which is the flagship subsidiary of CEFC China Energy, owned by Ye.
All of the stakes under CEFC Shanghai have been frozen by a Chinese court, under the request of creditors.
In a recent development in the conglomerate's drama, on July 30, Chinese authorities announced a formal investigation of Hu Huaibang, the retired chairman of China Development Bank (CDB), the biggest creditor of CEFC.
Prosecutors said that during his five years as CDB chairman, Hu helped a CEFC subsidiary obtain a US$4.8 billion credit line from the policy bank.
According to a consolidated balance sheet released by Shanghai CEFC to the Shanghai Clearing House, its total liabilities were 128 billion yuan (US$18.2 billion) as of the end of September last year.
CDB is leading a committee working on dismantling CEFC and selling its assets.
Staff with CEFC in Beijing said they were asked to "work from home", as the creditors put their former office in Fortune Plaza, a grade A office building in Beijing's central business district area, up for sale.
CEFC made global headlines in September 2017 when it signed an agreement to buy a US$9 billion stake in Russia's state-controlled oil major Rosneft, the world's largest listed oil company. The deal fell apart after Ye went missing.
There are two other listed entities: Singapore-listed AnAn International, which has been trapped in lawsuits related to CEFC's liabilities. And the Hong Kong-listed unit, CEFC Hong Kong Financial Investment, which has reported losses of around HK$60 million.
Neither is facing delisting so far.
This article appeared in the South China Morning Post print edition as: CEFC unit set to be delisted from Shenzhen exchange