Taiwan
Get more with myNEWS
A personalised news feed of stories that matter to you
Learn more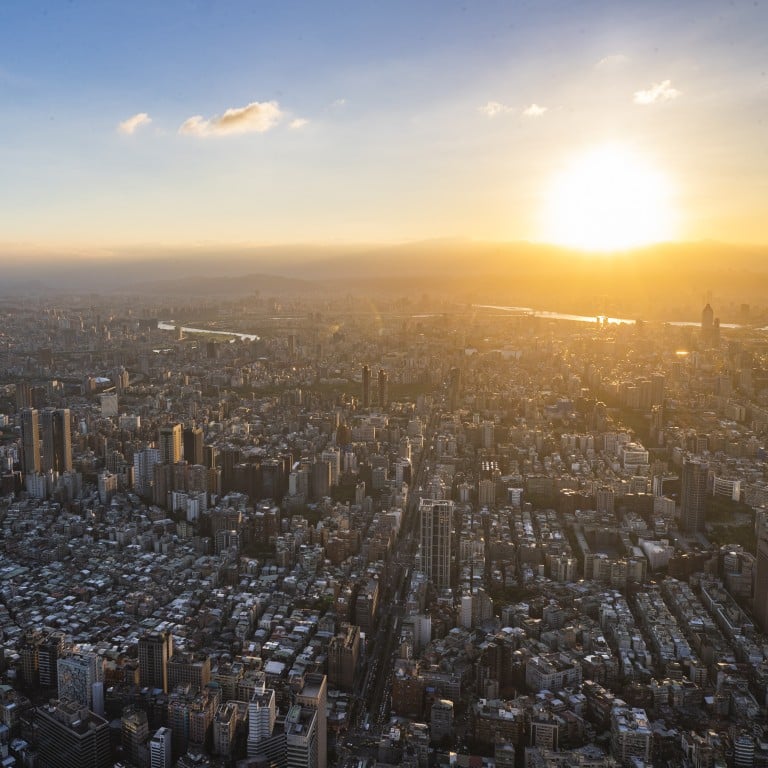 US-China trade war could squeeze profits of Taiwan's top companies, S&P says
Weaker iPhone sales, rising competition and oversupply are pressuring Taiwan's tech firms, S&P says
Taiwan however has raised its GDP growth forecast for this year and next
Taiwan's biggest companies, particularly technology firms, could see their profits squeezed in the second half of this year and into 2020 as a trade war continues to escalate between the United States and China and the global economy slows, according to S&P Global Ratings.
The credit ratings agency said makers of display panels, branded information technology, electronics manufacturing services and components could face "particular downside pressure on their profitability and debt leverage".
"We view the greatest risk from escalating trade tension to be further weakening in China's economic growth," S&P credit analyst Raymond Hsu said in a research report released on Wednesday. "A slowdown in China's economic engine could affect almost all of Taiwan's top corporates, given their trade reliance on China and the importance of global demand for the products they manufacture in and export from China."
The US and China have been caught in a tit-for-tat over trade for more than a year, with US President Donald Trump placing tariffs on about US$380 billion of Chinese imports as he tries to pressure Beijing to change years of trade and industrial policy. China has responded with its own retaliatory tariffs.
Another US$160 billion of Chinese-made products are expected to face 15 per cent tariffs beginning on December 15 and an end of the trade conflict does not appear in sight. Bank of America Merrill Lynch said in a research note released on Wednesday it expects tariffs to remain in place through the end of next year.
Against the backdrop of the trade war, S&P said that weaker sales of Apple's iPhone, rising competition and oversupply, combined with a weakening in demand are creating pressure among Taiwan's tech companies.
Last month, Taiwan raised its gross domestic product growth forecast for this year to 2.46 per cent, up from its earlier outlook of 2.19 per cent. Taiwan's statistics agency also said it expected GDP to grow at 2.58 per cent in 2020.
"Weak global demand, mainly owing to the international trade conflicts and worldwide weaker demand for mobile devices, would drag the export growth," the statistics agency said. "However, the reshoring of manufacturing companies will increase the domestic production capacity, and partly offset the drag. Along with exports of services, it is projected that the real exports of goods and services will grow by 3.47 per cent in the whole 2019."
In a research note on Wednesday, Mitsubishi UFJ Financial Group (MUFG) said there are "stronger signs of domestic economic health" in Taiwan that are not common among other emerging markets, most notably Taiwanese companies "reshoring" operations from China back to Taiwan.
Last month, the Ministry of Economic Affairs said it expected real fixed investment to grow by 6 per cent this year, in part because of "reshoring" by Taiwanese companies.
"So over the near horizon, we don't necessarily need a trade war ceasefire (which is obviously an uncertain prospect) to generate a relief rally, though it will help," MUFG said. "Asymmetrically, should the trade war deteriorate further, we think it may still hurt [the Taiwan dollar] and other Asian currencies."
Taiwan's dollar was trading at 31.329 to the US dollar at the end of August, compared with 31.38 at the end of July.
In its report on Wednesday, S&P said that softening external demand is expected to produce "moderately weaker profitability and operating cash flow" for Taiwan's major exporters, but lower capital spending and more conservative dividend payouts could offer some relief.
The trade war, given its unpredictable nature, presents "significant downside risk" with more of Taiwan's tech companies finding themselves in the line of fire, S&P said. Taiwanese companies, particularly those in the tech, chemical and commodity sectors, are likely to try to diversify their markets and shift away from "tariff-prone" areas.
"Other top risks for Taiwan's corporates include aggressive new capacity additions and increasing competition particularly from emerging Chinese suppliers," Hsu, the S&P analyst, said. "These factors could significantly suppress prices for some tech products such as memory chips and display panels amid slowing demand."
This article appeared in the South China Morning Post print edition as: Taiwan's big firms in line of fire for tariffs