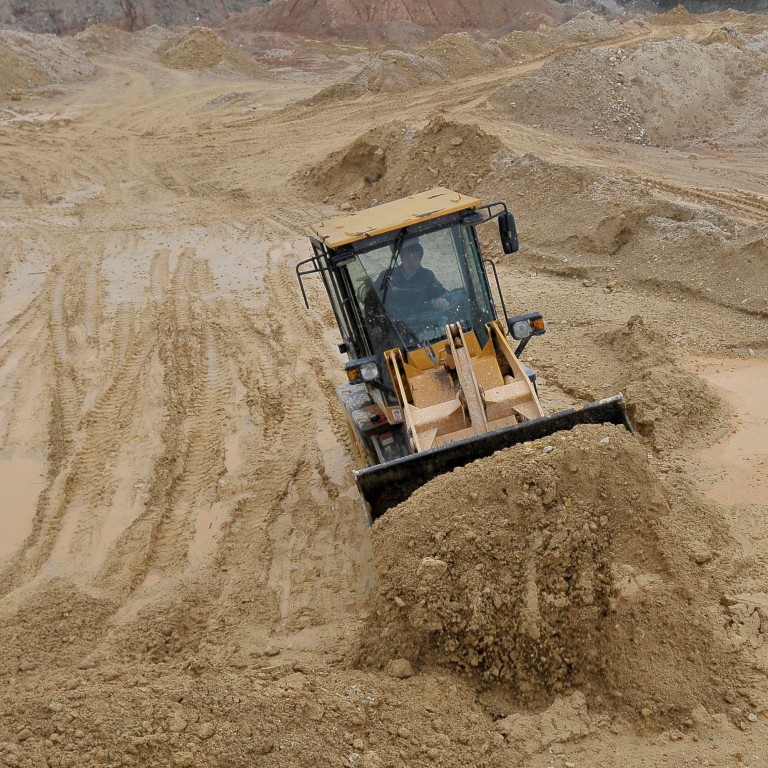 Explainer: Why Beijing cut the tax rate on rare earths amid the escalating US-China trade war
Industry observers say the move is meant to boost production, make it economically feasible to exploit low-grade deposits and maintain the country's edge in the sector
A lower tax rate of 20 per cent on miners of heavy rare earths takes effect from September 2020
Last month, the Chinese government cut the resource tax on companies mining heavy rare earths to 20 per cent from 27 per cent, as part of its efforts to support the vital sector and maintain the country's dominance amid a raging trade war with the US.
The Post spoke to a number of industry observers, who agree that the latest policy move, which takes effect next September, is meant to boost production and make it economically feasible for miners to exploit low-grade deposits.
Right now, the cost for a Chinese company producing a basket of separated rare earths, including feedstock, is more than 150 yuan. And the selling price averages around 175 yuan per kg, leaving a very slim profit margin after taxes.
The tax will hardly affect light rare earths, with a barely noticeable change in levy ranging from 7 to 12 per cent, from the earlier 7.5 per cent to 11.5 per cent.
There are 17 rare earth elements – split into light and heavy – that are used widely in smartphones, electric cars, wind turbines and even weapons. And because of China's stranglehold on the sector – accounting for nearly 70.6 per cent of global production – there are fears that Beijing could use the strategic materials as a bargaining chip in the trade war negotiations with Washington by curtailing exports to the US and impacting the sectors that rely on rare earths.
It is worth noting that China accounted for some 80 per cent of exports to the US between 2014 and 2017.
And while Washington in July last year proposed to slap a 25 per cent tariff on Chinese rare earth metals, which it backed off from in October, the Association of China Rare Earth Industry has said that its members will pass to their customers any tariffs imposed on their exports, and that it "resolutely supports the nation's counter measures against US import tariffs on Chinese products".
What prompted Beijing to cut the resource tax on heavy rare earth producers?
The cut is designed to spur domestic production of heavy rare earths because they are "truly critical" rare earth elements, unlike light rare earths which are much more abundant, said Chris Berry, founder of New York-based strategic commodities investment firm House Mountain Partners.
It is also aimed at helping producers that have been hit hard in recent years by steadily falling prices of certain rare earths. Europium and yttrium have particularly suffered as fluorescent lamps are phased out globally, said Ryan Castilloux, managing director of Adamas Intelligence, a rare earths and electric battery metals consultancy.
"By bolstering the economics of mining and processing in China, the tax reductions will also make it more feasible for Chinese producers to exploit lower-grade deposits at a time when supplies of heavy rare earth concentrates are increasingly tight, following the ban on imports from Myanmar in May this year," he said.
Last year Myanmar accounted for a third of global heavy rare earth mine production, all of which was shipped to China for processing.
How soon can the tax cut make a difference to heavy rare earth production?
It will take time because a large number of operations in southern China have been suspended in recent years, according to David Merriman, a London-based manager at commodities consultancy Roskill Information Services.
"Producers have chosen to stop production rather than upgrade facilities to meet environmental legislation … the tax cut will help China's heavy rare earth mining industry rebuild, and restore domestic raw material supply security for their [processor] customers," he said.
"The short term impact on international supply is likely to be minimal, as China's dominance of the market will continue to be overwhelming."
What are the uses of some of the most sought after light rare earths?
The most critical and expensive light rare earths include neodymium, which is used in permanent magnets to enhance their magnetic power.
Such magnets are used in mobile phone speakers, headphones, computer hard disks and wind turbines, as well as electric motors of cordless tools and electric vehicles.
Another significant element is praseodymium, which is combined with neodymium to create powerful magnets. It is also mixed with magnesium to make high-strength metals used in aircraft engines.
Much less expensive and more abundantly available is lanthanum, which is used in the tens of kilograms in batteries of hybrid vehicles. It is also used in camera lenses and as a catalyst to refine crude oil.
What applications do heavy rare earths support?
Terbium is used in fluorescent lamps and television tubes, and a variety of electronic devices including sensors and naval sonar systems.
Dysprosium is used as a partial substitute of neodymium in magnets of electric car motors and wind turbine generators, apart from application in commercial lighting and control rods in nuclear reactors.
Yttrium is used in cancer drugs and in medical imaging equipment.
Where are the rare earths mined in China?
Heavy rare earths are mainly mined in the southern regions of Jiangxi, Fujian, Guangdong and Guangxi.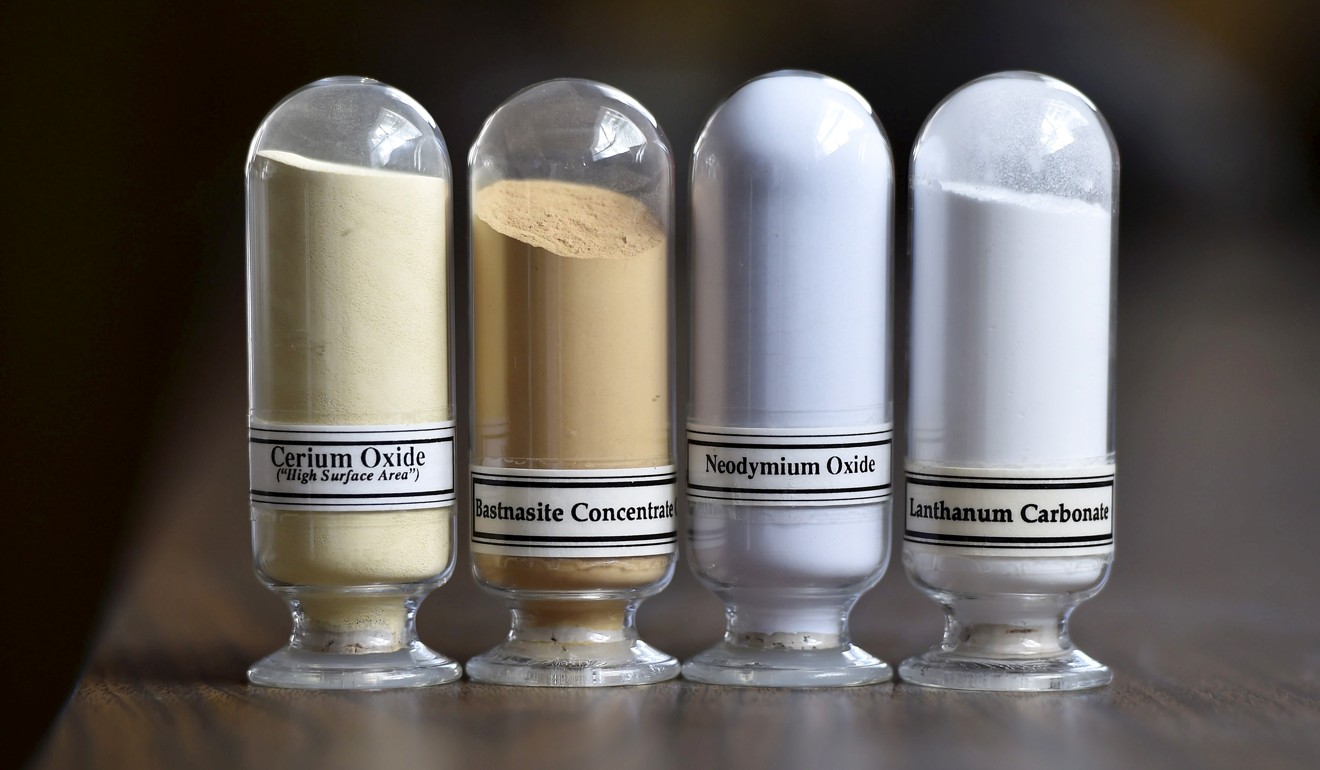 Light rare earths are found mostly in northern China, especially in Baiyun Obon – north of Baotou city of the Inner Mongolia autonomous region. It is estimated to hold 83 per cent of the nation's proven rare earth reserves and around a third of the world's.
How much do these minerals cost?
The reference price of light rare earths, such as lanthanum and cerium oxides, last Friday ranged between 10 yuan and 14 yuan (US$1.4 and US$2) per kg, rising to between 320 yuan and 392 yuan per kg for neodymium and praseodymium, according to the Association of China Rare Earth Industry.
These prices have risen between 8 and 23 per cent since May 20, when President Xi Jinping visited a major rare earth mining and processing facility in Ganzhou, Jiangxi province, to rally the public amid rising trade and technology tensions with the US.
Heavy rare earth dysprosium oxide changed hands at around 1,925 yuan per kg and terbium oxide at around 3,935 yuan, having risen 17 and 19 per cent, respectively, since May 20.