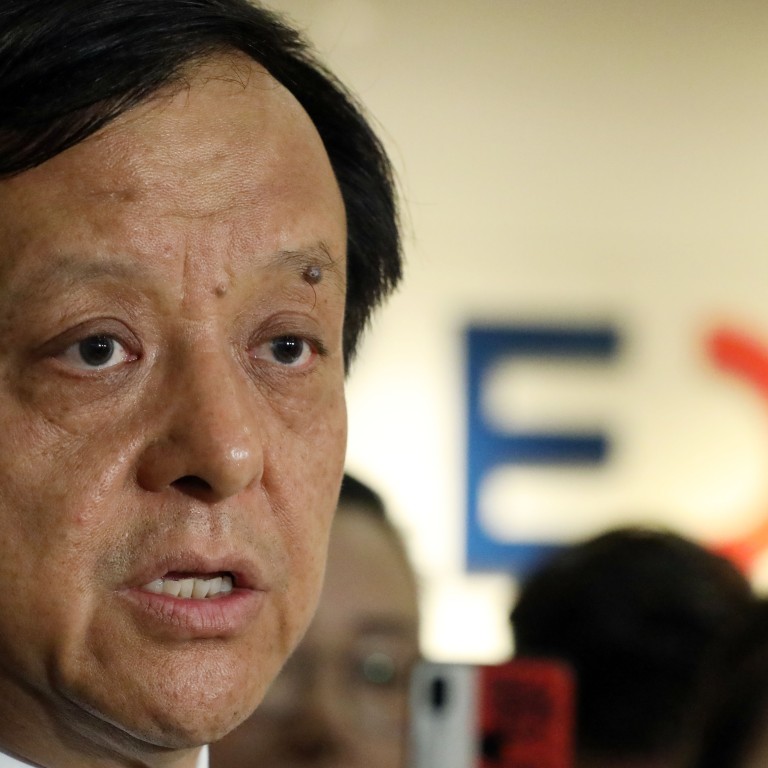 Why Hong Kong wanted the London Stock Exchange so badly, and how its decision to wait a year could cost it the deal
The decision to attempt a takeover of the UK exchange was made at a meeting of HKEX directors in September 2018, according to a source
Hong Kong was in a much stronger position to buy the LSE a year ago, given today's economic uncertainty and the political crisis engulfing the city, say analysts
On a sunny day in September 2018 the directors of Hong Kong's stock exchange gathered in a hotel meeting room to discuss the best way to take the bourse forward. They reached a bold decision – they would try to buy the London Stock Exchange (LSE) to create a giant trading framework that bridges east and the west.
The meeting, which lasted a whole day, covered every aspect of a three-year strategic plan (2019 - 2021) for the exchange, according to a source who wished to remain anonymous. It included a range of suggestions to add new products and measures to boost the status of the exchange, to make it the leading asset management platform in Asia and bolster its role as a gateway for mainland China investment.
It was during this conference that Charles Li Xiaojia, chief executive of Hong Kong Exchanges and Clearing, and some of his advisers presented the idea of using mergers and acquisition as a short cut for the bourse operator to diversify its business model away from a focus on the initial public offerings of Chinese companies.
The HKEX, however, did not act immediately on its plan to buy its London counterpart and may now have missed the boat.
"It is much harder for the HKEX to proceed with the LSE acquisition now than a year ago given the global economic situation. Most importantly, the anti-government protests in recent months have hit market turnover hard as well as the international image of Hong Kong," said Clement Chan Kam-wing, managing director of accounting firm BDO.
It wasn't until September 11 this year that HKEX surprised the market with an unsolicited offer of US$36.6 billion in cash and new shares to acquire the centuries-old LSE.
The local bourse, which operates Asia's third-largest market, must now make a formal offer – possibly an improved one – before a deadline at close of business next Wednesday (October 9), according to the UK takeover code. If passed, it would be the largest exchange merger in history.
While HKEX needed a year to turn its idea into action, it took the LSE board just two days to reject the offer, saying it preferred Shanghai Stock Exchange as its partner giving it access to the mainland Chinese market. In a brutal rebuttal, the LSE also raised questions about the future of the Hong Kong exchange as a gateway to China as violent anti-government protests that have plagued the city for almost four months show no signs of ending.
HKEX has not given up and has hired HSBC and UBS to help lobby shareholders of the LSE. The deal will need to get approval from shareholders of both bourses as well as regulators in the UK, the US, Italy, France and Europe.
Some LSE shareholders are demanding the HKEX raise its offer price by 20 per cent, according to a Reuters report on Friday morning, while some HKEX shareholders told the Post that they would object to taking the price much higher.
But why was HKEX so keen to take over LSE in the first place? It has to do with that meeting a year ago.
HKEX has successfully built a world-leading IPO market that has ranked top of the global league table six times in the past decade. But it heavily relies on mainland Chinese companies.
In fact, Chinese firms represented 68 per cent of market cap and 95 per cent of all funds raised through IPO in Hong Kong last year.
"With mainland China gradually opening its markets to international investors, the role of Hong Kong as a gateway to China will be eroded in the long term. HKEX will [therefore] need to diversify its business models to have different products and markets. M&A with the right target would be a short cut to achieve such a goal," said a source familiar with what went on at the meeting.
The source said the £1.39 billion purchase in 2012 of the London Metal Exchange (LME), for example, had proved successful in helping HKEX to step into commodities trading.
The 13 board members of the HKEX, and their advisers, discussed several potential targets and concluded the most ideal one was the London Stock Exchange.
"London Stock Exchange has a strong clearing business while it is also strong in technology and data businesses. It operates in a different time zone while it has little overlap with the HKEX business," the source said.
The HKEX, however, did not put the purchase plan into action immediately because it wanted to wait and see how Brexit – Britain's bid to leave the European Union – panned out, the source said. The UK's departure was initially scheduled for the end of March this year.
This wait-and-see approach may have caused the HKEX to miss the best time to pounce, because a year on, the global and local economies are in a slide. The Brexit process is still dragging on while the US-China trade war that started over a year ago has only escalated.
Back home, and Hong Kong was riding high a year ago. It had just launched the high-speed train connecting to mainland cities as well as the Hong Kong-Zhuhai-Macau Bridge to bring thousands of mainland tourists to Hong Kong. These new transport infrastructure were credited with helping drive up third-quarter GDP growth last year to 2.9 per cent.
Fast forward a year, and things are very different in Hong Kong.
The huge anti-government protests that started on June 9 have driven away tourists and savaged retail sales, with Financial Secretary Paul Chan Mo-po last month warning that the city may go into a technical recession in the third quarter.
A year ago, HKEX enjoyed the advantage of being the only market worldwide to have two stock connect schemes, linking it to Shanghai and Shenzhen. But in June this year, LSE launched its own version of the scheme with the Shanghai Stock Exchange.
HKEX's Li, a former investment banker and a veteran dealmaker, disagrees that the deal is badly timed.
"In reality, there is seldom a perfect time to undertake a merger or acquisition," he wrote on his personal blog when he announced the LSE bid. "Given the current uncertainties in global geopolitics and economics, you could be forgiven for thinking that the time would not be now to make a major investment in a cross-border acquisition.
"However, this is a highly compelling transaction that stands up on its own, whatever the noise, and if we do not try, then of course by definition we fail."
Li, who has been the CEO since January 2010 and led the HKEX to its first overseas acquisition by spending £1.39 billion on the London Metal Exchange (LME) in 2012, has a strong belief in the deal.
"Together, they will create a world-leading global exchange that spans Asia, Europe and the United States with a market value of more than US$70 billion," he said.
Laurence Li Lu-jen, chairman of the Financial Services Development Council (FSDC), a government-appointed industry promoter, shares his view.
"It is very brave for the HKEX to propose a marriage between HKEX and LSE. It makes sense to bring the strength of the two exchanges together," he said. "It is such a large deal, so it needs a lot of time to study before taking into action."
He also believes the LSE would benefit from the merger, with HKEX as a gateway to China.
The two stock connect schemes between Hong Kong and the mainland bourses cover more than 2,000 stocks and allow investors to carry out billions of dollars in cross-border trading. The LSE-Shanghai connect structure is like a cross-listing, currently with only one mainland Chinese stock traded on the UK exchange, the chairman of the FSDC said.
The HKEX's decision to make its audacious bid last month was triggered when the LSE announced in August it would spend US$27 billion to acquire data company Refinitiv, which is 55 per cent owned by Blackstone Group and 45 per cent by Thomson Reuters.
The HKEX offer comes with the condition that the LSE would need to give up the Refinitiv acquisition. But the LSE board said it considered the HKEX offer too low and would stick to its plan to pursue the deal with Refinitiv, to be completed in the second half of next year.
"If LSE would have completed the acquisition of Refinitiv, it would have enlarged its operations in the US. This would make it impossible for the HKEX to acquire the LSE as the deal would be subject to more US regulatory approval," the HKEX source said.
HKEX chairwoman Laura Cha Shih May-lung said: "A combination of HKEX and LSE represents a highly compelling strategic opportunity to create a global market-infrastructure group, bringing together the largest and most significant financial centres in Asia and Europe."
What Cha said was broadly true, as the two bourses bring very different strengths to the table.
As IPO markets, HKEX is by far the stronger. It has beaten LSE in terms of both the number of IPOs and the amount raised over the past 10 years. Hong Kong was ranked the top IPO market worldwide six times over the past decade, while LSE has languished between third and eighth place, once slipping as low as 22nd, according to data from Dealogic.
But LSE has a far more diversified business. In 2018, it generated 38 per cent of its income from post-trade services such as clearing and settlement via its 82.6 per cent-owned LCH, which clears half of the world's interest rate swaps. Forty per cent if its income comes from its information services, such as leading global index provider FTSE Russel Indexes.
Capital markets only accounted for 13 per cent of LSE's income in 2018, in contrast to the HKEX which garnered 46 per cent of its income comes from stocks and derivatives trading.
"The deal is logical as HKEX and LSE are highly complementary in businesses. HKEX is strong in stocks and derivatives trading and IPO while LSE is strong in fixed income, foreign exchange and offshore US-dollar settlement centres," said Kenny Ng, Lai-yin, securities strategist at Everbright Sun Hung Kai.
"If I was a shareholder of HKEX, I would agree to the transaction. If I was a shareholder of LSE, I would consider further negotiations with HKEX for better returns," Ng said.
HKEX offered to pay £83.61 per LSE share in cash and stock. LSE's share price shot up 16 per cent at the time of the offer. It traded at around £73.38 on Friday morning, up 7.8 per cent from before the bid. HKEX closed at HK$226 on Friday, down 8.1 per cent since announcing the offer.