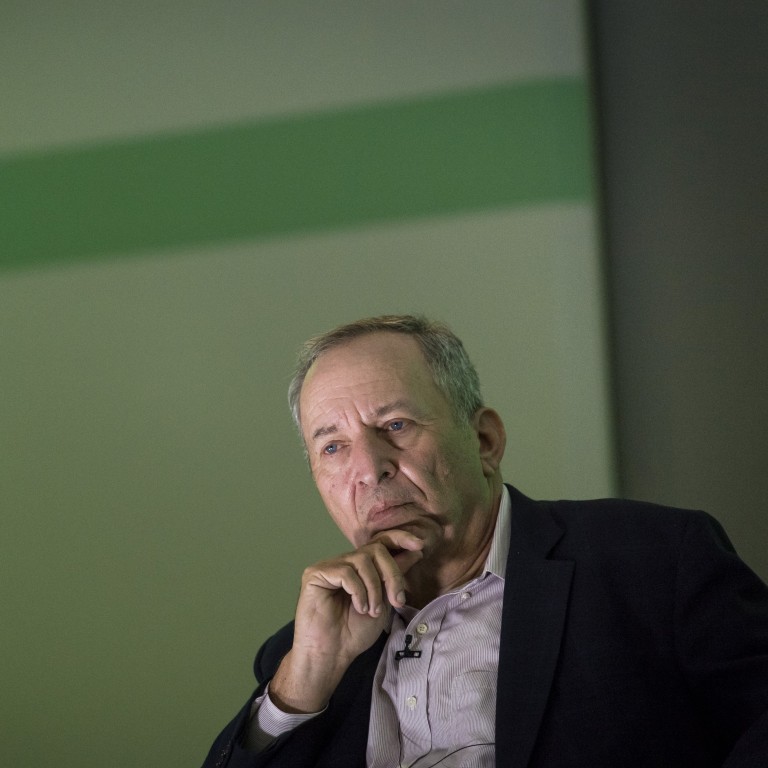 Donald Trump's 'phase-one' deal will not resolve issues behind US-China trade war, Larry Summers says
Issues likely to linger, but cutting tensions could reduce uncertainty and act as 'a spur to growth', former US Treasury Secretary Lawrence H. Summers said
US has 'legitimate concerns' about technology and China should be willing to address them, Summers said
A partial deal by the United States and China to de-escalate the 16-month trade war will reduce the uncertainty weighing on global business sentiment, even if it will not resolve the underlying issues that drove the world's two largest economies into a tariff battle, said the White House's former chief economic adviser.
The deal, dubbed "phase one" by US President Donald Trump, and expected to be sealed before a 15 per cent tariff on US$160 billion of Chinese import kicks in on December 15, would "probably act as a spur to growth", said Lawrence H. Summers, the treasury secretary during the Bill Clinton administration, and director of Barack Obama's National Economic Council.
"I think there are legitimate concerns that the United States has in some areas – probably more in the technology area than in the trade area – that China ought to be willing to address," Summers said in an interview with South China Morning Post during Credit Suisse's 10th China Investment Conference in Shenzhen. "[If] China does address those difficulties, that will help the relationship and is likely to help both economies."
The comment by Summers, the top economic and finance adviser to two US presidents, underscores how a "grand deal" to solve the myriad disputes between the two countries, with US$420 billion of bilateral trade last year, is probably not to be expected. Instead, tensions will remain high "as long as China remains a substantial economic success" story, Summers said.
Trump has placed tariffs on hundreds of billions of dollars of Chinese goods in the past year as he tries to force Beijing to change decades of industrial, technology and trade policy. China has responded with its own tariffs.
Last month, Trump said the two countries had reached a
"substantial phase-one deal"
after two days of negotiations in Washington, with the US expected to delay additional tariffs set to go into effect in December and China expected to purchase more American agricultural products and increase some intellectual property protections. The deal, however, has yet to be signed and
Politico
reported this week that China was
pressing the US to remove more tariffs
ahead of any "phase-one" agreement.
China has also been pushing for export controls to be removed from its major technology companies, including telecoms giant Huawei Technologies.
Some former officials have criticised Trump for "conflating" national security and trade issues, saying that the two should be negotiated separately.
"National security should fundamentally be a separate basket of discussions from trade policy in the ongoing US-China trade dispute," said Robert Holleyman, the deputy US Trade Representative in the Obama administration during an October interview with the Post.
Summers, however, suggested it was quite natural for them to be co-mingled.
"When I was secretary of the treasury 20 years ago, there were concerns about export controls to China and other countries, and that was part of protecting our national security," Summers said. "So I don't think it's ever been the case that national security issues, economic issues, were divorced. What's important is to see them and evaluate them in clear terms and to try to work towards reasonable modus vivendi."
Governments have to "strike a reasonable balance" when negotiations about those issues are conflated, Summers said.
Summers also questioned the wisdom of the Trump administration potentially seeking to limit listings by Chinese companies in the US or US pension funds from investing in Chinese companies until Beijing agrees to reforms, a concept raised by former Trump adviser Steve Bannon earlier this year.
"I'm not sure what objective is served for the United States by a splintering in capital markets. It seems to me it will reduce the capacity the United States has to exert any influence over China, over China's companies [if they become] completely independent of our capital markets," Summers said.
"I have some difficulty seeing what we gain by self-denying our access to positions in Chinese companies. When the Chinese take away our ability to access investments within Chinese companies, we tend to call it an inappropriate barrier. I'm not sure why it becomes a more appropriate barrier just because we're doing it ourselves."
While there has been growing discussion about the potential fragmentation of capital markets, it is still regarded a relatively fringe view, Arthur Kroeber, founding partner of the Beijing-based consultancy Gavekal Dragonomics said at a briefing in Hong Kong on Thursday.
"It is unlikely to be effective due to significant pushback from the financial sector," said Kroeber, who added that there is significantly more broad-based support for technological decoupling, than financial. "Constituencies in favour of limiting financial flows are limited."
Summers said that the general discussion by Americans over China tends to be "flawed" as it focuses on Chinese strengths rather than risks associated with Chinese weakness, particularly economic weakness.
That contrasts sharply with prior tensions with Japan in the 1980s where weakness in the Japanese economy, rather than a trade agreement, ultimately reduced the economic threat posed to the US, he said.
"The situation with Chinese economic weakness is much more problematic because of the ways in which it will drive nationalism in China and may drive certain scapegoating of foreigners and generate a certain truculence in China's international relations," he said.
Summers' comments have added a significant voice to a growing conversation among Washington intelligentsia that a slowing Chinese economy is nothing to be cheered by the US. A
recent essay
in
Foreign Affairs
by Harvard professor Michael Beckley suggested that rising powers tend to be more ebullient and open – as China arguably was through the 90s – while faltering ones tend to be more nationalistic, insecure, territorial and aggressive. A China in the latter mould would be a much trickier geopolitical adversity for the US than the former, Beckley argued.
At the same time, Summers said that he now believes there is only a 35 per cent chance the US economy will fall into a recession before the end of next year.
"I would have been a little more pessimistic a month or two ago, but a variety of indicators have stayed in a sound way," Summers said. "I think it is more likely than not that we will avoid recession, but I don't think it is something you can count on. I'm very much aware that most recessions come as big surprises, with very few within forecasts six months in advance."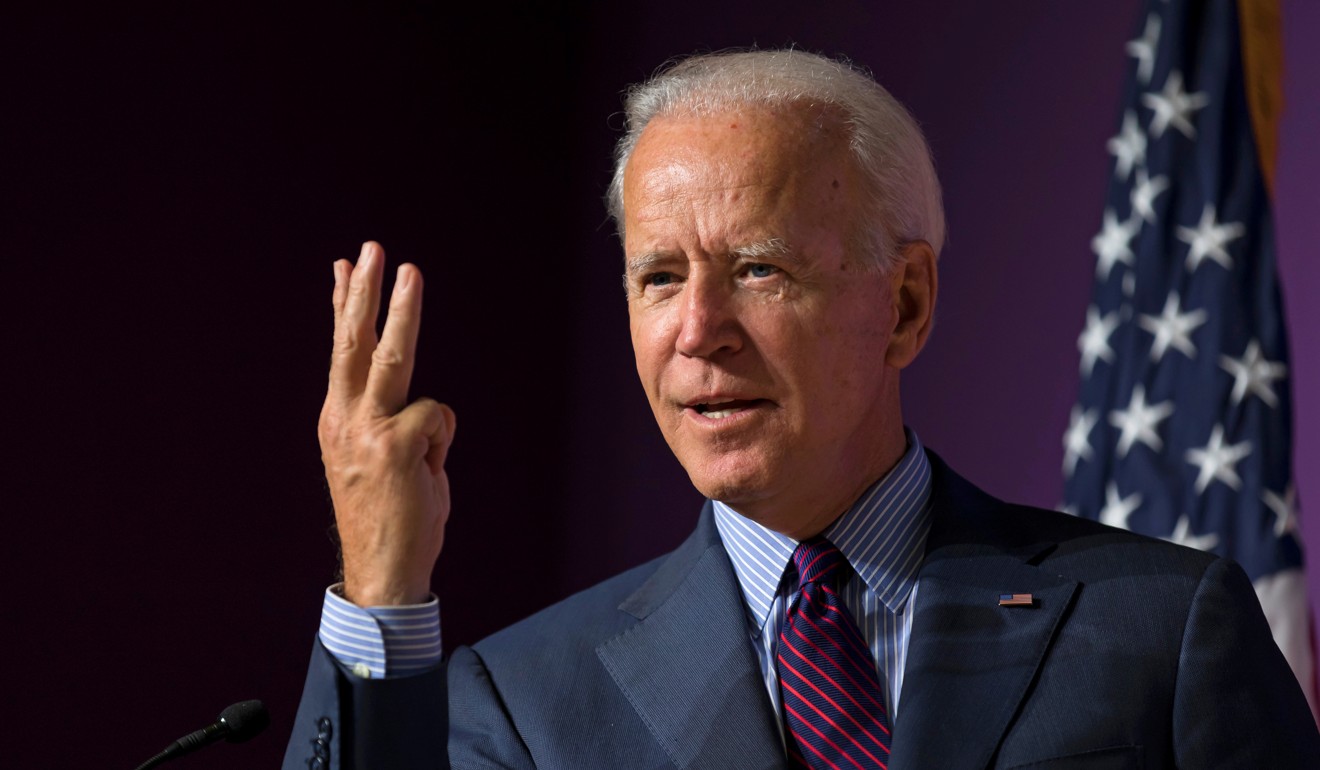 Looking to next year's US presidential election, Summers urged his Democratic Party stablemates to opt for a candidate "who comes from the tradition of past successful Democratic candidates rather than from the Democratic socialist [wing of the party] or far left".
He suggested that a Joe Biden candidacy would have "odds better than half" of defeating Trump, since it would not alienate the business community. On Elizabeth Warren, who has emerged as Biden's chief rival for the nomination, he said: "I would worry about Democratic prospects with a candidate who is substantially to the left, and I regard her as such a candidate."
Summers, however, left no doubt as to his views on the Trump presidency. "I think that it is very important to get a new president in 2020. From questions of foreign policy to questions of decency towards individuals of every background, to questions of superpowers having to be consistent … It is hugely important to get a different kind of president."
This article appeared in the South China Morning Post print edition as: 'Phase one' deal will not resolve issues: Summers