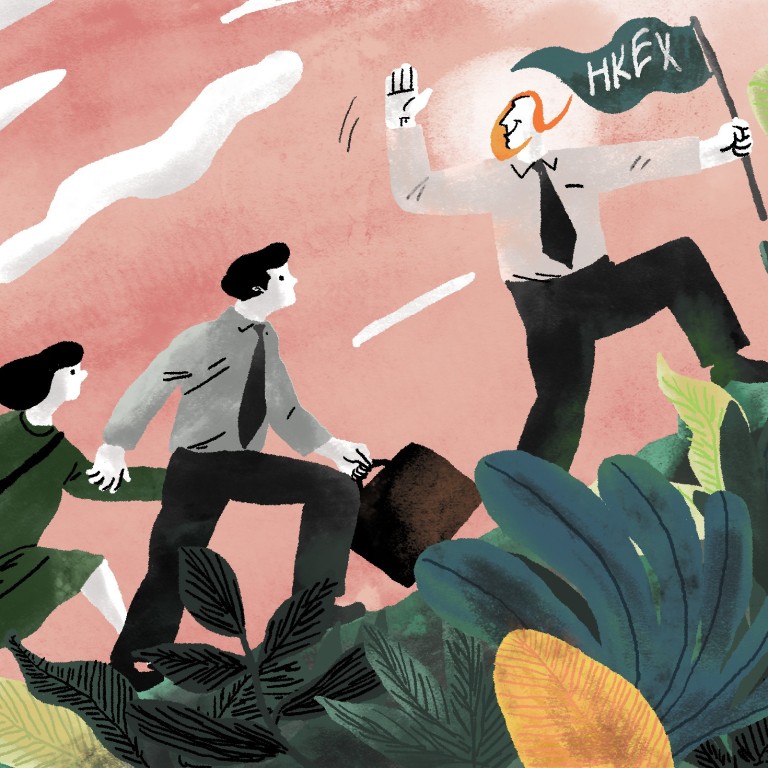 Is Alibaba's mega listing in Hong Kong the prelude to an exodus of Chinese technology stocks from US capital markets?
Hong Kong changed its listing rules two years ago to lure more Chinese technology, biotechnology firms to the city
Secondary listing could give mainland Chinese first chance to buy shares in some of China's tech giants
After Alibaba Group Holding's US$12.9 billion offering in Hong Kong last month, investors are on the lookout for who will be the next Chinese technology giant to seek a similar windfall in the city.
Some of China's biggest new economy names, including Baidu, JD.com and Weibo, are among a small universe of companies who previously raised capital in the United States and could easily pursue their own secondary listing in Hong Kong thanks to a rule change by the city's bourse two years ago.
The listing reform made it easier for companies with dual classes of shares – a structure favoured by technology companies such as Facebook and Google – and pre-revenue biotechnology firms to seek secondary offerings in the city. It came after the Hong Kong stock exchange lost out to New York in a race for Alibaba's US$25 billion initial public offering in 2014.
The success of Hangzhou-based Alibaba's listing in Hong Kong – the second-biggest globally this year after Saudi Aramco's IPO and the third largest technology offering on record – could spur more Chinese firms to seek their own listings closer to home, according to bankers, economists and market watchers.
Sean Taylor, the chief investment officer for Asia-Pacific at asset manager DWS, said a secondary listing in Hong Kong would open up a new ecosystem of investors to Chinese firms that opted to list on American bourses and act as a potential hedge against the increasingly tense relationship between the US and China.
"It dampens the risk of waking up in the morning and having some China-US news go slightly bad or a tweet from [US President Donald Trump] and seeing all the [American depositary receipts] down," Taylor said. "You've got a lot of good companies that are listed in ADRs in the US, but they're completely domestically run Chinese businesses. They have nothing to do with global trade, but they get affected because of this in the US."
Washington and Beijing have been locked in a
trade war for more than a year
, with President Trump placing tariffs on hundreds of billions of dollars of Chinese goods as he tries to force China to change decades of industrial and trade policy.
Politicians on both sides of the aisle in Washington also have suggested limiting the ability of American pension funds to invest in Chinese companies and restricting the ability of Chinese companies to access the US capital markets until Beijing agrees to reforms.
"As the rivalry between China and the US becomes the new norm, it's going to take some time for both countries to find a new equilibrium in their relations," said Hong Hao, chief strategist at Bocom International, the securities and asset management arm of Bank of Communications. "Alibaba has very healthy financials, and it didn't really need the secondary listing for refinancing. It's preparing a backup solution as a responsible company."
President Trump announced a
"substantial phase one deal"
between the world's two biggest economies in October, but an agreement has yet to be signed.
On Tuesday, ahead of a meeting with Nato leaders, President Trump said there was
"no deadline"
for a trade deal and one could be delayed until after the US presidential election next year. His comments sent stock benchmarks down broadly in Asia on Wednesday as investors have been anticipating a deal.
"The window of opportunity for a deal this year is rapidly closing if only because of the time required to arrange a meeting between the two leaders to sign an agreement," Jon Harrison, managing director for macro strategy at research firm TS Lombard, said. "A phase one deal remains our central scenario, but timing is increasingly uncertain, while continued delay in reaching [an] agreement could start to become a drag on EM [emerging market] assets that are for the most part already pricing in a positive deal outcome."
Bank of America economist Helen Qiao said there is rising concern among investors that the trade war is going to expand into "a capital war, an investment war or even a war on currency", but there remains a good chance for a "skinny" deal between the world's two largest economies.
"With some policy stabilisation and the US economic growth kind of weakening next year, we're seeing the chance for better cooperation, not necessarily as much confrontation," Qiao said. "That said, how much can you achieve in 2020, an election year? That is still a wild card out there."
Five years ago, Alibaba, the owner of the South China Morning Post, preferred Hong Kong but chose the New York Stock Exchange for its IPO because of the city's listing rules at the time. Daniel Zhang, Alibaba's group executive chairman, has said the company did so "with regret".
The rejection spurred the city's bourse to radically overhaul its rules in 2017, allowing technology firms with so-called weighted voting rights, and pre-revenue biotechnology companies to list for the first time. Biotechnology firms have embraced the changes, but fewer technology firms have used the reforms to pursue new offerings.
Following its secondary listing, Alibaba became the most valuable listed company by market capitalisation in Hong Kong, eclipsing the likes of Tencent Holdings, HSBC and China Mobile. It has also been one of the bourse's most liquid stocks since it began trading on November 26. Through Friday's close, Alibaba's stock has risen 12.2 per cent from its offering price of HK$176 a share.
At the Alibaba listing ceremony last month,
Charles Li Xiaojia
, the chief executive of bourse operator Hong Kong Exchanges and Clearing (HKEX), said there was no doubt more companies would want to "come home".
An HKEX spokesman declined to comment this week on whether the exchange had seen an uptick in inquiries since the Alibaba offering.
Magnus Andersson, Morgan Stanley's Asia-Pacific co-head of equity capital markets, said he does not expect a "flurry of transactions," but more companies are likely to consider a secondary listing. Morgan Stanley was an underwriter of Alibaba's Hong Kong offering and its IPO in 2014.
"The appeal is about being closer to your home market, and to investors in this region who may understand your company and products better than investors in the US," Andersson said. "For large-caps, giving investors the ability to trade their shares in the Asian time zone is also attractive. For smaller cap stocks it can be less compelling as it risks splitting liquidity between two exchanges. Such companies are usually better advised to concentrate their trading volume on one exchange."
Under the listing reforms, a company seeking a secondary listing with a weighted voting rights structure must have a market cap of at least HK$40 billion (US$5.1 billion) or a market cap of at least HK$10 billion and revenue of at least HK$1 billion. They are required to have a track record of "good regulatory compliance" for at least two years on a qualified exchange.
"Hong Kong regulators have been very supportive of large cap Chinese technology companies listing in the local market – this includes issuers raising funds through IPOs as well as issuers pursuing second listings here," Johnson Chui, head of Asia-Pacific equity capital markets at Credit Suisse, said. "The batch of deals that have come to the Hong Kong market since 2017 has proven to investors and issuers that this can be a successful venue for tech companies to list on."
Credit Suisse acted as joint sponsor of Alibaba's Hong Kong offering, alongside CICC, and was an underwriter on its IPO five years ago.
Grandfathered under Chapter 19C of Hong Kong's revised listing rules, a group of just over two dozen Chinese companies who listed overseas on or before December 15, 2017, would be able to seek secondary listings without having to change their shareholding structure if that offering was later converted to a primary listing. The universe of companies has a combined market cap in the US exceeding US$300 billion.
In addition to Baidu, JD.com and Weibo, Chinese internet giant NetEase, online retailer Vipshop Holdings and social media app Momo are among the Chinese firms that would be grandfathered in if they decided to pursue a listing in Hong Kong.
A spokeswoman for Vipshop declined to comment, while the other companies did not respond to requests for comment.
"Hong Kong is an important strategic financial centre in the region, we hope our listing encourages other companies to consider listing here," Alibaba's chief financial officer Wu said in an
interview at the time of the offering
.
William Yuen, investment director at asset manager Invesco, said secondary listings by some of the biggest new economy firms would potentially give mainland China investors their first opportunity to invest in those companies if they are added to Stock Connect programmes with the Shenzhen and Shanghai exchanges.
"I'm pretty sure a lot of mainland investors would be interested in these companies. Having these choices means they will increase their investment universe," Yuen said. "[The] majority of them may not have access to US listings … Currently, the only channel to invest in them is if you have direct overseas account."
It is highly anticipated that Alibaba could be added to Stock Connect as soon as next year, but the timing depends on approval by Chinese securities regulators.
Food delivery service platform Meituan Dianping and smartphone maker Xiaomi were the first two companies with dual-class shares to be included in Stock Connect this year, but the results have been mixed.
Shares of Meituan Dianping have risen more than 14 per cent since they were added to Stock Connect in late October, providing access to southbound investors, but Xiaomi's shares have declined 0.6 per cent and seen a drop in their average daily volume since inclusion.