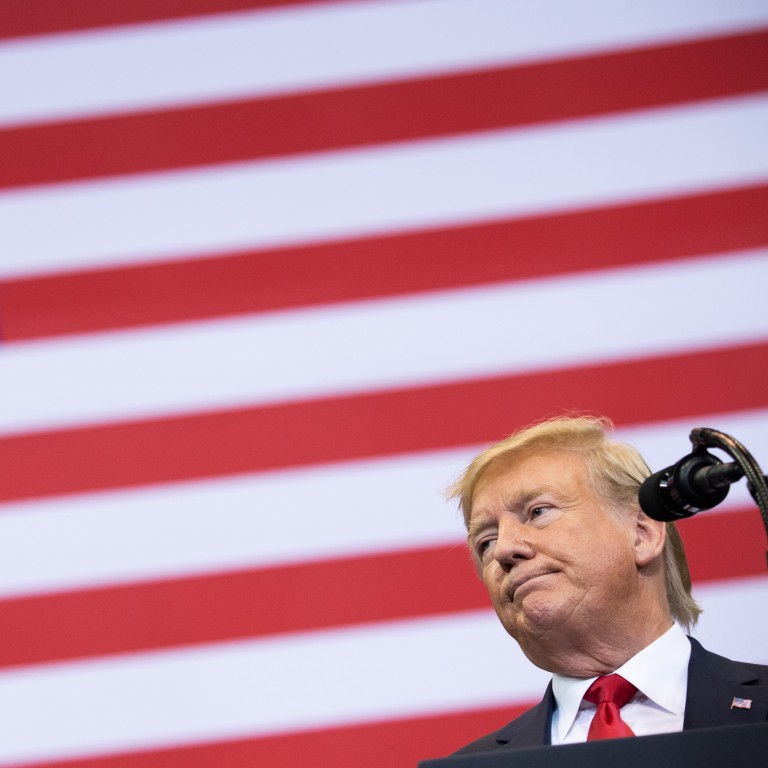 'Relative calm' in US-China trade war could help global economy in 2020, BlackRock Investment Institute says
Trump administration may want calm ahead of US elections in 2020, according to Ben Powell of the BlackRock Investment Institute
Ceasefire would allow China to continue internal reform, opening up
A "slight relaxation" of the trade war that has raged between the United States and China for more than a year should benefit the global economy, according to Ben Powell, the Asia-Pacific chief investment strategist at the BlackRock Investment Institute.
Powell said investors are expecting the world's two biggest economies will reach some kind of deal, but are anticipating a "very narrow" one. He said issues between the two countries are likely to be "structural and persistent" for years, if not decades.
"It is in both China's and the US's self-interest to have a period of relative calm in the trade tensions over the next six to nine months," Powell said at a media briefing on Tuesday. "That period of relative calm should feed through – even if it is just a tepid recovery in corporate confidence along with looser financial conditions and still robust demand from the consumer side – into a pickup in [capital expenditure] or manufacturing data."
The BlackRock Investment Institute is a research division of BlackRock, the world's biggest asset manager.
US President Donald Trump has placed tariffs on hundreds of billions of dollars of Chinese-made goods as he tries to force Beijing to alter decades of industrial and trade policy.
The president, who said the countries were in the "final throes" of signing a deal last month, spooked markets last week when he said there was
"no deadline"
for a deal and one could be delayed until after next year's US presidential election.
Powell said it would be "reasonable" to expect the Trump administration would want a calmer period ahead of the US elections to help with the economic and market performance.
"On the Chinese, it would be logical to us for China to benefit from the breathing space that a slight reduction in trade tensions for the short term would allow," Powell said. "[It would] allow China to continue on with its internal reform and opening up process."
Charles Dumas, the chief economist at research firm TS Lombard, said the US election presents risks that could weigh on markets next year – no matter whether President Trump is reelected – and may not foreshadow an end to the trade tensions.
"The risk is that if Trump wins, the trade war gets dialled up again, so we get anxiety in the market for that reason," Dumas said. "If Trump doesn't win the election, some Democrat presumably does. They may have some programmes which are considered unattractive by investors, but also the Democrats are committed to the same sort of contest with China that Mr Trump is."
The firm, however, sees a positive outlook for US equities over the next three to six months, he said.
Powell, the BlackRock strategist, said he expects economic fundamentals to drive markets next year, with risk from trade tensions lessening and less scope for monetary policy easing after several rate cuts this year.
He said they are neutral on Asia, in part because of expectations of limited monetary policy support from China, but are more positive on emerging markets. They have downgraded US equities to neutral.
This article appeared in the South China Morning Post print edition as: 'Slight relaxation' in tensions should benefit world economy, BlackRock says