HSBC
Get more with myNEWS
A personalised news feed of stories that matter to you
Learn more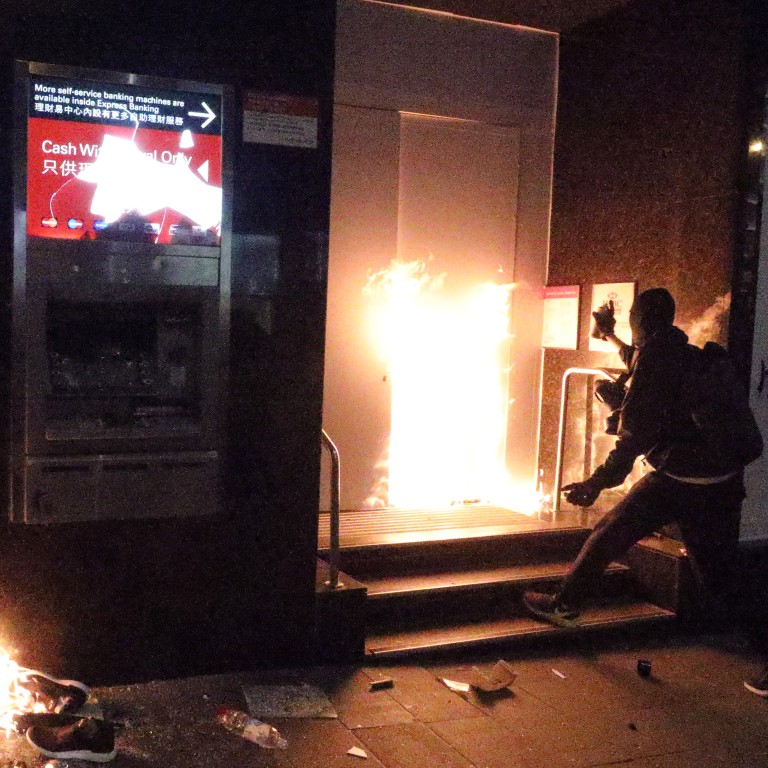 HSBC, Hang Seng Bank keep nearly a dozen Hong Kong outlets closed after vandals laid waste to premises on New Year's Day rally
HSBC, Hang Seng say 11 locations to remain closed on Thursday
Expression of opinions should be 'conducted in a peaceful manner, without affecting the public's access to banking services', HKMA says
Nearly a dozen branches and outlets of HSBC and its Hang Seng Bank subsidiary were closed on January 2 , a day after vandals laid waste to their premises and automated teller machines during a chaotic New Year's Day protest in the city.
HSBC, which traces its 154-year history to colonial-era Hong Kong and Shanghai, said that two branches in Mong Kok and Kowloon Tong remained closed "until further notice," while seven express banking centres were shuttered. An HSBC spokesman declined to say how many teller machines (ATMs) had been damaged.
Hang Seng Bank, 62 per cent owned by HSBC, said two of its self-service banking centres would be closed in Wan Chai and Causeway Bay until further notice.
"We strongly condemn the acts of vandalism and damage directed at our premises repeatedly in the last few days. We believe these are unjustified," HSBC said in a statement. "As a bank with deep roots in Hong Kong, we are committed to providing the highest standards of banking services to our customers. We believe the rule of law is essential to Hong Kong's status as an international financial centre and we look forward to the speedy resolution of the issues."
HSBC has joined Bank of China (Hong Kong), Citic Bank and other Chinese-owned lenders in the cross hairs of Hong Kong's radical protesters since Christmas Eve, after a December police crackdown of a crowdfunding platform operated by Spark Alliance that raised money to post bail for arrested demonstrators. The city's police arrested four people on suspicion of money laundering and froze about HK$70 million (US$9 million) in assets held in the corporate account of the non-profit company.
HSBC, the largest of Hong Kong's three currency-issuing banks, has
attempted to distance itself from the crackdown
, saying it closed Spark Alliance's account in adherence to its global compliance standards, "following fund transfer instructions from the customer as the account was not being used for its stated purpose".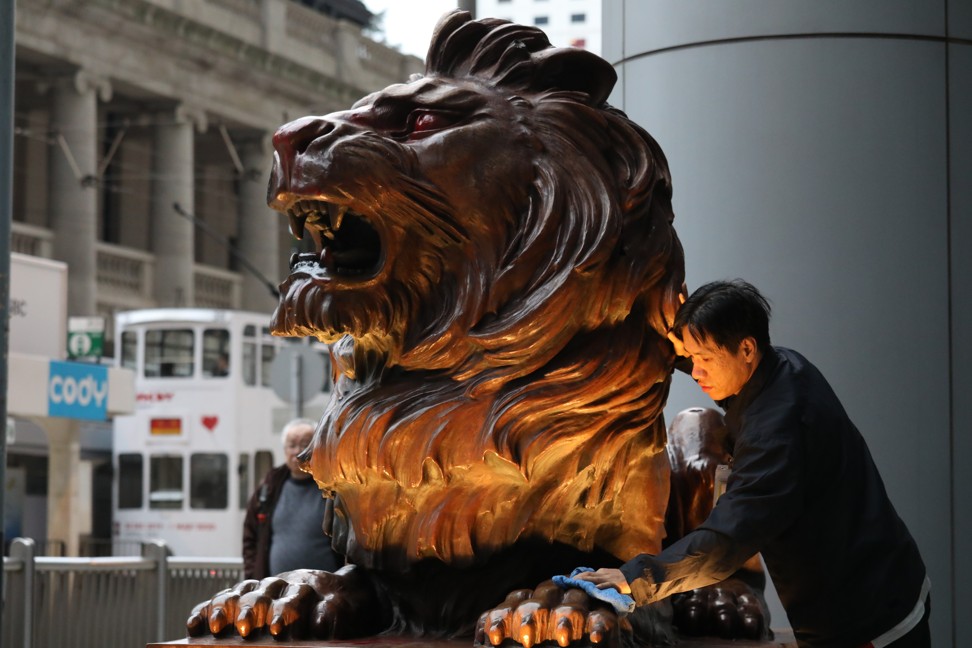 That did little to protect the bank from the protesters' wrath, as a pair of iconic lion sculptures outside HSBC's head office in Central – nicknamed Stephen and Stitt – were spray-painted with red paint on New Year's Day.
Hong Kong's unprecedented street protests, now entering their seventh month, began in June over a now-withdrawn extradition bill that would have allowed the transfer of criminal suspects to mainland China among other jurisdictions, but have evolved into a wider anti-government campaign.
On Wednesday, police ordered organisers to end an approved march early following vandalism by more radical protesters on Hong Kong Island. At least
400 people were arrested
as radical protesters blocked roads, threw petrol bombs and vandalised shops and bank branches.
The Hong Kong Monetary Authority (HKMA) on Thursday condemned the "repeated acts of vandalism" against banking facilities in the city, saying individual banks that were affected were assessing the extent of disruptions and will provide updates in due course.
"The expression of opinions should be conducted in a peaceful manner, without affecting the public's access to banking services," the city's de factor central bank said.
The regulator did not provide a total number of branches that were closed because of damage, but it appeared to be much fewer than at other times during the protests. In November, 250 bank branches closed for the day –
the most in the city's history except during severe typhoons
– as a result of three days of violence and traffic disruptions in the city.
No money was missing from damaged ATMs in the city, according to several sources close to the HKMA and HSBC.
On its website, the Hong Kong Association of Banks only listed a handful of locations of HSBC as being temporarily suspended on Thursday.
Shares of HSBC and Hang Seng were mixed on the first trading day of 2020 amid an advancing market. HSBC, the third-largest member on the Hang Seng Index, fell 0.2 per cent to a four-day low of HK$60.70, while Hang Seng Bank's shares rose 0.6 per cent to HK$162.
Citigroup and Standard Chartered said that none of their branches were affected, while Bank of China (Hong Kong) did not reply to a request for comment. Bank of China (Hong Kong), HSBC and Standard Chartered are the three note-issuing banks in the city.
Mainland banks in the city have fortified their locations in recent months as they have increasingly become targets of vandalism by more radical protesters, with branches adding temporary exterior walls to some branches to prevent damage to windows and ATMs.
On Thursday, workers were painting over graffiti and adding new locks at mainland branches along Hennessy Road in Wan Chai. Workers also were seen clearing glass from a smashed front door at the China Life Insurance building on Hennessy Road in Wan Chai.
This article appeared in the South China Morning Post print edition as: HSBC, Hang Seng to keep some outlets closed after protests damage facilities