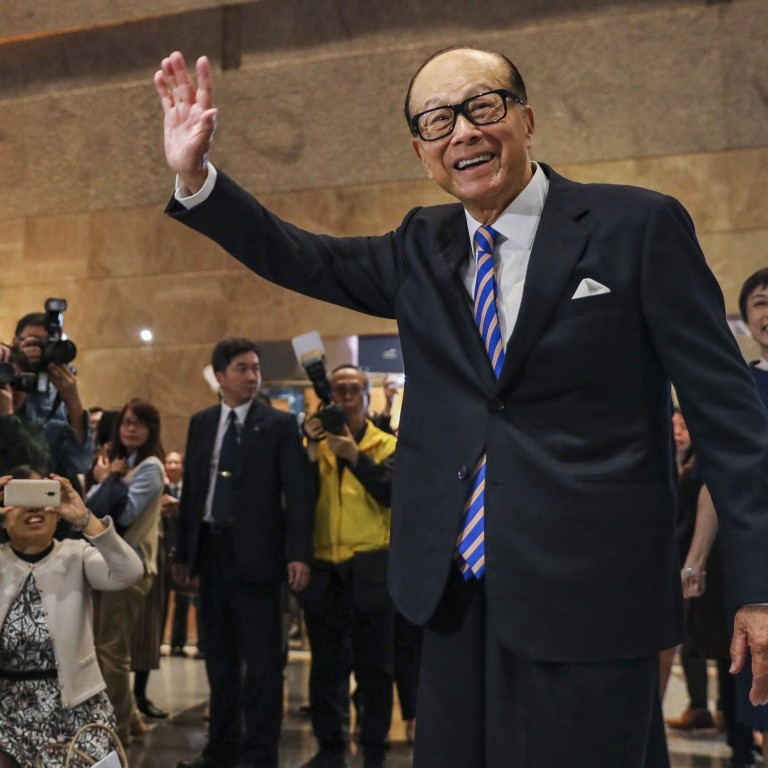 Hong Kong's 'Superman' Li Ka-shing makes a comeback to investing in China as Cheung Kong sets up US$360 million Jilin power plant venture
CKI has signed an agreement to set up a venture with Shenzhen-listed Jilin Power, a unit of State Power Investment Corporation, CKI said in a statement
The Hong Kong company will own 40 per cent of a 2.5 billion yuan (US$360 million) integrated energy project in north-eastern China's Jilin province, which will supply electricity, heating and cooling to Tonghua city
Li Ka-shing's Cheung Kong Infrastructure (CKI) has struck its first significant non-cement investment in mainland China in over a decade, in a rare move by the tycoon – known affectionately as Hong Kong's 'Superman' for his deal making prowess – who in recent years was forced to rebut accusations his family was bailing out from the motherland.
CKI, now chaired by Li's eldest son Victor Li Tzar-kuoi, has signed an agreement to set up a venture with Shenzhen-listed Jilin Power, a unit of State Power Investment Corporation, CKI said in a statement.
The Hong Kong company will own 40 per cent of a 2.5 billion yuan (US$360 million) integrated energy project in north-eastern China's Jilin province, which will supply electricity, heating and cooling solutions in a "smart" energy project in Tonghua city.
"CKI … is one of the largest investors on the mainland among many Hong Kong companies," said CKI group managing director Kam Hing-lam in a statement on Tuesday. "Through this heat-and-power cogeneration infrastructure project, we will once again be helping the nation with the development of a key industry. The Cheung Kong group of companies will continue to seek investment opportunities in China, and promote the nation's economic development according to state policies."
The project's 1.5 billion yuan phase-one development is expected to be completed in 18 months, Jilin Power said in a separate statement. The pair will also study feasibility of replacing coal with cleaner-burning natural gas. The venture would be the second between CKI and Jilin since a heat and power project in 1997.
Spun off in 1996 from Cheung Kong (Holdings) as a portfolio of primarily toll roads, bridges, power assets and cement plants on the mainland, CKI has more than tripled its revenues and profit in the past two decades mainly through acquisitions in Britain, Australia, continental Europe, Canada and New Zealand.
CKI's most recent mainland China investment took place more than a decade ago in 2007, when it invested 6.8 billion yuan with a partner in two power plants in Zhuhai city of Guangdong province.
The expansion of the Cheung Kong group's overseas asset portfolio, and major asset disposals in Hong Kong and mainland China by the group, have led to accusations that the Li family was bailing out on the Chinese motherland, something the patriarch and group founder has categorically denied doing.
He said the group has invested heavily in China's energy sector, including a major natural gas field in the South China Sea in cooperation with state-backed offshore oil and gas explorer Cnooc.
Assets disposed by companies backed by Li and his family between 2014 and 2016 include a 20 billion yuan Shanghai office-and-retail complex, and a number of offices and shopping malls in Beijing, Nanjing and Guangzhou.
In 2017, CK Asset Holdings sold 48 stories of The Center – Hong Kong's fifth tallest office tower – for a record HK$40.2 billion.
Companies backed by Li Ka-shing made 38 acquisitions overseas worth US$42.3 billion in the past six years, compared to US$47 billion in seven transactions in Hong Kong and US$112.9 million in two deals in the mainland, according to a tally by Refinitiv.
Last month, ARA Fund Management, 7.8-per cent owned by CK Property, joined Straits Real Estate and ICBC International in buying a retail mall in Shanghai for 2.4 billion yuan through one of ARA's real estate funds.
The elder Li has donated HK$1 billion (US$127.5 million) to help Hong Kong's small and medium-sized entrepreneurs withstand a recession brought by a slowing global economy and the city's seven-month political protest crisis.
This article appeared in the South China Morning Post print edition as: CKI makes rare mainland power move