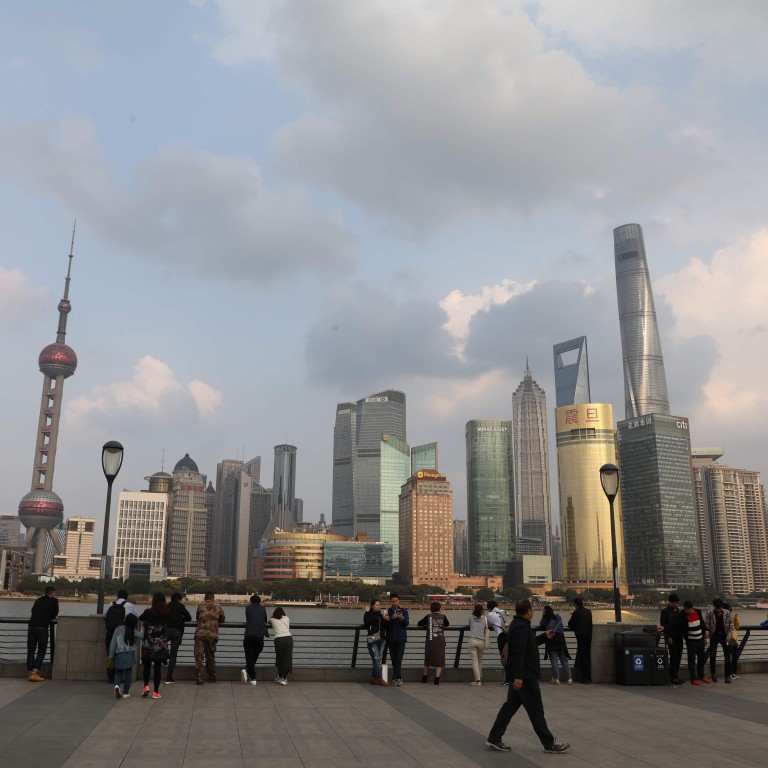 China's stock market to attract US$43.5 billion in fresh foreign capital this year, UBS says
The inflows could drive the market up by another 6 per cent this year
CSI 300 index could hit 4,400-point mark in 2020, Swiss bank, Nomura's China unit say
The mainland Chinese equities market is expected to attract 300 billion yuan (US$43.5 billion) in fresh foreign capital this year, as the US-China trade war ebbs and company earnings improve, Swiss investment bank financial services company UBS said on Monday.
The inflows, which will follow a gain of 22.3 per cent in China's A-shares market in 2019, could drive the market up by another 6 per cent this year, UBS said. It added that this amount only included active fund money. If global index compilers such as MSCI were to continue increasing the weighting of China's A shares in their emerging markets benchmarks, mainland exchanges could receive more money as passive funds, known as exchange-traded funds, adjust their portfolios to increase their A-share holdings.
UBS strategist Wendy Liu said the per share earnings of China's 300 largest listed companies could jump 10 per cent this year, buoyed by Beijing's efforts to slash borrowing costs to help them enhance profitability.
"The further opening up of the securities industry, such as letting foreign investors set up their wholly-owned mutual fund houses and brokerages, will also facilitate a foreign fund influx," Liu said. "Overall, we are optimistic about the market outlook."
Based on the close of the CSI 300 Index of 4,164.37 on January 9, a 6 per cent rise would help it break through the 4,400-point level, the Swiss bank said.
A majority-owned securities joint venture in China of Japanese financial services company Nomura also forecast the CSI 300 index could hit the 4,400-point mark in 2020, 4.7 per cent higher than Monday's close of 4,203.99.
Earnings by the 300 largest A-share companies could climb by 7.3 per cent this year, said Gao Ting, head of research at Nomura Orient International Securities.
Beijing has pledged to cut financing costs for businesses across the country to bolster a slowing economy. Late last year, the People's Bank of China, the country's central bank, said the loan prime rate will be used to replace the old loan pricing system, a substantial step in reducing borrowing costs for businesses and individuals.
It is widely expected that the central bank will also cut interest rates this year to boost the economy, which grew 6 per cent in the third quarter of 2019, its slowest pace since records began in 1992.
And as the United States and China sign a phase one trade deal this week amid expectations of stable economic growth this year, foreign institutions are expected to increase their purchases of A shares, particularly of blue-chip companies in consumer related sectors.
Last year, global index compiler MSCI increased A shares' weighting in its emerging markets benchmarks from 5 to 20 per cent in three rounds, which resulted in a total inflow of US$14 billion by passive funds.
"The MSCI's inclusion of A shares will have a long-term impact on the market, and will continue to attract active funds to buy A shares," said Nomura's Gao. He added that the stocks of the top beneficiaries of China's economic reforms, such as fifth-generation internet technology companies and bellwether firms in the consumer sector, were the most sought after by foreign institutions.
Nomura has forecast that the A-share market will attract a total of 46 billion yuan from foreign and domestic institutions this year.
By the end of 2019, foreign institutions had invested a combined US$283.8 billion in A shares through the Stock Connect schemes and qualified foreign institutional investors programme, according to China's central bank.