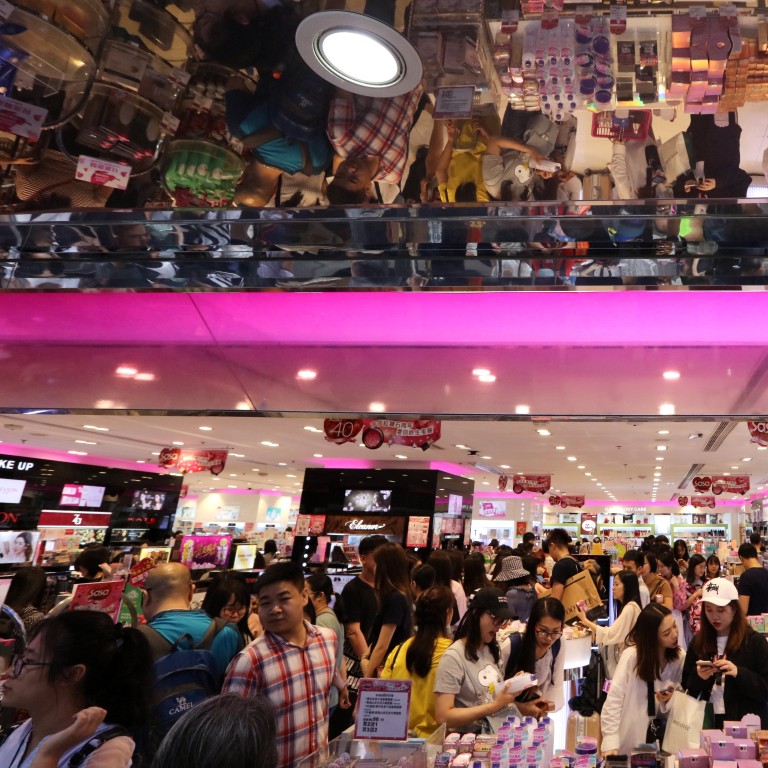 Sa Sa International to close up to 25 per cent of stores in 18 months as Hong Kong retail slump claims more casualties
Most of the stores are located in the tourist areas which are "most severely affected" by the downturn
Company seeks to lower costs by seeking rental reductions, considering asking employees to take no-pay leave
Sa Sa International, Hong Kong's biggest cosmetics retailer, plans to shutter up to a quarter of its stores in the city over the next 18 months, blaming the "unabated difficult" business environment for its latest struggle. It is considering asking employees to take no-pay leave to lighten its operating costs.
The skin care and cosmetics chain operator has earmarked about 20 to 25 per cent of its outlets in Hong Kong for closures, according to a stock exchange filing. Most of them are located in the tourist areas "most severely affected" by the downturn as the industry slumped amid seven months of anti-government protests.
"In view of the unabated difficult operating environment in the Hong Kong, the group will continuously adopt various cost control measures," it said. The group has begun to downsize its store network and proactively negotiate with the landlords on rental reduction to restore store profitability as early as possible."
Hong Kong's struggling retail sector has reported the worst figures on record amid the social unrest, with at least 5,600 job redundancies and 7,000 company closures expected in the coming six months, according to a survey conducted by Hong Kong Retail Management Association.
Businesses in the city saw disruptions to 38 per cent of their operating hours since in July, according to Lawrence Wan, senior director for advisory and transaction services at CBRE. Nine international brands withdrew from Hong Kong and closed 30 stores in 2019, he said, adding that more jewellery, watch and cosmetics retailers will shrink their business.
Sa Sa has already closed six stores in Hong Kong in the third quarter ending December 31, during which its retail sales in Hong Kong and Macau dropped 35.2 per cent year on year. That is in addition to a 24.1 per cent decline in the preceding quarter.
Sa Sa plans to terminate 19 stores between now and its next financial year ending March 31, 2021, according to a research note published by analysts at Jefferies on January 13. Another six will be shut down by 2022, they wrote.
On Tuesday, jewellery retail chain operator Chow Tai Fook also unveiled plan to trim its outlets in Hong Kong to grow its business in mainland China, citing "macro headwinds."
"Management worries that it will be difficult to achieve break even by financial year 2021," the analysts said. "Therefore it is considering other cost saving measures like rental reduction and staff cost reduction, for example, employees taking no paid leave."
The cosmetic retailer will follow other retailers in the city to expand in mainland China and Macau.
"Apart from focusing the efforts on the core markets of Hong Kong and Macau, the group will also expedite the retail network expansion in mainland China and optimise the operation model of its e-commerce business, aiming at enhancing the group's competitiveness and overall performance," chairman and CEO Simon Kwok said in the statement.
In December Sa Sa said it will withdraw from Singapore, closing all its 22 stores and cutting 170 jobs to save costs as it struggles to stem six years of losses there.