Stocks
Get more with myNEWS
A personalised news feed of stories that matter to you
Learn more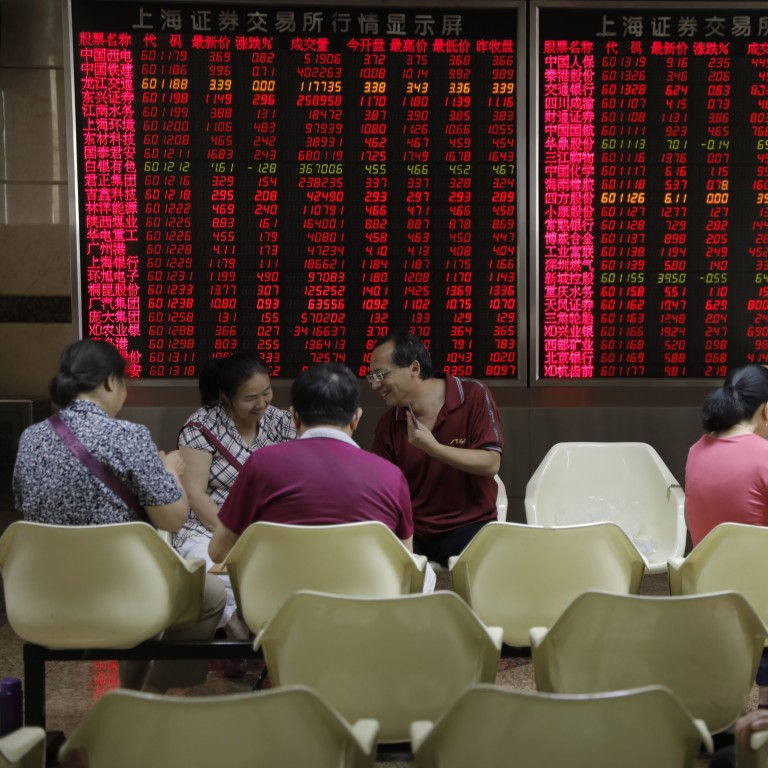 China, Hong Kong equities to outperform on monetary easing and trade deal while recession risks set to derail S&P 500 rally, SocGen forecasts
Policy easing, trade deal to bolster profitability, stock prices of under-owned Chinese companies this year, according to Societe Generale
The French bank holds a bearish view on the S&P 500 as it expects a recession in the second and third quarter
China and Hong Kong equities are likely to outperform their US counterparts this year as monetary easing and a truce in US-China trade war underpin corporate earnings growth this year, according to Societe Generale. US stocks are due for a correction as recession sets in, it said.
The Shanghai Composite Index may advance 11 per cent, said Frank Benzimra, head of Asia equity strategy, while the Hang Seng Index is forecast to climb 10 per cent. Both are seen rising faster than the 6 per cent gain predicted for the broader Asian markets, he added.
The French bank earlier this month upgraded its 2020 forecast for China's
gross domestic product growth
to 5.9 per cent from 5.8 per cent, following an official report that showed some stability in the second-largest economy last quarter. While growth in 2019 was the slowest since at least 29 years, it came above the psychological 6 per cent marker that helped temper concerns about a deeper slowdown.
SocGen expects the People's Bank of China to continue with its monetary easing stance, forecasting a 5-basis point cuts in the seven-day reverse repo rate to keep liquidity in abundance. A similar cut in the medium-term loan facility rate, which is linked to commercial banks' prime lending rates to companies and retail clients, would help grease spending and spur growth, Benzimra said.
In the US, SocGen predicts the S&P 500 Index to fall by 6 per cent this year to end its multi-year bull run. Backing that bearish view is its expectations that the US economy would fall into a recession in the second and third quarter, squeezing profit margins and stalling profit growth.
The S&P 500 has gained 3.1 per cent this year to a new all-time high. Last year, the index surged 28.9 per cent, the most since 2013, and outpacing the gains in Shanghai and Hong Kong barometers.
"There are a number of economic risks in the US" with the country entering its 11th year of economic expansion, Benzimra said. "We believe that companies' operating margins need to be watched."
SocGen has pencilled in four interest-rate cuts by the Federal Reserve in the second half of 2020, totalling a full percentage point cut to the current Fed funds rate. That is higher than the quarter-point cut forecast in a poll of 100 economists by Reuters in November.
"The market was initially very excited by the signing of the 'phase one' deal, but now there is a need to deliver the additional US$200 billion purchase of American goods (over the next two years)," said Benzimra said. "This (trade deal) has become more neutral to the equities market."
China's onshore equities remained under-owned by foreign investors despite its disproportionately larger share of the global output, SocGen said. China accounts for 21 per cent of world output, but only 4 per cent of the global equity market and less than 3 per cent of global mutual funds. Any increase from these low levels of representation will be positive for China's A shares market, it said.
Despite the threat of social unrest and economic recession in the backdrop, the upbeat view on the Hang Seng Index stems from the exchange's significant exposure to mainland companies, Benzimra said. Returns from Hong Kong's blue chips with businesses in mainland China could mirror those produced by listed onshore companies, he added.
The Hang Seng Index has 50 member constituents, of which 26 are state-controlled mainland companies incorporated in China or offshore. They account for a combined 55 per cent weightage in the gauge. The index has risen 0.3 per cent this year, and has recouped all the losses since July when anti-government protests broke out in the city.
This article appeared in the South China Morning Post print edition as: mainland and hk stocks 'to beat U.s.' in 2020