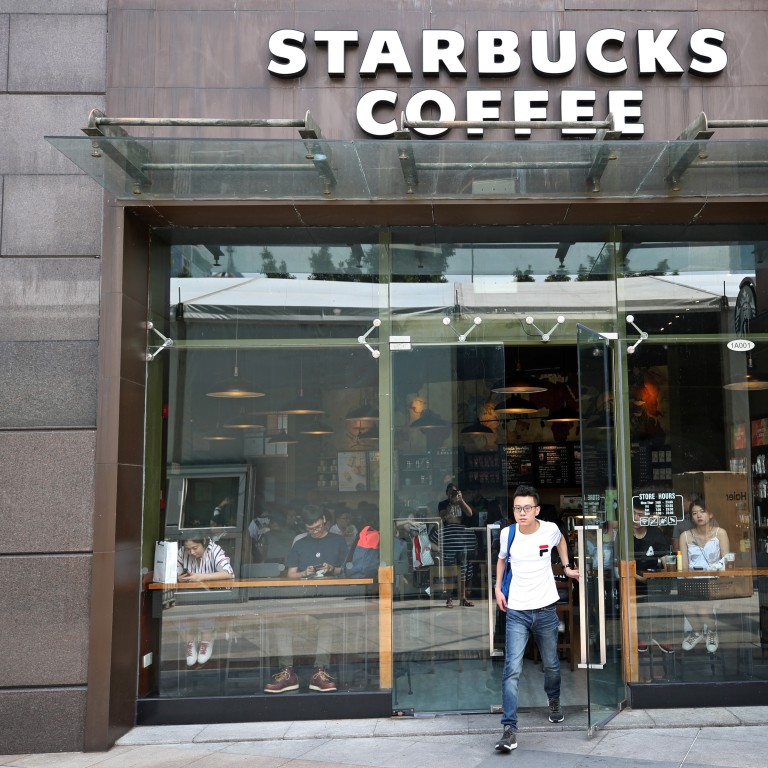 Starbucks and hotpot chain Haidilao close mainland China stores in response to Wuhan coronavirus outbreak
Starbucks to close more than half of its outlets in mainland China, expects outbreak to 'materially affect' results
Haidilao is closing all its mainland hotpot restaurants through Friday, while keeping its business-as-usual in Hong Kong
Starbucks said on Wednesday it would close more than half of its stores in China, and hotpot chain Haidilao International Holding said it would temporarily close all of its locations in the mainland as the deadly Wuhan coronavirus worsened.
China is the Seattle-based coffee chain's largest market outside the United States and has been seen as a major area of growth in its international business by Starbucks chief executive Kevin Johnson. Starbucks had 4,292 stores in China at the end of 2019.
The company said it expected the closures to be temporary, but did not give a timetable for when it would reopen stores. It said it would monitor and modify operating hours for all of its outlets in the mainland in response to the viral outbreak.
Starbucks said it could not estimate the duration of the disruption or how it would reduce customer traffic, but expected the outbreak would "materially affect" its financial results for the second quarter and the full year.
"As events unfold, we will be transparent with all stakeholders in communicating how we are responding to these extraordinary circumstances and the implications for our near-term business results," Johnson said. "We remain optimistic and committed to the long-term opportunity in China."
The company's international segment, which includes China, reported a 20 per cent gain in operating income to US$275.9 million in its financial first quarter. Overall, Starbucks said that its net income rose 16.4 per cent to US$885.7 million in its first quarter.
The quickly spreading strain of coronavirus is believed to have originated in a wet market in Wuhan.
The outbreak has prompted public health officials in China to cancel mass gatherings to celebrate the Lunar New Year holiday and lock down at least 13 cities in Hubei province near the epicentre of the outbreak. The State Council, China's chief administrative authority, extended the public holidays in the mainland by another two working days to February 2 in the hopes of containing the spread of the viral outbreak.
Haidilao, China's largest hotpot chain, said it would suspend operation of its restaurants in the mainland until Friday, but not in Hong Kong, Macau or Taiwan. As of the end of June, Haidilao operated 550 restaurants in 116 cities in mainland China.
"If the suspension needs to be extended in response to the development of the epidemic and relevant government policies, the company will make further announcements in due course," the company said in a stock exchange announcement late on Tuesday.
Shares of Haidilao rose 1 per cent to HK$30 in early trading in Hong Kong on Wednesday.
Jefferies analyst Anne Ling said the move to close Haidilao locations in the mainland was "prudent" given popular hotpot restaurants tend to be in high traffic areas and many malls are closing early or temporarily shutting down for several days.
"Sales from the mainland accounted for 91 per cent of the operation of which around 2 [percentage points] is delivery," Ling said in a research note on Wednesday. "Average sales per day was around [67 million yuan]." The six day closure is equal to 1 per cent to 1.5 per cent of estimated 2019-2020 sales, said Ling.
Yum China and McDonald's have also closed locations in China in response to the outbreak.
The closure of stores and restaurants by companies ranging from Haidilao to Ikea shows the delicate line that firms are having to balance as health officials try to stem the crisis, which has echoed the Sars epidemic in 2003.
Sars (severe acute respiratory syndrome) afflicted more than 8,000 people in 37 countries worldwide and killed 299 people in Hong Kong. It also
weighed heavily on the Hong Kong economy
and other parts of the Asia-Pacific region.
Businesses in Hong Kong have undertaken a number of measures as the latest coronavirus outbreak has worsened, ranging from offering face masks and hand sanitisers to employees to asking workers who have recently travelled to the mainland to self quarantine for two weeks.
Atsi Sheth, managing director at Moody's Investors Service, said the outbreak, much like Sars, could have "economic consequences" if it escalates further.
"The fear of contagion could dampen consumer demand, and affect tourism, travel, trade and services in affected countries," Sheth said. "The burden on health care sectors in affected countries would also potentially increase."