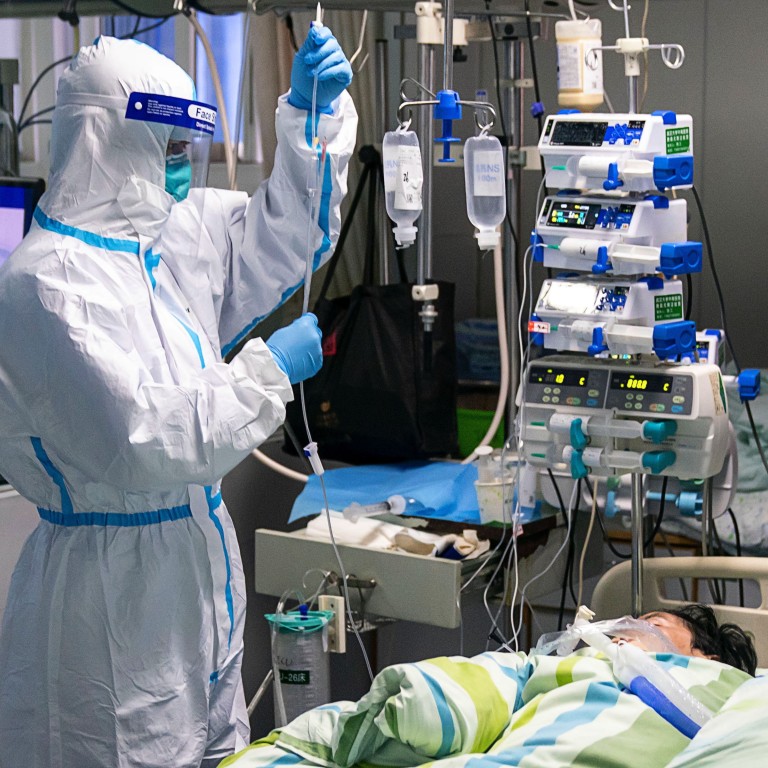 Coronavirus: are cocktail therapies for flu and HIV the magic cure? Bangkok and Hangzhou hospitals put combination remedies to the test
Arbidol, an antiviral drug used for treating influenza in China and Russia, could be combined with the anti-HIV drug Darunavir for treating coronavirus
Hospitals in Bangkok, and the Zhejiang provincial capital of Hangzhou, are reporting successes in reducing viral loads with 'cocktail therapies'
Signs are emerging that a combination therapy involving cocktails of drugs meant for different ailments may be effective in combating the coronavirus outbreak around the world, with different hospitals from Bangkok to Zhejiang reporting cases of patients recovering from the disease.
Some Chinese companies are pulling out all the stops to research and produce antiviral drugs and other pharmaceuticals believed to be effective against the new coronavirus, even as clinical trials are still needed before efficacy can be scientifically proven.
Arbidol, an antiviral drug used for treating influenza in Russia and China, could be combined with the anti-HIV drug Darunavir for treating patients afflicted with the novel coronavirus, according to China Business News, citing a proposal on Tuesday by China's National Health Commission expert Li Lanjuan.
In Thailand, a combination of anti-influenza medication Oseltamivir and HIV drugs Lopinavir and Ritonavir have been used on three patients with severe symptoms, according to Thai media reports, citing the Rajavithi Hospital's director Somkiat Lalitwongsa in Bangkok. One of the patients, a 71-year-old woman, showed signs of improvement 48 hours after being administered the cocktail of drugs, the reports said.
The new coronavirus, the second viral pandemic to emerge from China since the 2003 Sars outbreak, has infected more than 20,000 people, 99 per cent of which are found across all provinces in mainland China. The death toll stands at 427 cases, or just a little over 2 per cent of those infected, with two deaths outside the mainland while the remainder of the fatalities had been in China.
Weeks after the viral outbreak was first reported, a clinically proven vaccine or treatment remains elusive. The desperate search for a cure has thrown up a range of recipes, from traditional Chinese medicine to home-grown boiled garlic. Even surgical masks and alcohol swipes have sold out in mainland China, and elsewhere from Australia to South Korea, as consumers stockpiled protective gear to shield themselves from airborne transmission of the coronavirus.
Out of this mix, the combination of antiviral drugs and medication for treating flu appear to be showing the most potential. Combination therapy is not a novel concept, as it's being increasingly
used in the treatment of cancer
.
"As there is no proven cure for the new coronavirus yet, existing antiviral drugs such as Oseltamivir has been used to treat patients with the coronavirus besides influenza," said UOB Kay Hian senior health care analyst Carol Dou.
Ascletis
, the Hong Kong-listed hepatitis drugs producer, said it has received requests from unnamed medical institutions and medical researchers to use its antiviral drug candidate ASC09 in combination with Ritonavir in clinical trials for coronavirus patients.
Late Friday, thousands of people made a run on
Shuanghuanglian
, a concoction of Japanese honeysuckle, Chinese skullcap and the weeping forsythia used for curing flu and cold symptoms, after
Xinhua News Agency reported
that the Chinese herbal remedy was effective in combating coronavirus.
The report by the Chinese government's mouthpiece news agency led to a panic stockpile of the oral infusion, causing e-commerce platforms including those operated by this newspaper's owner Alibaba Group Holding, to run out of inventory.
The fervour continued until Xinhua qualified the remedy's efficacy a day later with a contradictory report, citing the Tianjin University of Traditional Chinese Medicine's president Zhang Boli in saying that the Shuanghuanglian oral concoction is only found to have been effective in inhibiting coronavirus in pharmacological experiments. The Chinese medicine is not recommended as a preventive or curative medication since there is a lack of scientific evidence it would work, and could cause diarrhoea, Zhang said.
But that's not before retailers reported a sales bonanza。Fusen Pharmaceutical, a Henan-based producer of oral drugs – one of 12 licensed Shuanghuanglian bottlers – jumped by almost 250 per cent on Monday to a record HK$20 in Hong Kong. The stock has returned most of its gains, falling 14.8 per cent in recent trading to HK$6.90 after Xinhua's report.
Gains were similarly seen in the shares of state-backed China Traditional Chinese Medicine Holdings, which makes the popular chongcao qingfei capsules, yupingfeng granules and jinyebaidu granules used to relieve respiratory disease symptoms. Its shares rose 9 per cent to HK$4.32 on January 21 as the coronavirus outbreak worsened. It has since more than given up the gains amid the wider market rout, trading at HK$3.82 at 3:30pm on Tuesday.
More than 20 confirmed cases of coronavirus patients had turned "negative" after taking Lopinavir and Ritonavir, Ascletis said, citing a preliminary survey by its medical team at several hospitals in Zhejiang province that the company didn't identify.
A cocktail comprising Ritonavir – used for HIV treatments – and the antiviral drug AS09 showed a 62-fold reduction in viral load in coronavirus patients after 14 days of treatment, Ascletis said, citing a previous phase two clinical trial that was completed offshore, which the company did not specify.
To be sure, Ascletis "cannot guarantee that we will be able to obtain approval for, or ultimately market, the Ritonavir and ASC09 combination, successfully," the Hangzhou-based company said, even though it has been "actively assisting" medical researchers to initiate clinical trials in coronavirus patients. The company's stock, which has plunged 68 per cent since its initial public offering (IPO) in August 2018, fell by 17 per cent on Tuesday to an intraday low of HK$4.10.
Lopinavir and Ritonavir were developed by Chicago-based Abbvie for treating immunological diseases including HIV.
Ritonavir is not sold in China, and at least two companies are claiming to be making generic versions in the country. Ascletis claims it has developed China's first generic version of Ritonavir and has applied last August to the National Medical Products Administration for permits to produce and market it.
China Health Group, a Beijing-based pharmaceutical company listed on Hong Kong's GEM, claimed that its Wanquan Wante Xiamen Pharmaceutical affiliate is the sole Chinese company that has produced raw material for Lopinavir and Ritonavir, according to an exchange filing last Wednesday. An official at Wante said it had no licensing relationship with Abbvie, in a telephone interview with South China Morning Post.
Still, Wante had applied to the government for permission to resume production of the materials, and China Health will invest in clinical research on producing and marketing the drug in China, according to the company's statement. Wante soared 14-fold since its announcement about the coronavirus business opportunity.
Meanwhile, Hong Kong-listed Yichang HEC Changjiang Pharmaceutical, licensed by Swiss pharmaceutical giant Roche to produce the flu medication Oseltamivir – better known as Tamiflu – in China, has been doing brisk business.
Hong Kong-listed CSPC Pharmaceutical Group and SSY Group are among the licensed producers of Arbidol, according to National Medical Products Adminstration's web-site.
Antiviral drugs are not the only drug used for other diseases being tried on patients infected by the coronavirus.
Tongfang Kontafarma Holdings, a Hong Kong-listed producer of cement clinker, said its chloroquine phosphate – used for treating malaria – has been tested and proven to have "certain curative effect" in combating the coronavirus, according to its filing to the exchange, citing the Chinese Ministry of Industry and Information Technology (MIIT) and the Chongqing municipal government.
Tongfang said it was told by the authorities to "promptly resume" producing the pharmaceutical ingredient, even as other companies whad been barred from resuming operations at least until February 10, amid a general lockdown of facilities to observe a state-ordered quarantine of affected areas. Its production has resumed at Tongfang's subsidiary Chongqing Kangle Pharmaceutical, Tongfang said, without giving volume and financial details.
Tongfang shares closed the morning trading session up 51.5 per cent at 20 HK cents after surging as much as 135 per cent.
Purchase the China AI Report 2020
brought to you by SCMP Research and enjoy a 20% discount (original price US$400). This 60-page all new intelligence report gives you first-hand insights and analysis into the latest industry developments and intelligence about China AI. Get exclusive access to our webinars for continuous learning, and interact with China AI executives in live Q&A. Offer valid until 31 March 2020.
This article appeared in the South China Morning Post print edition as: Drug cocktails show promise on coronavirus