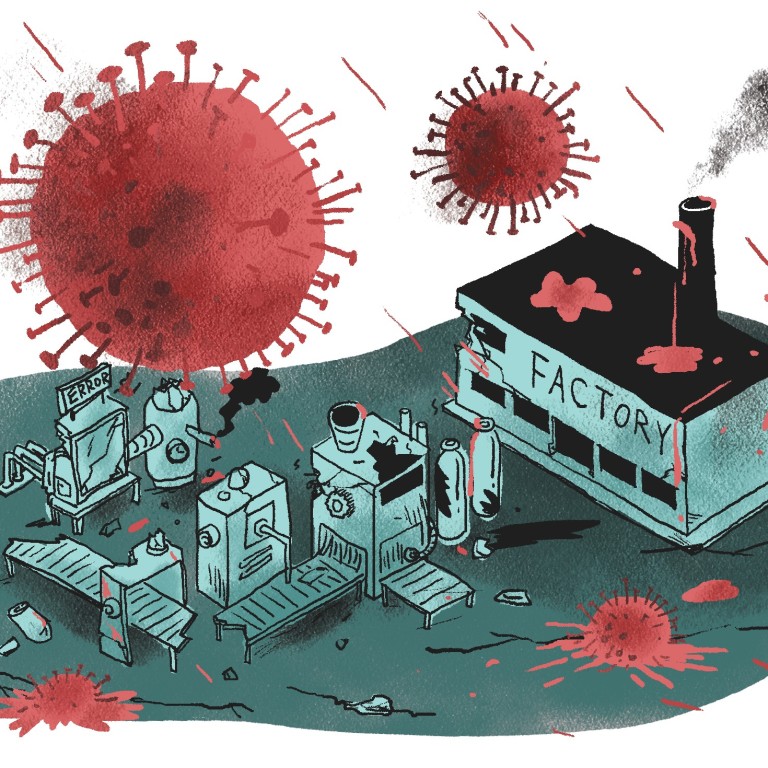 Global consumers reel from China's coronavirus containment as stop-work orders disrupt supplies of iPhones, Hyundai cars and toilet paper
South Korean carmakers are the first of China's global customers to feel the impact of the Chinese government's efforts to contain the spread of the coronavirus
Three of South Korea's five carmakers halted their production because they could not get crucial components from their Chinese suppliers, whose factories are sitting idle amid the outbreak in China
A message went up in the WeChat discussion group shared by residents of The Belcher's apartment complex in Hong Kong's Pok Fu Lam district on Wednesday morning. "Toilet paper rolls are running out!" said the post.
As word spread among the estimated 7,000 residents living in The Belcher's six tower blocks, households rushed into nearby supermarkets to replenish their stockpiles. By the day's end, every grocer, pharmacist and supermarket in the neighbourhood had run out of toilet paper, sanitary towels and alcohol wipes, adding to the tally of essential goods and staples that are already in short supply as Hongkongers hunker down for their second month of a global viral outbreak.
"Factories on the mainland are shutting for extended periods, so there can be no telling how long the current supply can last," said Harrison Lee, a local accountant whose entire office is under orders to work from home amid the coronavirus outbreak. "We depend on the mainland for almost everything we eat, or use everyday, so we have to be extra vigilant about signs of disruption."
Factories in mainland China had been
the largest supplier of goods to Hong Kong since 1982
, providing 46 per cent of the city's 2018 imports. The
panic hoarding of toilet paper
in a Hong Kong neighbourhood offers a glimpse of how China's manufacturing prowess – the country is dubbed the "world's factory" for everything from clothing to cars to smartphones and toys – is being emaciated, as the government ordered assembly workers to stay home to contain a coronavirus outbreak. The disease, which can be traced to the Hubei provincial capital of Wuhan, has afflicted 31,453 people around the world at last count, killing 638, most of them in mainland China.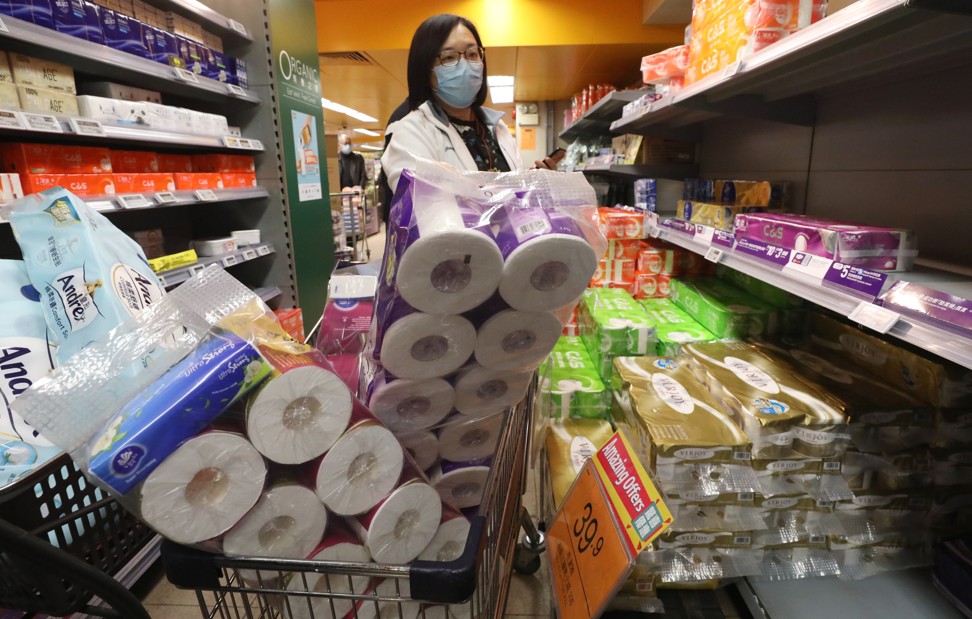 To contain the transmission of the disease, the Chinese government has extended the nationwide public holiday for the Year of the Rat in the lunar calendar, and ordered companies and factories across 17 cities and provinces to stop operating until February 9, forcing an estimated 50 million people to stay home. As a result, factories are sitting idle, and the effects are beginning to show up in far-flung corners of the global supply chain, from Apple's iPhones to Hyundai Motor's cars, fuelling Hong Kong's panic over toilet paper.
"The greater the disruption in China, the more likely it is to spread overseas," Capital Economics' chief emerging markets economist Neil Shearing said in a Reuters interview. "Given that China is now at the heart of many global supply chains, this will have knock-on effects around the world."
This year's outbreak, which like the 2003 disease is linked to a coronavirus, has surpassed Sars in affliction. The difference though, is China's role in global manufacturing and the economy's heft in world trade.
China made up 4.4 per cent of world trade and GDP in 2003, jumping to 10.2 per cent of global commerce in 2018, and 15.8 per cent of the world's economy, according to CICC Research. Manufacturing contributed to 32 per cent of China's economic output last year, according to government statistics.
Ssangyong Motor halted its Pyeongtaek assembly for a week, also because of the shutdown by Chinese suppliers. Kia Motors, the second-biggest South Korean carmaker, reduced its output in Hwaseong and Gwangju for the same reasons, according to local media reports.
Infographic: Global carmakers and their venture partners in China
Wuhan, the city of 11 million people that reported the very first case in December, is the epicentre of the current outbreak.
It is China's fourth-largest production centre of vehicles in China, after the provinces of Guangdong, Jilin and Shanghai, according to Bloomberg's data. France's two largest carmakers assemble Renault and Peugeot-Citroen cars in Wuhan, investing the equivalent of a third of French investments in the whole of China. Dongfeng Motor Group Company is most exposed, with about half of its production capacity based in Hubei alone, according to Moody's Investors Service analyst Gerwin Ho.
In Jiangsu province, a manufacturer of explosion-proof forklifts said the forced holiday adds to a number of problems faced by China's 30 million small and medium enterprises (SMEs), who generate an estimated 80 per cent of the nation's jobs.
"We are worried about everything, due to the shortage of labour, raw material and even face masks" to protect staff from infection, said David Zhang, a senior executive at Suzhou Hazardtex, with 50 workers on staff. "It will take at least two weeks for us to secure sufficient supply of raw materials to run our factory at the full capacity. Without enough face masks, we are unable to make full use of our labour force either."
Henan province in central China has also ordered all business operations to shut. In the provincial capital of Zhengzhou, Hon Hai Precision Industry has 100,000 assembly workers on staff – expanding to 300,000 to fill pre-holiday shopping orders – who assemble Apple's iPhones, iPads and other electronic devices from fitness bands to smart watches for major consumer brands.
The world's largest contract manufacturer, also known as Foxconn, said it would take at least one or two weeks to resume full production. That has pushed Apple, which sources some of its components from suppliers in Wuhan and Jiangsu, to give a wider-than-usual range in its March revenue outlook, citing uncertainty over its supply chain as the reopening of some of the vendors' factories had been moved to February 10, from the end of January.
At Suzhou Hazardtex, that is equivalent to a month of foregone production, said its senior executive Zhang. The city government has ordered landlords to halve their rental charges for two months to ease the burden on tenants, and would reimburse 50 per cent of their local jobless pension contribution to add to companies' cash flow.
"It can only compensate part of our losses," said Zhang. "We are expecting stronger incentives since the business outlook remains bleak this year."
To be sure, the lost business is even more acutely felt in retailing, consumer services and the entertainment business.
"The ongoing transport suspensions, travel bans and overall reduced customer traffic flows are weakening sales and cash flow, thereby raising credit risk for companies in the Chinese retail, travel and transport sectors," said Cedric Lai, a Moody's vice-president and senior analyst. "More broadly speaking, we see a risk for domestic supply chains to be disrupted, which would translate into output losses as transport becomes or remains disrupted, workers are evacuated, or products from suppliers are not delivered."
Japan's Fast Retailing closed 280 of its 750 stores in China amid the lockdown. Ralph Lauren said half of its 110 outlets are on extended holiday while Starbucks has shuttered half of the 4,300 cafes it operates in China. Similar closures had been reported by Nike, McDonald's, H&M, and Levi Strauss.
"No one is dining out as the virus has yet to be contained," said Ken Xia, who pays 50,000 yuan (US$7,166) every month in wages for his five staff, and as rent for his noodles and fast-food restaurant in Shanghai's Baoshan district. "I wouldn't be surprised if I lose 20,000 to 30,000 a month between February and April."
The loss of business in China goes directly to the bottom line of global companies. Carlsberg of Denmark, Levi Strauss of the US and Tata Motors of India – owner of the Jaguar and Land Rover marques – have all warned that their profits would be hurt by extended shutdowns in China.
Large-scale public activities including concerts, exhibitions and performances have been suspended indefinitely, to deter gathering crowds, which would exacerbate the transmission of the virus. A two-month closure at its Shanghai theme park could cost The Walt Disney Company US$135 million in second-quarter operating income, the entertainment giant said.
How long will this last? The "plateau stage" of the current coronavirus outbreak may arrive around the end of February or early March, according to a projection by Liang Hong and Eva Yi of CICC Research, based on their analysis of the timeline of China's 2003 Sars outbreak.
"Last weekend was the first major turning point in the deceleration of the growing number of newly confirmed cases," CICC's chief economist and research head Liang said in an interview in Hong Kong with South China Morning Post. "We should see a deceleration in this rate of growth towards zero next week If this is the case, that confirms that the [government's containment] measures work, and the medical achievements are working."
That may be good news for global manufacturers that are awaiting the light at the end of the tunnel. Not many international companies would move outside China, despite the cacophony of suggestions to do so amid the outbreak and the supply disruptions, because of the size of China's domestic consumer market, and the extensive network of suppliers that have already taken root, she said.
"SMEs without open credit lines may be the most vulnerable to the shock," Liang said. "Some mom-and-pop shops will face the risks of closures."