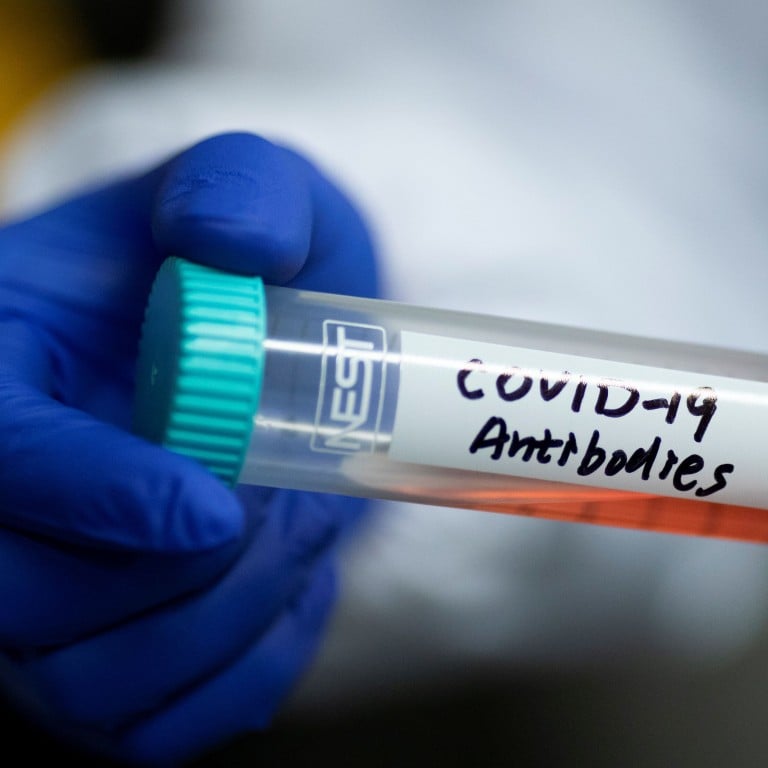 China Vanke employees and property giant Dalian Wanda give US$225 million to fund Covid-19 research, struggling businesses
Vanke, the nation's second largest property developer, will give shares worth 5.3 billion yuan to Tsinghua University to fund a public health research institute
Dalian Wanda's commercial property arm has teamed up with WeBank to grant at least 10 billion yuan in loans to small businesses hit hard by the pandemic
Property giants China Vanke and Dalian Wanda Commercial Management have unveiled a combined 16 billion yuan (US$225 million) in funding initiatives to help people affected by the coronavirus epidemic.
The Vanke Founding Shareholders' Equity Management Centre, which manages 200 million Vanke shares owned by its employees, has decided to donate all of them to one of Tsinghua University's education funds to finance the establishment of a public health research institute.
Shenzhen-based China Vanke, the nation's second largest property developer by sales, made the announcement in a statement on Thursday.
The shares, worth some 5.3 billion yuan, will initially go to research projects related to Covid-19 – the disease caused by the novel coronavirus – besides other infectious diseases and public health management.
"The epidemic has highlighted that mankind's destiny is shared ... the equity management centre's council realised that the best target for its charity donation objective has been found," Vanke said.
The centre was set up 32 years ago by Vanke founding shareholders led by former chairman Wang Shi to own the shares of all employees, when the firm was converted from a state enterprise into one owned by the staff. Nine years ago, the employees voted in favour of donating all of the shares to charitable causes.
Tsinghua is ranked 35th in the 2020 best medical schools league table compiled by The World University Rankings. Peking University is the only Chinese peer ranked higher at 31st.
Some 940,000 Covid-19 infections have been reported, of which nearly a 10th are in China, where the disease originated. The pandemic has caused the world's worst public health and economic crisis in a generation, as one in five people have been ordered to stay home to stem the virus' spread.
Besides government measures to help those in need, many companies have donated money, medical and other supplies or services, or started other funding initiatives.
Major landlord Dalian Wanda Commercial Management Group, the commercial property investment arm of conglomerate Dalian Wanda Group, has teamed up with WeBank, a virtual bank backed by Tencent.
They have pledged to grant at least 10 billion yuan in loans to micro, small and medium-sized businesses hard hit by the pandemic.
All tenants in over 300 Wanda Plaza shopping malls across the country can apply for up to a million yuan in loans.
The property giant, chaired by one of the country's wealthiest people, Wang Jianlin, said it is also actively seeking to get other banks on board to offer cheap loans to cash-starved SME tenants, like restaurants, coffee and milk tea stands and other retailers.
Its own financial services arm, Wanda Puhui Microcredit, will also offer up to 1 billion yuan to help Wanda Plaza's tenants to resume business after cities were locked down. Loans will be approved based on the tenants' operational data.
"Before, we could reap up to 60,000 yuan a day, but our income is seeing a free fall as now we only have less than 10 tables doing business a day," said Tang Yafang, manager of a Korean barbecue restaurant in a Wanda Plaza in Beijing. "Rent-free periods and other easing measures can really help us power through the difficult time."
In late January, Wanda announced it would waive rent for all tenants until the end of February, while payment of rents for March and April can be deferred until December. The rent-free period will cost Wanda about 3.4 billion yuan.
Sign up now and get a 10% discount (original price US$400) off the China AI Report 2020 by SCMP Research. Learn about the AI ambitions of Alibaba, Baidu & JD.com through our in-depth case studies, and explore new applications of AI across industries. The report also includes exclusive access to webinars to interact with C-level executives from leading China AI companies (via live Q&A sessions). Offer valid until 31 May 2020.