HSBC
Get more with myNEWS
A personalised news feed of stories that matter to you
Learn more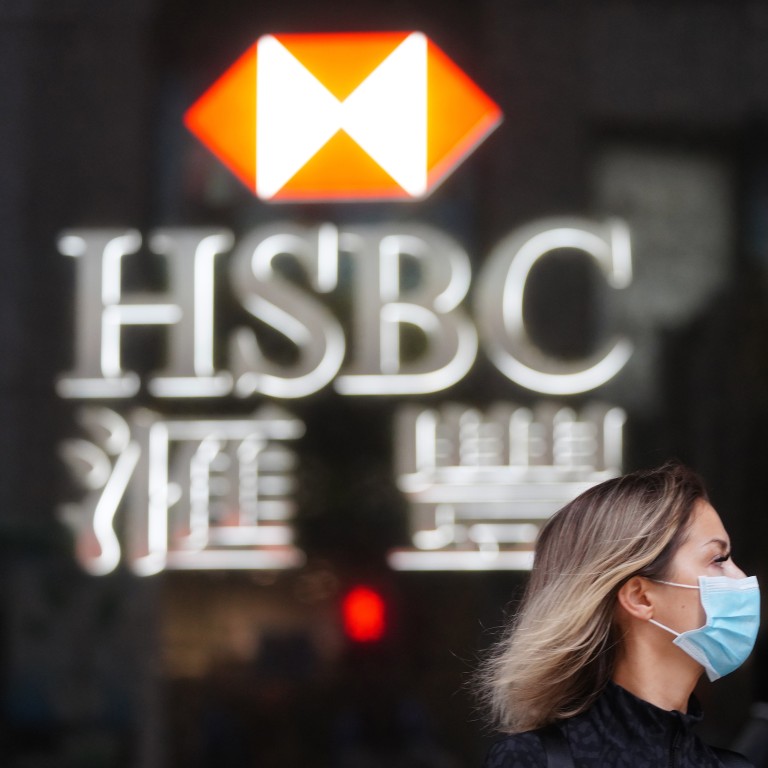 Rebel shareholders demand HSBC revive dividend and slash management pay
HSBC, Standard Chartered axed dividend after request from UK regulators last week
Shareholder group also called for investor representative on the bank's board of directors
Incensed by HSBC's decision to cancel its dividend at the request of regulators last week, a group of more than 3,000 investors in Hong Kong demanded on Monday that the lender reinstate its final payout for 2019 and instead eliminate compensation for top management for a year.
From retirees to large pension funds, cutting the cash dividend has been particularly harsh for Hong Kong investors, who have come to rely on it as a steady source of income. About a third of the bank's shareholders in Hong Kong are retail investors and its shares are a common gift for graduates and newlyweds.
Shareholders wiped about US$15 billion off the bank's market capitalisation over three days last week. The bank's shares, however, rose 2.8 per cent to close at HK$38.95 in Hong Kong on Monday.
"I bought HSBC shares because it always pays a high dividend," said a shareholder who only gave her surname as Wong at a media briefing on Monday. "I bought 10,000 shares on February 27 after it announced its fourth dividend. But on April 1, it said the payment is cancelled. How can a big bank lie to a small shareholder like me?"
Wong, who cried during Monday's press conference, said she owns 20,000 HSBC shares, which would have entitled her to a cash payout of US$4,200 (HK$32,760) had the final interim dividend not been cancelled.
HSBC and Standard Chartered, two of the three banks authorised to issue currency in the city, suspended their dividends and share buybacks on April 1 at the request of the Prudential Regulation Authority (PRA), an arm of the Bank of England and their chief regulator. The PRA threatened to use its statutory powers if the UK's biggest banks, including HSBC, did not comply.
On Friday, Noel Quinn, the HSBC chief executive,
wrote directly to shareholders
to explain the decision and said that the bank regrets the loss for its Hong Kong investors.
The group of rebel shareholders, calling itself the HSBC Shareholders Alliance on Facebook, is seeking to convince enough investors to band together to force the company to convene an extraordinary general meeting to consider their demands – they are aiming to attract support from at least 5 per cent of shareholders.
The group claims to have already attracted more than 3,000 shareholders, ranging from small investors to family offices and pension funds, who own a combined 2 per cent of the lender's shares worth about HK$10 billion.
They want HSBC to pay the final dividend in stock, rather than cash, and eliminate pay for the bank's top executives for a year, as well as add a director representing shareholders on its board. The group is studying ways to protect the rights of shareholders, including taking legal action.
At a Legislative Council meeting on Monday, the Secretary for Financial Services and the Treasury James Lau acknowledged that many investors in pensions and retirement funds, as well as institutional investors, had been affected by the UK regulators' move, noting Hong Kong authorities "have been in close touch with overseas counterparts".
Lawmakers called on HSBC to reconsider the decision and pay a scrip dividend, which gives shareholders the option to receive stock instead of cash.
"This is a financial scam," said Christopher Cheung Wah-fung, a lawmaker representing the financial sector.
Former Hong Kong chief executive Leung Chun-ying said mainland and Hong Kong borrowers should boycott the bank as a result of the dividend being cancelled.
The dividend cancellation also renewed calls by investors for HSBC to move its headquarters back to Hong Kong, where it was founded 155 years ago. Hong Kong is the lender's biggest market, but it has been domiciled in the UK since 1993. The bank opted to keep its headquarters in London after a review four years ago.
"Why is HSBC a Hong Kong bank but it follows the rules of the UK regulator?," another investor who only gave her surname as Lee said. "Does it mean if the UK regulator needs it, it may take all the Hong Kong depositors' money to meet what the UK needs?"
Lee, who owns more than 100,000 HSBC shares, said her entire savings is invested in the bank's stock.
Posting on the group's Facebook page, activist investor David Webb said he believes HSBC's directors acted legally when they cancelled the dividend. "So don't waste your money on legal action, you have no case," Webb said.
The group said it planned to invite former Hong Kong Monetary Authority chief executive Joseph Yam Chi-kwong to speak on their behalf.
When contacted by the South China Morning Post, Yam said through a representative that he did not own shares in the bank and would not be suitable to join the group.
"It is all about trust. Many retirees have trust in HSBC and they spend their entire saving to invest in HSBC shares for a long time and relied on its dividends to support their living," said Ken Lui, another founder of the shareholder group. "The suspension of the dividend payment has not taken care of the interests of these investors."
Additional reporting by Denise Tsang
Sign up now and get a 10% discount (original price US$400) off the China AI Report 2020 by SCMP Research. Learn about the AI ambitions of Alibaba, Baidu & JD.com through our in-depth case studies, and explore new applications of AI across industries. The report also includes exclusive access to webinars to interact with C-level executives from leading China AI companies (via live Q&A sessions). Offer valid until 31 May 2020.
This article appeared in the South China Morning Post print edition as: Dividend should be restored, HSBC urged