Huawei
Get more with myNEWS
A personalised news feed of stories that matter to you
Learn more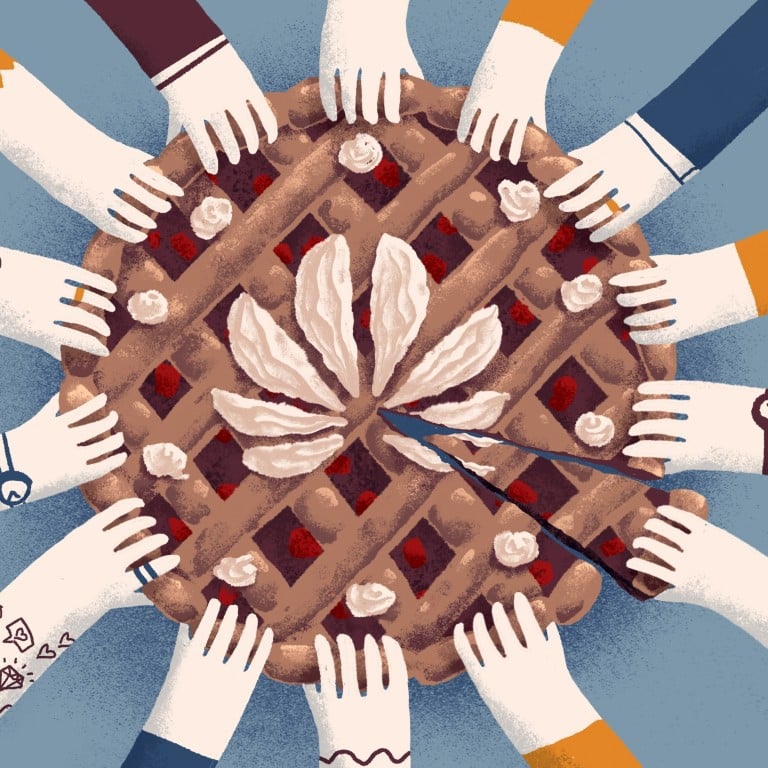 By letting staff share Huawei's stock and profit, Ren Zhengfei instils kinship and unleashes telecom giant's 'wolf culture'
In the second instalment of our eight-part series on Huawei, Peggy Sito examines the unique shareholding structure of China's largest producer of telecom gear
Huawei is 100 per cent owned by 104,572 eligible employees, including founder Ren Zhengfei, out of a total staff of 194,000 at the end of 2019
In late February 2019, almost three months after
Huawei Technologies
tumbled into its worst existential and reputational crisis, China's largest telecommunications equipment maker invited global journalists to its Shenzhen campus in its first international media outreach in three decades.
The company was anxious to set the record straight: it did not steal trade secrets from the United States; its 4G and
5G telecoms gear
do not pose a security threat to US national security; the Chinese government does not own Huawei shares, and Chief Financial Officer
Meng Wanzhou
was innocent of US fraud charges. Reclusive founder Ren Zhengfei even starred in Huawei's media blitz, granting more interviews in months than the sum of three decades at the helm of a behemoth with nearly 200,000 staff.
What kicked off the charm offensive was an open letter by Huawei's researcher Wang Longlin – he has a joint PhD in international relations from the Peking and Cornell universities – advocating for the media-shy company to explain itself to the world. Wang, barely out of his probation when Meng – Huawei's chief financial officer and the founder's elder daughter – was
arrested in Canada for extradition to the US
, dug deep into the tool kit of Western crisis management to help the world understand the company's idiosyncrasies.
His paean to openness struck a chord "probably because I am a newcomer," Wang said during a recent visit by
South China Morning Post
to
Huawei's campus in Shenzhen's Bantian district
. "I understand what international media want to know about Huawei. It's better to open the doors to tell them who we really are."
For his initiative, Wang was granted the right to buy tens of thousands of Huawei's virtual shares, each valued at 7.85 yuan (US$1.10). Wang declined to divulge his exact stake.
The reward for Wang's exceptional initiative offers a glimpse into an unusual corporate and shareholding structure found in very few places in business: Huawei is 100 per cent owned by 104,572 of the company's employees, including Ren, out of a total staff size of 194,000 at the end of 2019. The staff shareholding structure, most famously practised by the UK department store chain the John Lewis Partnership, turns eligible employees into stakeholders, engendering the kind of kinship and shared responsibility that contribute to Huawei's "wolf culture".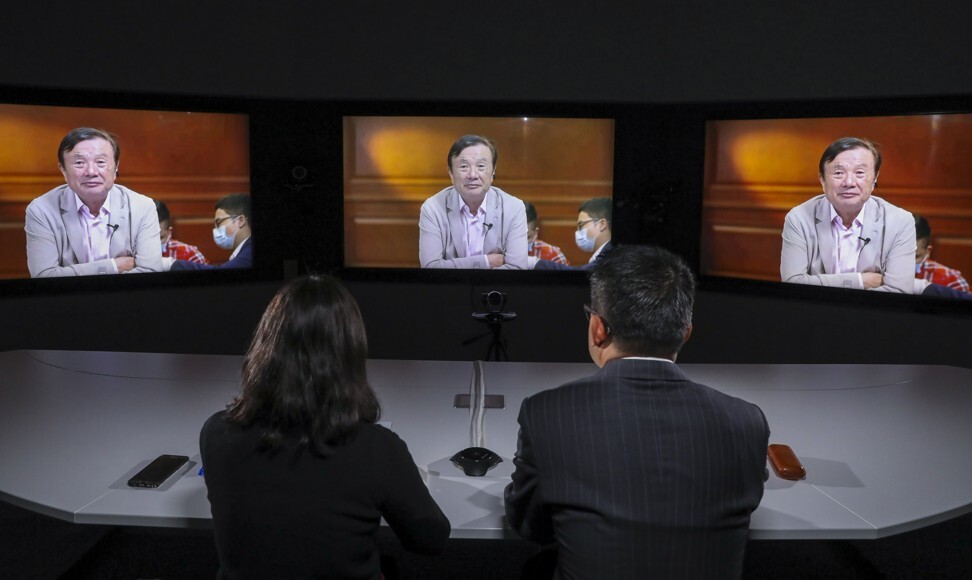 "I didn't come up with this structure at the very beginning; it took shape gradually," Ren
said during a March 24 interview
with the
Post
. "This approach can help bring our employees together," because wolves are pack animals that "work as a team," he said. "Wolves are sensitive" to the whereabouts of their prey, they work as a pack, and they never give up until they get the job done, all of which are qualities deeply ingrained in Huawei's employees, Ren said.
Huawei is owned by a holding company called Huawei Investment & Holding, with two shareholders: Ren with 0.94 per cent, and an entity called the Union of Huawei Investment & Holding, which holds the remaining 99.06 per cent on behalf of eligible employees.
Huawei enacted its Employee Stock Ownership Plan (ESOP) in 1987 at its establishment, and implemented it in 2003 two years after Shenzhen's local authorities laid the rules for it. Managers recommend the shares entitled by their team members as part of their pay, based on performance.
The shares are not granted freely, but must be bought for a price calculated from Huawei's asset value per share from the preceding year. The shares cannot be traded among staff, but can be sold back to the union, according to the rules. Retired employees also own stakes, but those who leave Huawei's employment must sell their shares back if they've worked at the company for less than eight years.
With their stock, staff share the company's annual profit as dividends, which rose 3 per cent to 1.05 yuan in 2018. Huawei's dividend yield of 13.3 per cent was comparable with the fifth-highest payer on the S&P 500 index, surpassing the 2.3 per cent average on the benchmark. The constituents of Hang Seng Index paid 3.9 per cent on average.
"Huawei is privately owned by employees, governed by employees and funded by employees," said Jiang Xisheng chief secretary of the board of Huawei Holding and one of the first employees to join Ren.
Huawei was one of a few companies that tried staff shareholding. Ping An Insurance, China Vanke the property developer, and Lenovo Group the personal computer maker, all experimented with similar structures before ultimately deciding to sell shares to the public, Jiang said.
At Huawei's archive in a low-rise building surrounded by verdant greenery and a pond with black swans, a custodian with a headmistress' mien stands guard over printed records of every eligible employee's latest shareholding, available only for the staff's own perusal.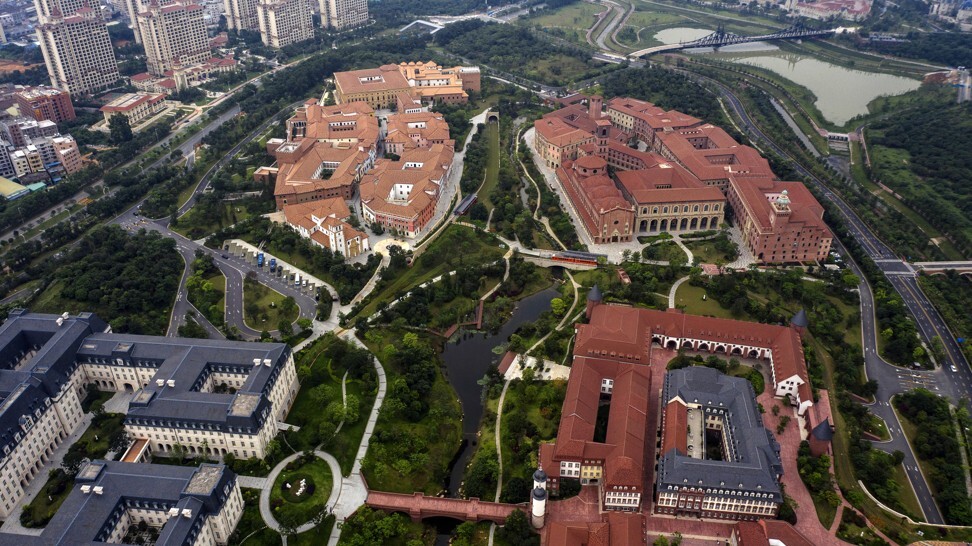 Ren, estimated by Forbes to be worth US$1.1 billion – number 276 on the China Rich List 2019 – also partakes in Huawei's options, bringing his total 2019 stake to 1.04 per cent, according to the data. Meng, his daughter, is there too, and is very well compensated. Shenzhen's local authorities, the Communist Party and the Chinese government don't own shares in Huawei, according to the data.
The Party does make it a habit to recruit the elite of Chinese society, which means that Huawei, with its army of PhDs and Ivy League post-doctorate researchers, probably has a higher-than-average share of communists among its staff. One in every three employees has a Master's degree, or higher.
"Whether an employee shareholder is a Communist Party member is not our concern really," because it has no bearing on Huawei's operations, Jiang said, adding that the company doesn't ask staff about their political affiliation anywhere in the 170 countries it operates in.
The money collected by the union from the stock goes back to Huawei Holding as capital to fund research and development, pegged last year at 131.7 billion yuan (US$18 billion), or
15.3 per cent of 2019 revenue
, making Huawei the fifth biggest R&D spender in global technology.
The investment helped Huawei amass 16,243
global patents
, for a hoard of more than 85,000 patents in
cutting-edge technology
from materials to transmission standards. The investments partly explain Huawei's ability to innovate, and sell products that are cheaper, lighter, more versatile and more durable than its competitors.
"At Huawei, the brains of our employees create wealth … so we need to reward them,"
Ren said
 in his interview. "Past achievements [by staff] can continuously create value for the company, so it would be unfair if we use them for free today."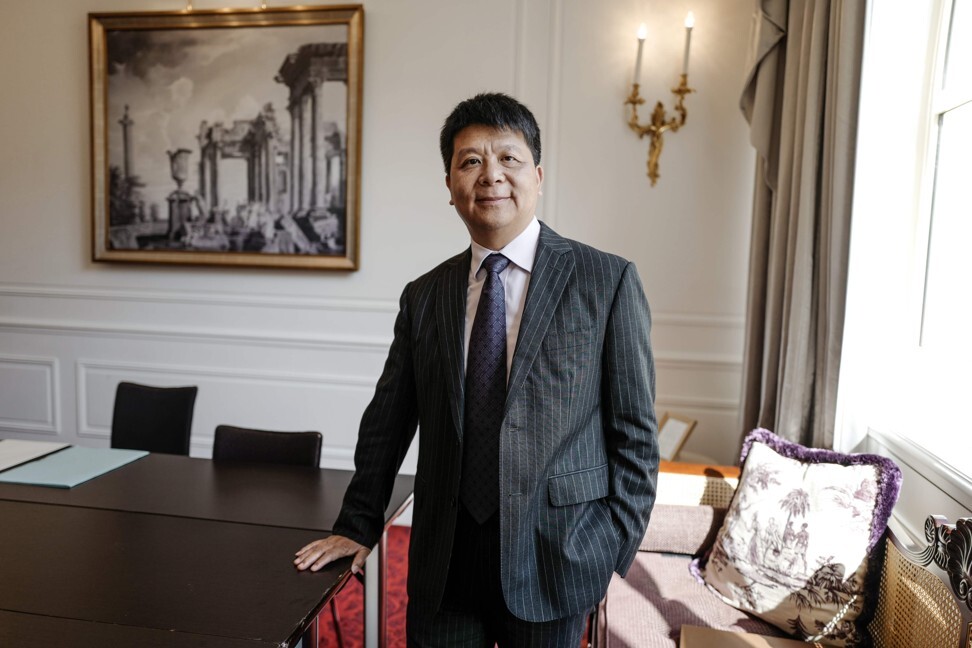 The inception of Huawei's ownership traces back to the company's establishment, when Ren started selling telephone switchboards with 21,000 yuan (US$5,630 in 1987) in his pocket. Short on equity capital and without access to loans from state-owned banks that favoured their state-owned brethren, Ren paid the handful of staff in his budding company with stock, in lieu of salaries and bonuses.
"There weren't many private enterprises in China during the late 1980s, so we didn't really know how capitalist ownership worked," Jiang said. "Plus, Mr Ren didn't have much money, so he could not pay his staff in cash, only with promises of future earnings and dividends."
Employee shareholders also provide checks and balances in the company. Ultimate authority rests in the 115-member Representatives' Commission elected by eligible staff shareholders from nine business divisions, on the basis of one vote per share. Ren, with his 1.04 per cent stake, is also entitled to vote. Retired staff, while enjoying Huawei's dividends, don't get to vote.
The commission in turn elects 17 directors to sit on Huawei's board, responsible for corporate strategy, operations and management.
Another idiosyncrasy at Huawei is its roster of three Rotating Chairmen, each getting six months at the executive apex for five years. They take turns chairing the board meetings, while
Chairman Liang Hua
serves as the company's roving global ambassador.
Current
Rotating Chairman Guo Ping
, 54, who took over on April 1 from
Eric Xu Zhijun
, is a 32-year Huawei veteran who worked his way up the ranks in purchasing, supply chain, and even as Chief Legal Officer. The third Rotating Chairman is
Ken Hu Houkun
, who handled cybersecurity, human resources and sales, among other roles. Meng the CFO
also holds the rank of a deputy chairwoman
, equal to the three Rotating Chairmen, but doesn't quite serve in the same capacity.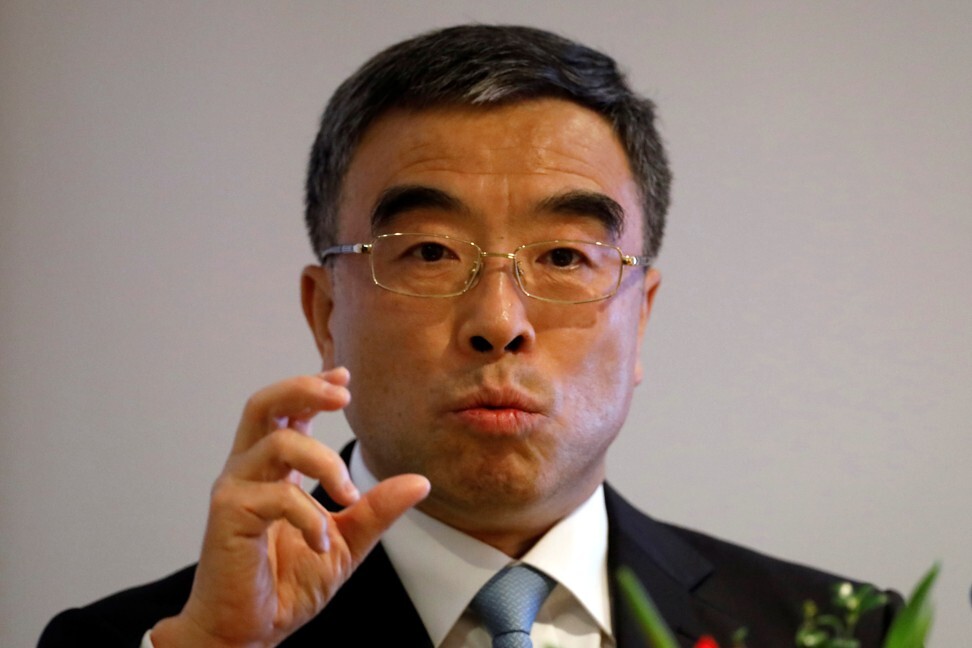 That means Huawei has three leaders at any one time: Liang, one of the three Rotating Chairmen, and the founder. Ren, with his veto power – yet to be exercised, his publicists said – remains the boss, mentor-in-chief and the company's moral compass. Still, the former military man, who turns 76 in October, made light of his place in the world.
"I only play a symbolic role, like a clay idol in a temple. Without it, the temple would look empty, but in truth, the idol doesn't really do anything," he said in Mandarin, thick with an accent from his native Guizhou province. "I don't manage any specific things. I'm not even involved in management appointments. Whether I'm at Huawei has no real impact. I've been a puppet for a while, and I'll continue to be one in the future. I'm just a clay idol, getting smaller and smaller every day. One day, I'll disappear."
Once a year, Huawei
opens its financial records
to the world as if it were a public company. The company bids for tens of thousands of contracts from different telecoms companies every year, all of which demand to scrutinise Huawei's books, shareholding structure and financial adequacy. To streamline the process, Huawei hired KPMG to audit its books every March, and has published annual accounts since 2000.
"We make our audit reports publicly available so that customers can trust us," Ren said. "We aren't just publishing our financial statements, we are showing the world that we are open. This is something we need to do. We are not a listed company, but it doesn't mean we have more freedom or can relax."
The combination of Huawei's unique structure, and its previous aversion to publicity, have raised suspicions among outsiders, said Xiao Zhixing, Distinguished Fellow at the INSEAD Business School in Singapore.
US Senator Marco Rubio, who
sponsored legislation last July
to keep Huawei on the US Commerce Department's banned Entity List for being a potential "national security threat," called it a "state-directed Chinese telecoms firm" that does the Communist Party's bidding with "anti-market economic aims," in his email response to a query by the
Post,
without offering evidence for his claim.
"Listing the company, or at least part of the company, somewhere outside China is a possibility" to instil confidence, Xiao said. "Another possibility is to cut the company into two: one remaining in China; and the other – which will engage in infrastructure business with the rest of the world – that follows Western rules completely."
But for Wang, whose letter a year ago unlocked Huawei's gates and ushered in an unprecedented period of openness, his dilemma is more practical: should he buy more Huawei shares, or place a down payment on a Shenzhen apartment?
"It is the first year I'm getting the shares and I have no plan to sell them," Wang said. "For colleagues who have been receiving dividends for several years, they could consider cashing in on the shares as they now face mortgage pressures in Shenzhen."
With additional reporting by Jodi Xu Klein in New York, Robert Delaney in Washington DC
Read more from this series on Huawei, China and the US.
(Corrects story to say that 21,000 yuan = US$5,630 in 1987, not US$78,330 )
Sign up now and get a 10% discount (original price US$400) off the China AI Report 2020 by SCMP Research. Learn about the AI ambitions of Alibaba, Baidu & JD.com through our in-depth case studies, and explore new applications of AI across industries. The report also includes exclusive access to webinars to interact with C-level executives from leading China AI companies (via live Q&A sessions). Offer valid until 31 May 2020.