Huawei
Get more with myNEWS
A personalised news feed of stories that matter to you
Learn more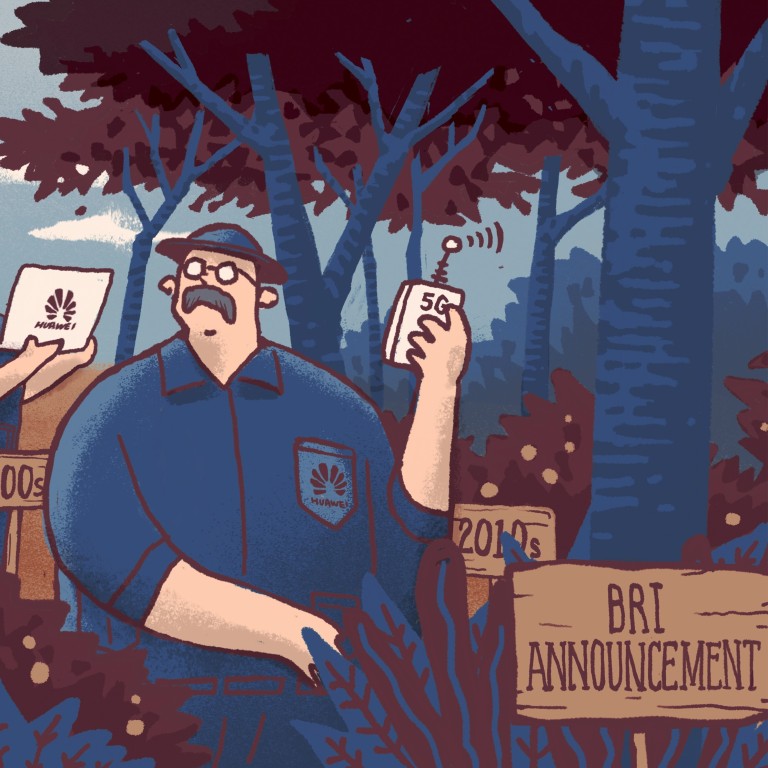 Years before China's Belt and Road plan got its name, Huawei was driven to seek emerging-market contracts
In the fourth instalment in an eight-part series on Huawei, our Africa Correspondent Jevans Nyabiage, US Deputy Bureau Chief Jodi Xu Klein and Asia Reporter Meaghan Tobin look at how Huawei had been expanding in emerging markets outside China long before the belt and road strategy even got its name
As early as 1996, company executives had travelled as far afield as Brazil, Russia and Africa in search of business opportunities
When Jacky Gao Kexin put his hand up for his first overseas assignment in 2004, the young Huawei engineer had just completed three years of after-sales customer service in Henan and Jiangsu provinces in his home country.
Finding himself halfway around the world in Lagos, a megacity of 16 million people in Africa's fourth-largest economy, it would take Gao countless long weekends and sleepless nights – including being robbed at gunpoint, twice – to make headway in Nigeria.
VMobile, a local network operator with close to 1 million cellular phone users, approached Gao with a problem that its vendor had left unresolved. Gao worked through a weekend with his technicians and came up with a solution, displacing the then vendor Alcatel, and eventually Ericsson, as VMobile's hardware and software supplier in Nigeria. VMobile was eventually sold to Kuwait's Zain Group, which in turn was taken over by India's Bharti Airtel in 2010.
By 2007, when Huawei promoted Gao to head its business in Yaounde, the company's share of central Africa's telecoms market had risen to an estimated 40 per cent, including its first US$100 million contract in Cameroon.
A decade later today, Huawei counts Africa as its third-biggest sales market as it rides on the explosive growth in mobile phone usage to dominate the sale of telecoms backbone equipment and software on the continent, operating in 40 of Africa's 54 countries.
Gao's Lagos experience would be a common lore in Huawei's emerging-market sales offices from Southeast Asia to South America: a mixture of grit, chutzpah and dogged devotion to customer service that catapulted the Chinese company from a low-budget vendor of small telecoms networks into a challenger to Ericsson and Nokia. With 2019 sales growing 19 per cent to US$123 billion, Huawei is five times bigger than its two European rivals in revenue and many times more profitable.
"We didn't take over their market; instead, they lost it themselves," Huawei's founder
Ren Zhengfei said during a March 24 remote interview
with
South China Morning Post
, drawing a corollary with how his company came to dominate China's domestic market. "With persistence and decades of hard work, we have gradually come out on top."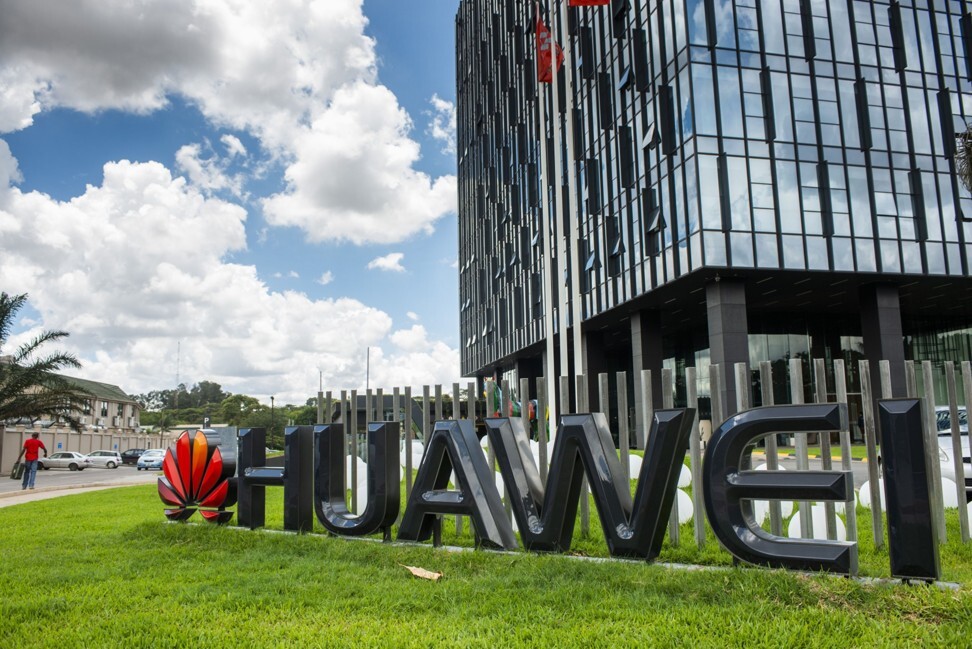 Huawei is now in the cross hairs of the White House, during an escalating
US-China tech war
where
cybersecurity
, intellectual property rights as well as the supply of vital components and software are the tactical manoeuvres for a strategic vantage point.
To detractors such as the one-time Republican presidential hopeful and Florida Senator Marco Rubio, Huawei is a "state-directed telecoms firm" used by the Chinese Communist Party to fulfil "malign foreign policy objectives, like the
Belt and Road Initiative
," he said in his email reply to a query by the
Post
.
The belt and road plan,
formally unveiled in 2013 by Chinese President Xi Jinping
, is an investment and development strategy conceived to involve 70 countries from China to Europe and Africa. The strategy emanates in two directions from China: an overland route that traces the ancient Silk Road – the 'belt' – through Central Asia, and the maritime route – the 'road' – via Southeast Asia.
The ambitious policy, which would pull nearly six dozen countries into China's sphere of influence, raised alarms in Washington DC, especially since China overtook the United States in 2009 as Africa's biggest investor and trading partner, with
US$91.09 billion in Sino-African commerce
, from a mere US$10 billion in 2000.
Reality may be more benign. "Huawei's contracts are usually for short-term projects and involve much smaller sums of money" than the infrastructure megaprojects along the belt and road such as seaports, transboundary railway links, or gas pipelines, Ren said.
"We sign small contracts with our customers [where] the investment required is much smaller. Therefore, we have no connection with the initiative."
Huawei was active in emerging markets for two decades before the belt and road strategy even had a name. By 1996, when the company was barely 10 years old, Huawei executives were already searching for business opportunities as far afield as Brazil, Russia and Africa.
Huawei's first Africa sales office opened in the Kenyan capital of Nairobi in 1998. Ren himself would visit the continent several times as he travelled the globe to meet customers, including a trip to Nigeria in 2004 and Cameroon in 2007.
The push abroad was not unlike how Huawei got its break on its home turf. As an upstart in the highly capitalised telecoms industry during the late 1980s, Huawei struggled even at home against larger rivals who had the technology, the products and the brands to woo China's nascent telecoms operators.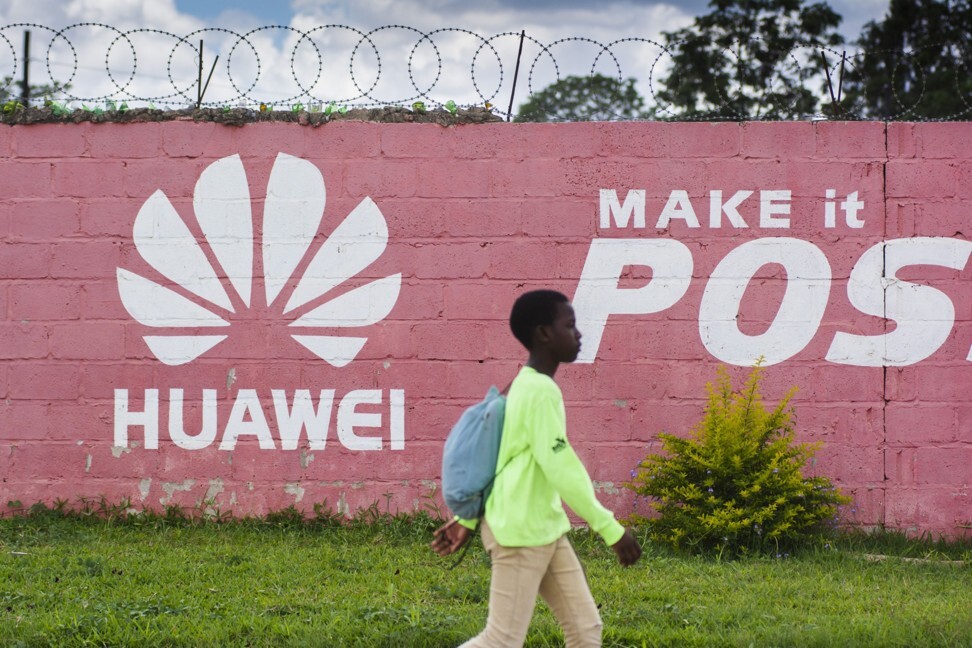 The company had to innovate to get its edge, pushing Huawei to devote a substantial budget toward development,
funded by its staff shareholders
. An early breakthrough product was a telephone switchboard equipped with uninterrupted power supplies to compensate for voltage surges in the country's primitive electricity grid. The same UPS-equipped switchboard would also prove to be popular in other emerging markets.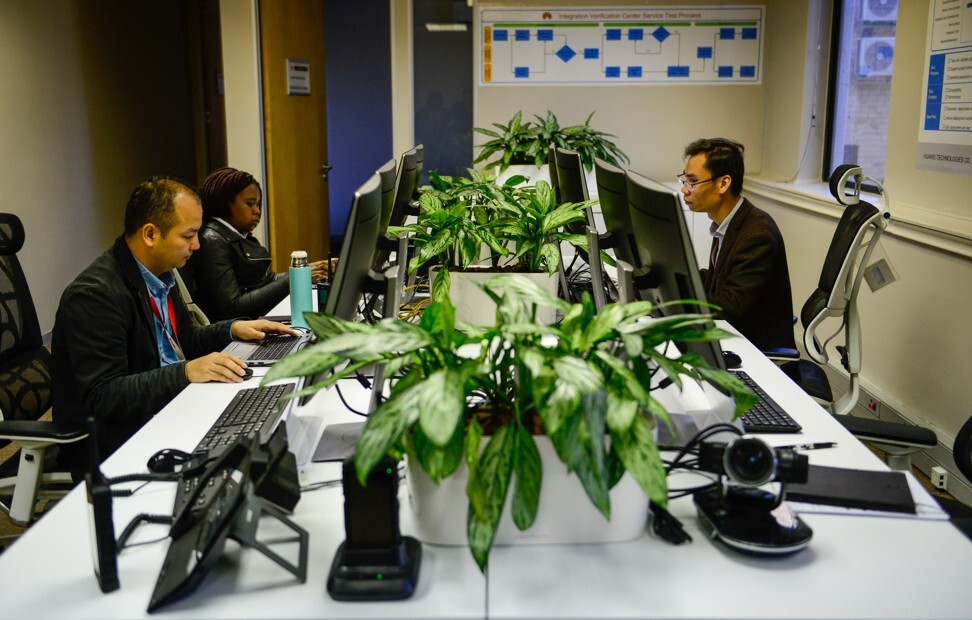 "We made energy-efficient equipment, and developed power solutions that could support telecoms networks in remote areas," said Huawei's Kenya chief executive Stone He in Nairobi. "We also had to develop solutions [that were rugged, and able to withstand dust and heat] for remote areas, especially those with small, poor, populations. We had to try to change the economics of rural coverage and dramatically reduce the cost of providing equipment."
Four decades later, Huawei took its flexibility and fleet of foot to every single one of its global markets, allowing its R&D team to adapt equipment to countless local usage scenarios in stark contrast to its competitors' one-size-fits-all business model.
Huawei's antennae can be lifted single-handedly by a technician to fit into the numerous heritage buildings that dot European cities, while its base stations and transmitters are covered in casings to withstand adverse weather from Nordic winters to Saharan desert heat to Brazil's tropical thunderstorms.
Representatives at the Swedish telecoms company Ericsson, and Nokia Shanghai Bell – the 2017 venture between the Finnish company's China business with Alcatel-Lucent Shanghai Bell – declined to comment for this article.
Joe Ndege, a former Huawei executive in Kenya from 2000 to 2001, said Huawei's success in Africa can be attributed to four factors: the right product at the right time; affordable pricing at a period of explosive growth in telecoms on the continent with 1 billion people; a good financing model that helped networks manage their cash flow; and a business model of incremental service fees.
"Most of the early telecom equipment vendors charged separately for system upgrades, which were very expensive relative to the initial purchase price," giving Huawei the edge over its competitors, he said.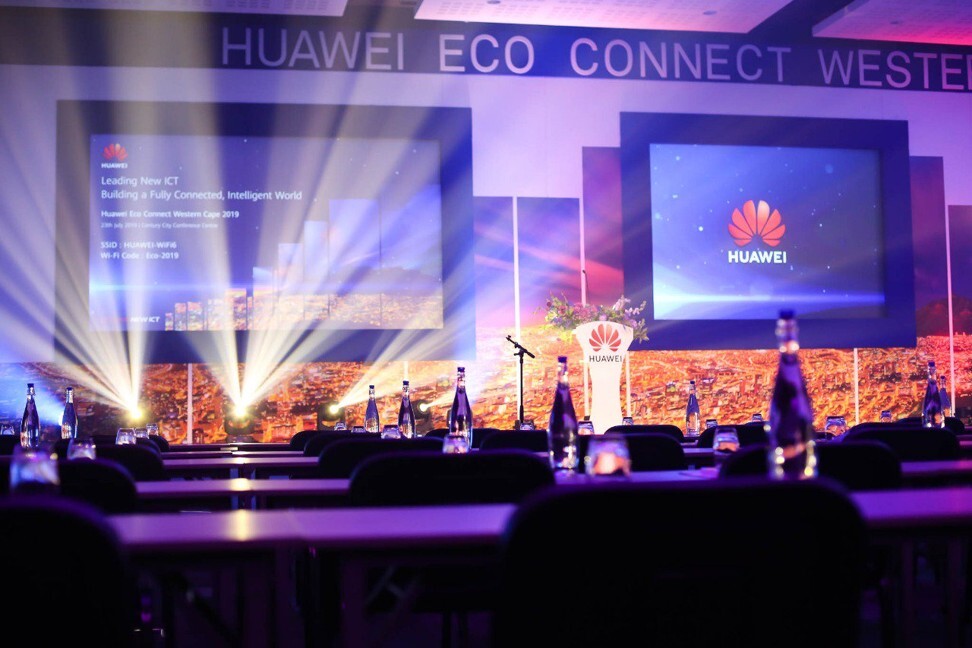 The process of winning over a new client typically goes like this: Huawei brings its equipment to a telecom network for a free trial, where the operator's sole responsibility is to secure the necessary import license and deployment approval from local authorities.
Once the trial equipment is up and running, Huawei would provide unlimited technical backup and replacement commitment, often returning with solutions, components or patches to problems within the hour.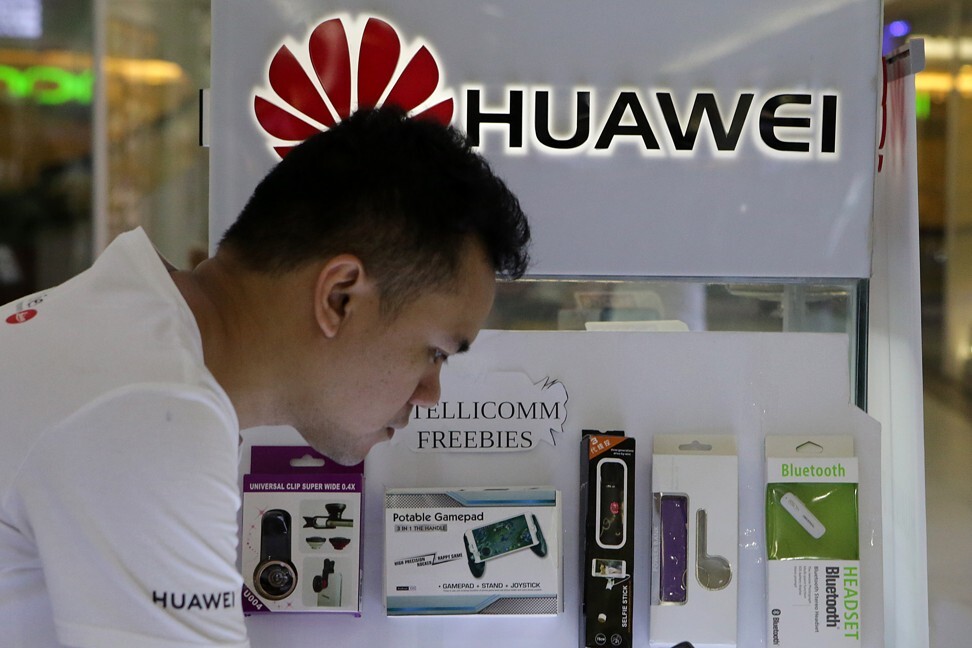 Amid the coronavirus pandemic, Huawei raised the daily hazard allowance for client-facing staff on the front lines to US$150, providing what Ren called "Swiss-like" living conditions in such places like South Sudan to motivate technicians – all to keep clients' telecoms networks going.
Country managers and senior executives tend to park themselves at the network operator's office until the customer is satisfied, said a former Huawei engineer who worked for seven years with the company.
At Huawei, everybody believes that "the customer is God," said the former staff, declining to be named. "Once they deploy their product, they can be compared side by side with [the market leaders] and showcase their service level on every key performance index."
"By taking over the lower socio-economic bands, Huawei built a foundation that they used – very successfully – to mount an assault on the medium and high-end device and equipment markets in African telecoms," said Peter Wanyonyi, a Kenyan technology analyst based in Waikato, New Zealand.
Initially, the company was a supplier to mobile networks – voice and data provider – but has since diversified into IP networks, routers and firewalls, managed services, and enterprise business such as fibre-to-home and storage services.
Huawei gained a foothold in the US market in much the same way, by serving the small operators and winning them over with service.
Eschewed by AT&T in 5G equipment
in the US at the behest of the Trump administration, the Chinese company continues to sell equipment and software to small networks in rural America, like
Eastern Oregon Telecom
in Hermiston city, with a population of 18,200.
"When they first talked to us [in early 2014], they were the first from anywhere that really focused on Tier-3 markets, or small rural carriers that serve communities of 50,000" people, Eastern Oregon's chief executive Joe Franell said in an interview with the Post. "Clients like us always had problems getting attention from our providers because they were spending their time serving Tier-1 and Tier-2 customers for large cities."
During an August 2014 visit to Huawei's Shenzhen headquarters, Franell and other telecom executives saw a distributed cable modem termination system (D-CMTS) that specialised in serving between 200 and 300 customers.
"Nobody in the US had something like that," Franell said. "I thought it was a fascinating piece of equipment, [so] we encouraged Huawei to bring it to the US. They are now widely distributed in the rural areas. From there, we went on to use Huawei's switches and routers and swapped out the gear from Cisco." Cisco Systems' communications team in San Jose, California, did not respond to requests for comment.
Huawei made inroads similarly in Southeast Asia. Besides its customer service, Huawei does most of its R&D and manufacturing in-house, cutting out many third-party suppliers to keep costs low.
"The research and development they offer, and the technological capacity they offer for the price" become "more appealing for countries like Malaysia, [where] the price of these offerings just couldn't be ignored," said Farlina Said, a foreign policy and security studies analyst at the Institute of Strategic and International Studies in Kuala Lumpur. Huawei is estimated to supply about 40 per cent of Malaysia's telecoms market, according to industry executives.
After Huawei won a US$187 million contract – almost half the operator's estimated budget – in 2005 to build Thailand's 3G mobile telecoms network, Ericsson's then executive vice-president of sales Bert Nordberg said the Chinese vendor's quotations were"below walkaway" prices in Thailand, Laos and Cambodia, according to his interview with the Financial Times.
From its 3G foothold, Huawei would go on to supply 4G network gear in Thailand, and is now on track to build a 5G test bed in the nation's infrastructure flagship project the Eastern Economic Corridor (EEC).
A critical aspect of Huawei's success is its relations with government officials, often the managers and executives of critical infrastructure like state-owned telecoms networks. Being close to local authorities gives Huawei a seat at the table, especially when it comes to infrastructure projects with long-term payback periods.
Some of the telecoms infrastructure Huawei supplies in Africa – what founder Ren calls "short-term contracts" – have since been lumped together with Africa's belt and road portfolio. There's the US$4.7 billion Mombasa-Nairobi-Naivasha standard gauge railway, which features a Huawei communications backbone. The company also wired the GSM-R project in South Africa for train-to-ground communications.
Close government ties had not been without controversy. The African Union's US$200 million headquarters in the Ethiopian capital of Addis Ababa – built as a gift by the Chinese government, and installed with telecoms equipment supplied by ZTE and a data centre by Huawei – was
hacked everyday over a five-year period
, the French newspaper
Le Monde
reported in January 2018.
The hacking was not the fault of Huawei's equipment, which did not include data storage or transfer functions in its installation, a company spokesman said in a BBC interview. As further vindication, the African Union renewed and solidified its ties with Huawei in 2019 with commitments to use the Chinese company for everything from 5G to cloud computing.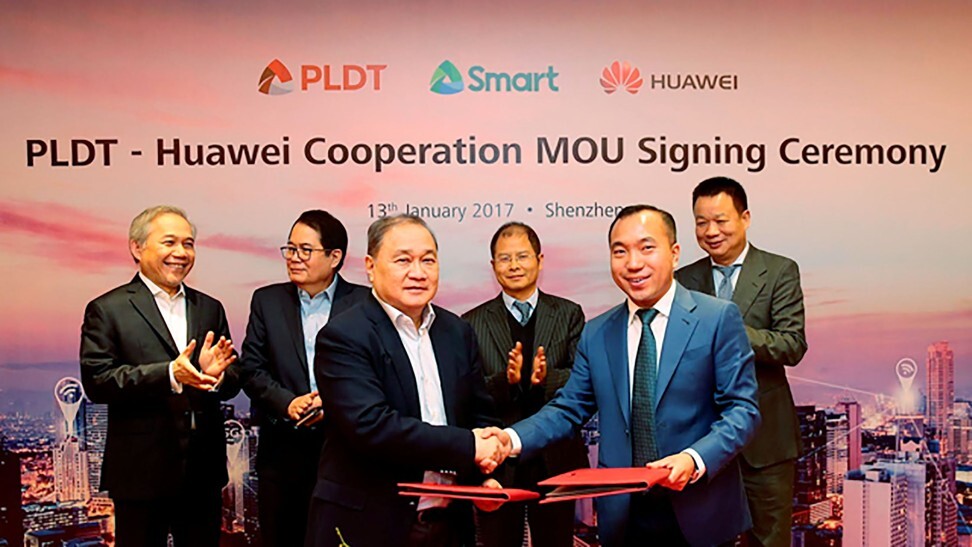 Gao was assigned in 2014 to the Philippines to head a 500-person team, where Huawei is installing the network connections for a financial district in Manila, which is developing a 24-hour smart surveillance system with Wi-fi-connected cameras for law enforcement to fight crime.
The company's breakthrough in the Philippines came in 2005 with a US$700 million contract to upgrade Globe Telecom's network, laying the foundation for the current 4G infrastructure to run entirely on Huawei's hardware and software.
"Nigeria was the hardest among all my assignments in Africa," Gao said during an interview at Huawei's Shenzhen headquarters. "But we go after the developing markets because that's where the growth opportunities are."
With additional reporting by Meaghan Tobin
Read more from this series on Huawei, China and the US.