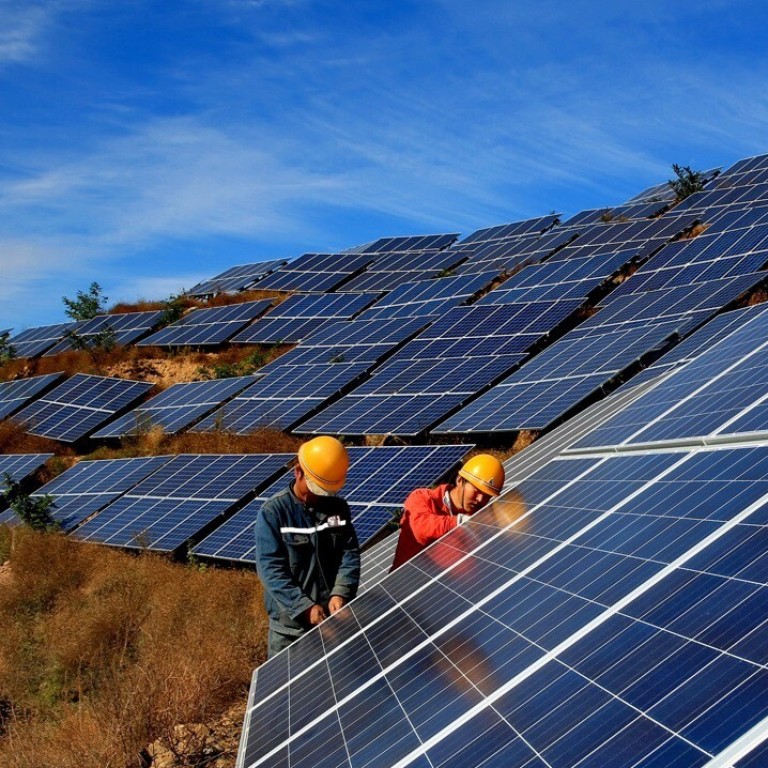 Coronavirus strengthens case for sustainable investing as ESG stocks outperform market in crisis
UK companies with highest ESG scores outperformed broader market during pandemic last quarter
Shunning company with risky behaviours and embracing those adopting sustainability values "crucial" in post-crisis market: UBS
The coronavirus pandemic is shining a spotlight on
sustainability
practises at some of the world's biggest companies as they outperform the broader market and attract more fund inflows.
Firms that manage things like their supply chains and employees well are likely to grow market share, according to money managers including Fidelity International and Schroders. Data from market sell-off has
strengthened the case
for companies with high environmental, social and governance (ESG) characteristics and scores, they added.
The UK's FTSE 100 ESG Leader Index, which tracks companies with the highest ESG performance, dropped 27.3 per cent in the year through March 24 while the broader market lost 33.7 per cent, according to Schroders, citing a Bank of America Merrill Lynch research. Most MSCI ESG Leaders indices globally have similarly outperformed mainstream markets, it said.
A recent study by investment manager Fidelity International on more than 2,600 companies revealed positive correlations between their ESG ratings and market performances.
"Stocks with higher sustainability characteristics have tended to outperform in this period of market volatility and we believe they will continue to do so when the crisis is over," said Jenn-Hui Tan, global head of stewardship and sustainable investing at Fidelity. "The crisis has reinforced the underlying point that companies need to offer products and services that bring value, and do not only extract profit."
In recent years, sustainable investing, measured by environmental, social and governance factors, has resonated with more fund managers as society demands a wider application of ethics in investing, while regulators impose disclosure requirements on the subject.
The Covid-19 outbreak, which triggered global border closures, city lockdowns and severe economic losses, highlights the interconnected and interdependent nature of the social and economic systems, according to global advisory firm Willis Towers Watson (WTW).
"Companies cannot operate independently from societal and environmental issues, as investors recognise that these present clear financial risks," said Jayne Bok, head of investments for Asia. "Companies that can better manage ESG issues are likely to be more resilient through the current crisis."
UBS is reaping some of the rewards. Its 100 per cent
sustainable cross asset portfolio
in Asia surpassed US$1 billion in assets at the end of February. In the US, ESG strategies have continued to gain fund inflows through the crisis, while equity-based exchange-traded funds suffered withdrawals since late February.
That suggests a growing confidence in ESG strategies offering "higher quality companies with sound business models," according to Mario Knoepfel, head of sustainable and impact investing advisory for Asia-Pacific at UBS Global Wealth Management.
Shunning companies with risky behaviours and embracing those with
sustainability values
are "crucial" when re-entering the market after the latest sell-off, he added.
Some "risky behaviours" came to the fore as the Covid-19 pandemic pressured companies to trim working days or lay off workers. Some 7 per cent of working hours worldwide will be lost in the second quarter, the International Labour Organisation said last month.
In the UK, wealthy businesses that furloughed workers and tapped into state funds have been publicly rebuked. They included
Victoria Beckham
and her eponymous fashion label,
Liverpool Football Club
, and Richard Branson's Virgin Atlantic.
"Companies realise that making rash decisions will have a negative impact on their reputations," said Juan Aronna, managing director, head of investment solutions and products for RBC Wealth Management Asia. "In the long term, [this] would not serve them well."
With a boost from the coronavirus outbreak and global markets crash, investors say sustainable investing looks set to accelerate.
While short-term volatility in financial markets is clearly a challenge, many investors are seeking out companies which can emerge with stronger stakeholder relations and business models, according to Schroders.
"In some cases, the choices companies are making are highlighting stark differences in priorities between companies," said Andrew Howard, head of sustainable research for asset management company Schroders. "Sustainability, and how companies engage with the stakeholders they rely on for their long term corporate health, is therefore in the spotlight more than ever."