IPO
Get more with myNEWS
A personalised news feed of stories that matter to you
Learn more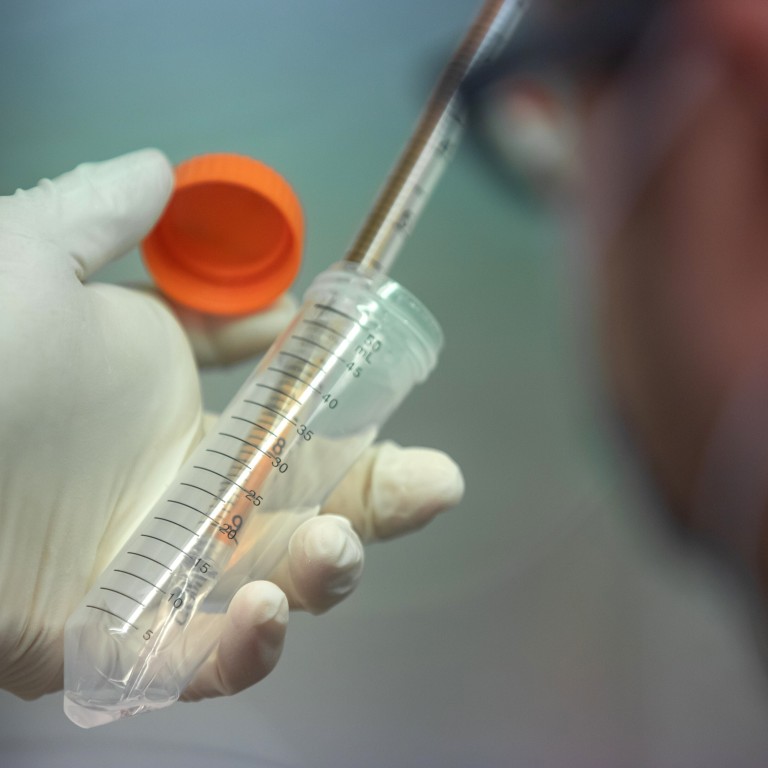 Chinese prostate, breast cancer drugs maker Kintor's IPO more than 500 times oversubscribed as Hong Kong biotech investment fever continues
Kintor Pharmaceutical saw its HK$1.86 billion (US$240 million) IPO more than 500 times oversubscribed, said people familiar with the deal
It is the fifth biotech IPO sice December in Hong Kong to be massively oversubscribed as investors bet on start-ups hitting the jackpot with high-demand new medicines
Cancer drugs developer Kintor Pharmaceutical saw its HK$1.86 billion (US$240 million) initial public offering heavily oversubscribed as investors continued to bet on biotech start-ups hitting the jackpot with innovative, high-demand medicines, sources close to the deal said.
Kintor has attracted subscription commitments of more than 500 times the 9.2 million shares offered to retail investors, while 92.3 million shares offered to international investors were "heavily oversubscribed".
It is the fifth consecutive Hong Kong biotech IPO since December to have recorded strong retail subscription rates of between 192 and 639 times.
The four previous firms that went public under Hong Kong's biotech listing regime have seen their share prices gain between 63 and 125 per cent from their IPO price, based on Monday's closing prices.
"While many other industries have yet to show signs of being able to recover sustainably from the economic slump caused by the coronavirus pandemic, health care is seen as a defensive sector," said Kenny Tang Sing-hing, CEO of China Hong Kong Capital Asset.
"However, biotech is unfamiliar to many investors, and the prospects of each business segment and the efficacy of each drug candidate requires specialised knowledge to understand. With a lack of industry knowledge being the norm among retail investors, biotech investing can be prone to speculation."
A new listing regime was adopted by Hong Kong's stock exchange in April 2018 to allow drug and medical device developers that are yet to make a profit or earn revenue to float their stock. The idea was to tap the huge fundraising needs of hundreds of start-ups in the nascent but fast-growing industry.
Beijing has adopted a raft of policies in the past five years to support growth in the industry, including faster new drugs approval processes, and allocation of more funds to pay for innovative drugs from the national health insurance scheme.
Kintor, based in Suzhou in Jiangsu province, said in its listing prospectus its lead candidate proxalutamide is a "potential best-in-class drug" on which it is conducting phase-three clinical trials in China and phase-two trials in the United States for late-stage prostate cancer. It has also been carrying out early-stage trials on a candidate for late-stage breast cancer in China.
It aims to complete the phase-three trial and apply for approval to sell the drug in China before year-end.
Prostate cancer is one of the most common cancer types among men globally, ranking second by the number of new cases, which exceeded 1.2 million in 2018. In China, 102,500 new cases were recorded in that year, making it the sixth most common among men.
The global prostate cancer market, valued at US$11.8 billion in 2018, is forecast to grow to US$17.9 billion by 2023, while in China it may triple to 12.3 billion yuan in the same period, according to forecasts by Frost & Sullivan cited by Kintor in the IPO prospectus.
Still, not all drug developers will be able to capture the expected growth. Typically, each drug in phase-three clinical trials – which focus on efficacy – has a roughly 50 per cent chance of eventually winning marketing approval in China, according to Cui Cui, head of China health care research at investment bank Citi.
Drug candidates undergoing phase one trials – which test for safety – on average have a success rate of less than 10 per cent.
"Innovative drugs development is supported by long-term government policies in China, but it is a high-risk and costly business," Tang said. "Even if a drug is approved, there is no guarantee it would sell well.
"It is not easy to induce doctors to change their drugs prescription unless the drugs have demonstrably better efficacy and fewer or milder side effects."
Help us understand what you are interested in so that we can improve SCMP and provide a better experience for you. We would like to invite you to take this five-minute survey on how you engage with SCMP and the news.
This article appeared in the South China Morning Post print edition as: Drug maker Kintor's IPO 500 times oversubscribed