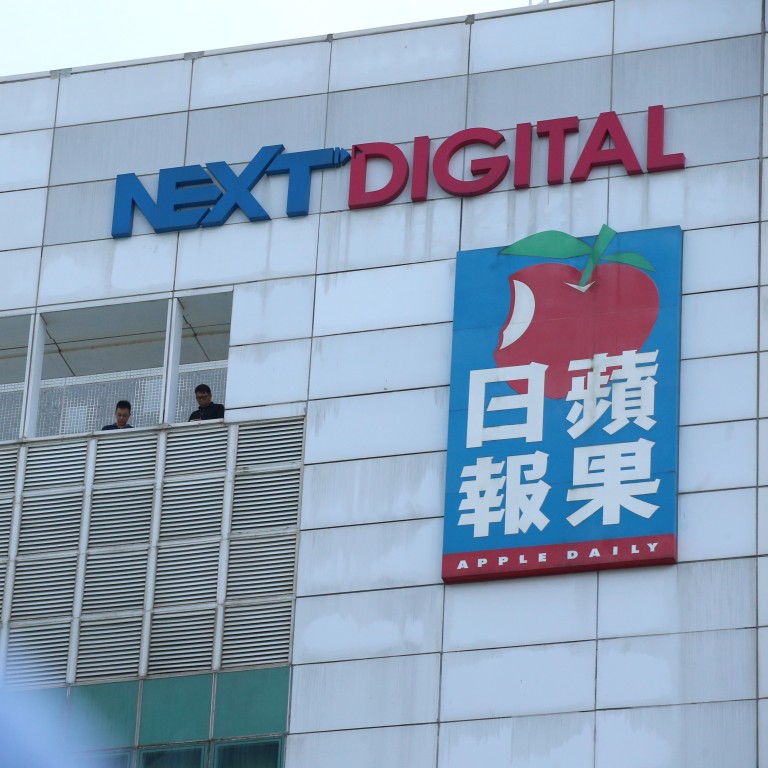 Apply Daily publisher Next Digital reports wider full-year loss of US$53 million
Hong Kong-based company founded by media tycoon Jimmy Lai expects 'choppy waters ahead'
Company will also lay off 140 staff members in Taiwan
Next Digital, which publishes the Apple Daily tabloid in Hong Kong and Taiwan, reported a wider loss for the 2019-2020 financial year late on Monday, adding that it expected "choppy waters ahead".
Hong Kong-based and listed Next Digital, which was founded by media tycoon Jimmy Lai Chee-ying, said in a filing to the city's stock exchange that it had recorded a net loss of HK$415.3 million (US$53.6 million) attributable to its shareholders. The annual loss was the company's fifth in a row and about 23 per cent more than last year's loss of HK$338.5 million.
It also said in a Facebook post earlier in the day that it would lay off 140 staff members in Taiwan, or about 13 per cent of its total employees on the island, starting Monday. It also reported that it had 216 fewer employees as of March 31, 2020 as compared with the year before.
The loss, a result of a steep decline in both print and digital advertising revenue, was caused by the "perfect storm" of the US-China trade tensions, Hong Kong's anti-government protests and the Covid-19 pandemic, all of which led advertisers to delay promotional projects and cancel campaigns, the company said.
"There are choppy waters ahead for the media sector and the economy as a whole … Future consumer confidence will determine whether the two economies bounce back with strong growth momentum, or whether recovery will be slow and painstaking. Both the Taiwanese and Hong Kong SAR governments are committing substantial resources to fiscal stimulus and support. Even in a post-virus scenario, however, the uncertain fate of US-China trade negotiations and the social unrest in Hong Kong will also be critical factors," Chow Tat Kuen, the company's executive director, said in the filing.
Revenue from internet advertising income, content provision and development of mobile games and apps was HK$269 million, 53 per cent lower from the previous year, while newspaper advertising stood at HK$163 million, 32 per cent lower.
The company's shares closed 1.82 per cent lower at HK$0.108 on Monday, before the result was announced.