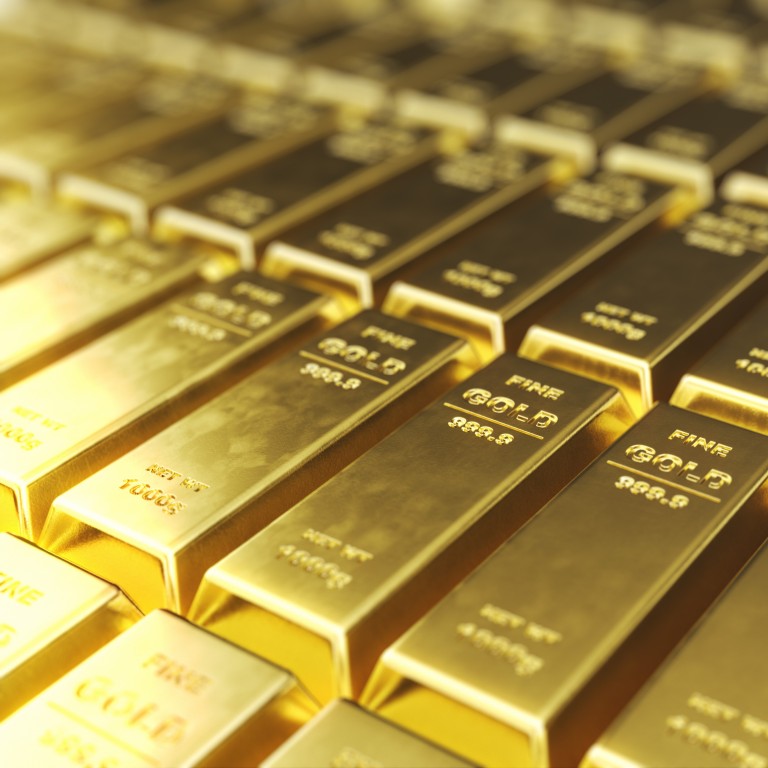 Kingold Jewelry secures US$2.8 billion in loans with gilded copper bars, in latest fraud that embarrasses China, irks US
Nasdaq-listed Kingold, one of China's largest jewellery makers, allegedly used 83 tonnes of gold bars as loan collateral, which later turned out to be gilded copper, according to a report by the Caixin news outlet
It follows Luckin Coffee's recent fraud case and is sure to fuel a recent drive by US politicians to expel Chinese companies from Wall Street
Kingold Jewelry, a Nasdaq-listed jeweller and producer of household ornaments, has been accused of large-scale fraud in the second major scandal in three months involving a Chinese company listed in the US.
The Wuhan-based company is alleged to have used fake gold bars as collateral to fraudulently obtain 20 billion yuan (US$2.8 billion) in loans, in a case that risks fuelling a recent drive by American politicians to expel Chinese companies from Wall Street.
Shares of the Nasdaq-listed gold processor plunged by almost a quarter after the allegations emerged on Monday morning on the website of Caixin, a mainland Chinese financial news outlet.
Kingold strongly denies any wrongdoing and is being investigated by the "authorities", according to Caixin. The company could not be reached for comment by the Post.
Kingold, one of China's largest gold jewellery manufacturers, allegedly used 83 tonnes of gold bars as loan collateral, which later turned out to be gilded copper. Caixin described it as one of the largest gold loan fraud cases China has ever seen.
The loans were obtained over the past five years from at least 14 Chinese financial institutions, Caixin's report said.
The news comes just three months after Luckin Coffee admitted to a US$310 million accounting fraud, in a corporate governance scandal that sent shockwaves through the market and may have blocked the pipeline of Chinese firms seeking to raise funds on US markets.
In April, TAL Education Group, a Beijing-based operator of tuition centres listed on the New York Stock Exchange, said it may have inflated the sales of one of its business segments worth hundreds of millions of dollars. Nasdaq-listed Chinese video streaming company iQiyi was also accused of inflating data, but denied the allegation.
These and other previous scandals have made American lawmakers increasingly hostile to Chinese firms wishing to raise funds in the US.
Amid escalating tension between the Washington and Beijing over trade and barbed comments about the handling of the Covid-19 pandemic, the United States Senate recently passed an unprecedented bill to fence off Wall Street from Chinese companies.
The bill requires fundraising applicants to prove they are not owned or controlled by foreign governments before they can list on a US bourse, and to submit audits to the US Public Company Accounting Oversight Board (PCAOB).
It came on top of changes proposed by Nasdaq to raise the bar on applicants for initial public offerings, with the minimum fundraising being increased to US$25 million, or at least a quarter of the company's value.
Companies including China Minsheng Trust, Hengfeng Bank and Dongguan Trust provided loans to Kingold, and these were covered by 30 billion yuan of property insurance policies issued by state owned insurer PICC Property and Casualty and other smaller insurers, Caixin's report said. The company's US auditor is Friedman LLP.
PICC was not available for comment when contacted by the Post.
According to Caixin, the fake gold was exposed in February when Dongguan Trust set out to liquidate Kingold's collateral to cover defaulted debts. Late last year Kingold allegedly failed to repay investors in several trust products.
Kingold was founded in 2002 by Jia Zhihong, who formerly served in the military in Wuhan and Guangzhou. The company designs and makes 24-karat gold jewellery and ornaments, selling both directly to retailers as well as through major distributors across China.
In November, Kingold posted a net loss of about US$24 million, or US$2.18 per share, for the nine months ended September 30, 2019. Net sales for the nine months were US$1.43 billion, down from US$1.84 billion over the same period in 2018.
This article appeared in the South China Morning Post print edition as: Jewellery firm in fake gold bars scandal