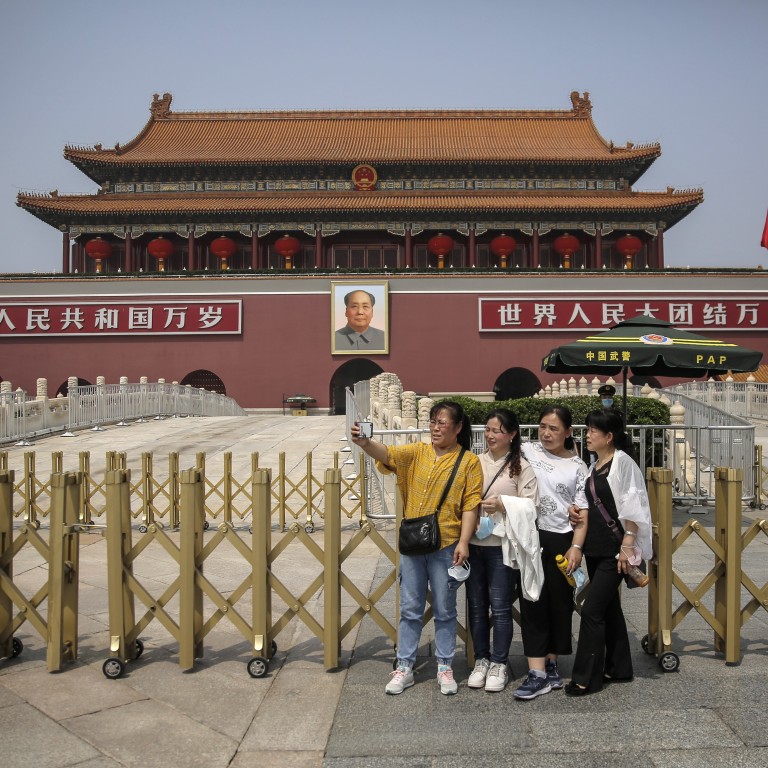 China cautiously opens up domestic tourism to unleash pent up spending power and bolster the sagging economy
China's Ministry of Culture and Tourism says travel agencies can now operate group tours across provincial borders and has lifted the capacity of tourist attractions
Shares of mainland travel companies get a boost, with many surging by the daily 10 per cent limit
China's easing of domestic travel restrictions is expected to provide a boost to the mainland's nearly 6 trillion yuan (US$857 billion) market and save thousands of tourism companies teetering on the brink of collapse after struggling for nearly six months due to the
coronavirus pandemic
.
The Ministry of Culture and Tourism's move on Tuesday night to allow travel agencies to operate group tours across provincial borders also provided a boost to the shares of mainland travel companies.
The ministry also eased restrictions on tourist attractions, allowing them to operate at 50 per cent of their capacity, raising the limit from 30 per cent imposed in April.
"The loosened policies will throw a lifeline to the country's 40,000 travel agencies," said Li Wenjie, chief executive of Shanghai Yaheng International Travel. "Most of the small agencies have been on the brink of collapse with zero sales over the past few months."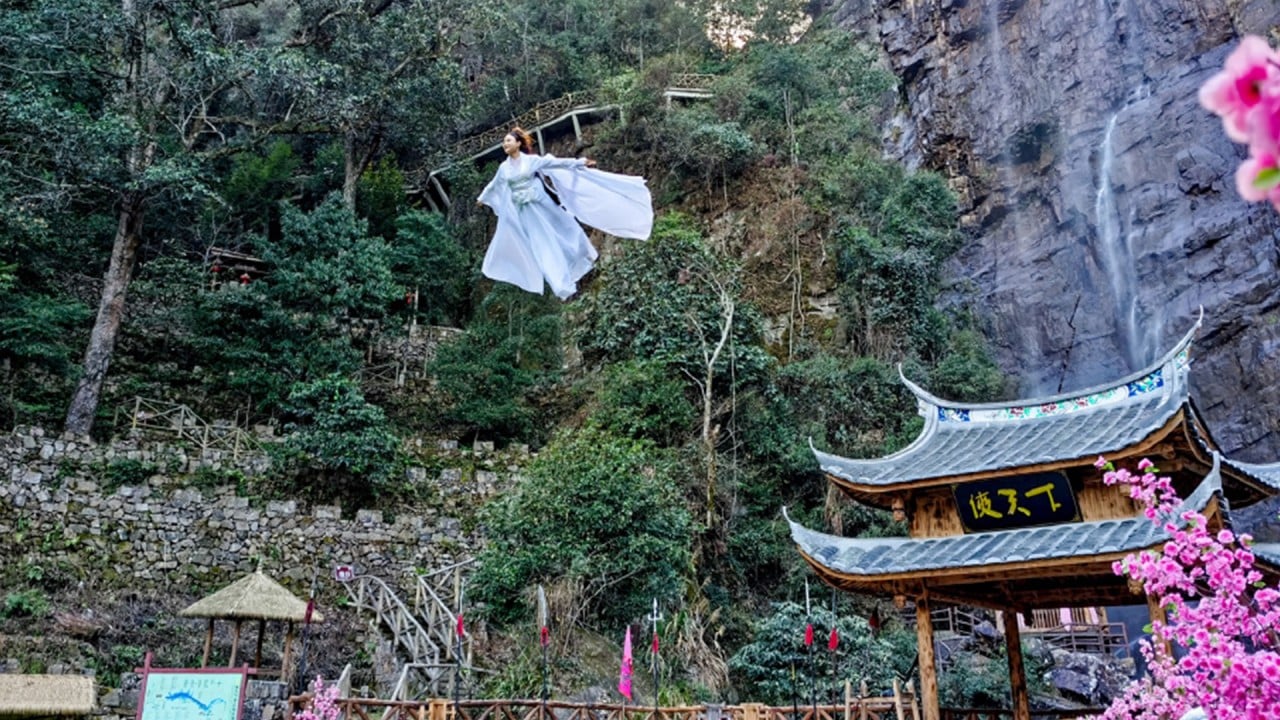 01:19
Dressed in costumes, tourists 'fly' into the sky to experience real life kung fu world
Dressed in costumes, tourists 'fly' into the sky to experience real life kung fu world
Since overseas group tours are still banned as the Covid-19 disease has yet to be contained in a number of countries globally, China is keen to direct that tourist spending domestically and boost the slowing economy. Chinese authorities have taken this move before the next big travel season in October after having missed the May Day holiday.
The move to allow large groups of people to travel domestically also reflects the Chinese government's confidence that it has contained the coronavirus after reporting zero new cases for nine consecutive days following an outbreak in Beijing last month.
China was the first major global economy to enter into, and emerge from, nationwide lockdowns to contain the coronavirus outbreak, after Wuhan, the capital of Hubei province first reported the disease in January.
China's domestic tourism market, which grew 11.7 per cent in 2019 to 5.73 trillion yuan, represented about 6 per cent of the country's economic output last year.
However, the coronavirus outbreak in January dealt a massive blow to the industry which is estimated to employ at least 30 million people. Between February and April, nearly all tourist attractions across the country were closed to prevent the spread of the deadly Covid-19 disease.
It was estimated that the lockdown and restrictive measures implemented in the three months had caused losses to the tune of at least 1 trillion yuan to the tourism industry.
On Wednesday, shares of many travel companies rose by the daily cap of 10 per cent.
Among them were shares of Shanghai-listed Huangshan Tourism Development, the operator of scenic spots at Yellow Mountain in Anhui province, which closed at 9.83 yuan.
Jiangsu Tianmu Lake Tourism, also traded in Shanghai, jumped to 32.05 yuan after hitting the daily ceiling.
Shenzhen-listed Zhang Jia Jie Tourism Group, operator of the national park in Hunan province where James Cameron filmed scenes for his movie Avatar, and Xi'an Tourism also climbed by 10 per cent to 5.72 yuan and 9.79 yuan, respectively. Xi'an Tourism operates the museums and tours to the world-renowned terracotta army in central China's Shaanxi province.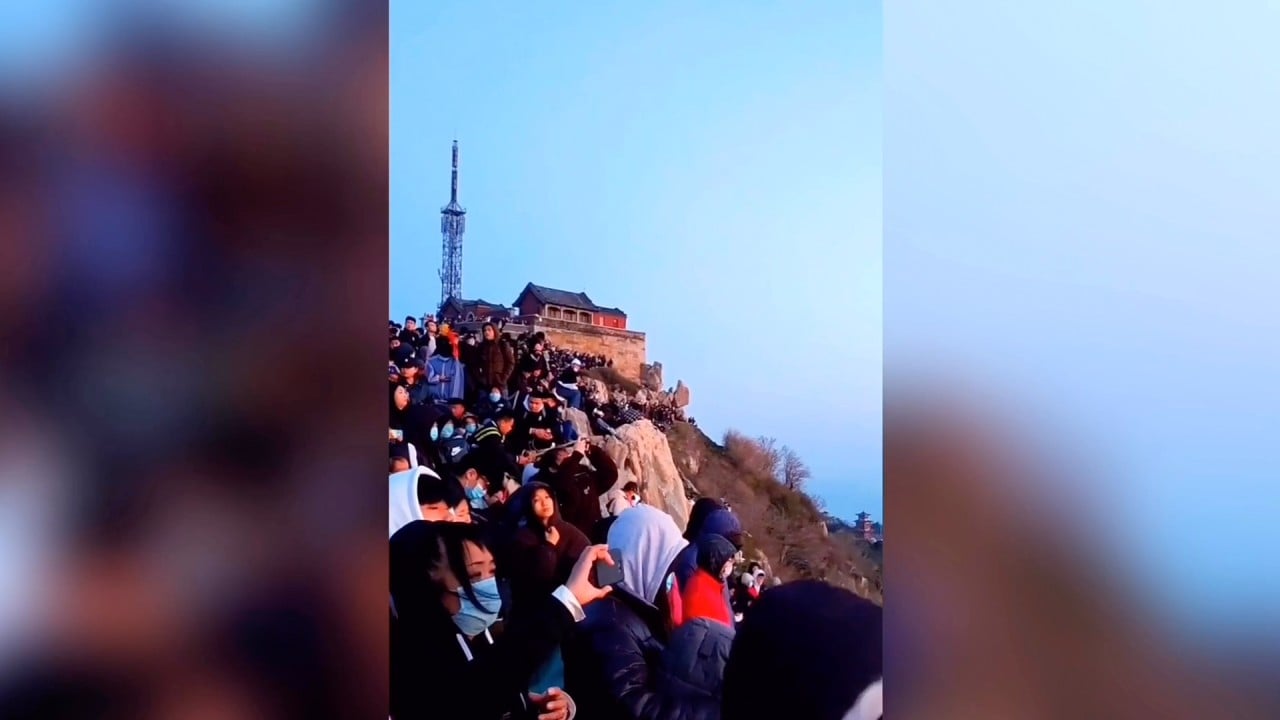 01:06
Thousands of tourists queue to see sunrise on Mount Tai on Labour Day
Thousands of tourists queue to see sunrise on Mount Tai on Labour Day
Chinese travellers made 48.81 million domestic trips during the May 1 Labour Day holiday, down 49 per cent from a year ago. The four-day holiday brought in revenue of 12.28 billion yuan, a drop of 68.8 per cent from the 39.33 billion yuan last year.
In recent years,
Chinese tourists
have become the biggest driving force of the global market, as increasingly well-to-do mainlanders seek new experiences. The top five destinations of mainland tourists last year were Hong Kong, Thailand, Japan, South Korea and Vietnam.
Last year, 162 million mainlanders travelled overseas, a 4.6 per cent rise from 2018 and spent an average of US$900 per person.
This article appeared in the South China Morning Post print edition as: China opens up domestic tourism to boost economy