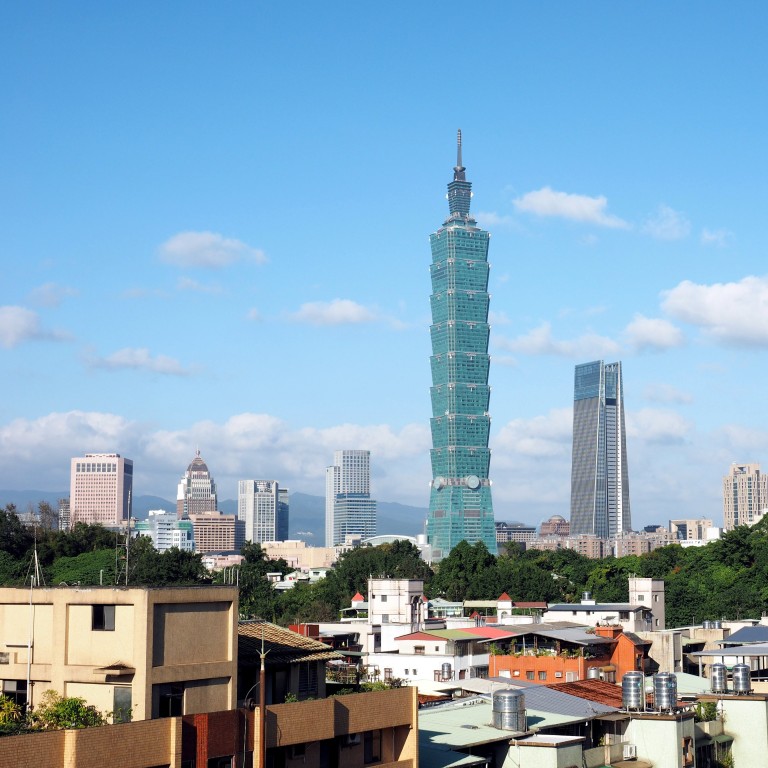 Taipei's offices and flats are in vogue as Taiwanese companies beat a safe passage home to flee Covid-19 in China, US trade war
Companies are diversifying production facilities because of escalating tensions with Washington, pandemic, analysts say
Initiative launched by Taipei attracts 193 companies, which have invested US$26 billion in Taiwan
Heightened tensions between the United States and China and the coronavirus pandemic have spurred demand among mainland China-based Taiwanese individuals and companies for residential and commercial property in Taiwan, analysts said.
Enquiries have more than doubled in the second quarter compared with the first three months of the year, said Michael Liu, founder and chief executive of luxury property agency Jubon Asset Management and an affiliate of Christie's International Real Estate. The demand grew out of US-China tensions and has been sustained by the outbreak on the mainland.
"Since the Taiwanese real estate market bottomed in 2016, the number of sales has been growing, especially because of the accelerated return of Taiwanese investors," Liu said. "This economic recovery wave is expected to continue until 2021."
The reasons for relocation might vary, but companies are essentially pursuing diversification of their production facilities because of escalating tensions between Washington and Beijing, and the Covid-19 pandemic, which closed factories and production lines in mainland China at the start of the year.
Hurt by the trade war and a continuous increase in production costs on the mainland, mainland China-based Taiwanese "have returned to set up factories and offices … reversing a past trend of industry migration", Liu said.
Taipei has been rolling out initiatives to attract Taiwanese manufacturers and bring them back home. Last year, it launched a three-year programme that provides loans and fast tracks business registration processes. The programme has so far attracted 193 companies, which have invested a total of NT$777 billion (US$26 billion) in Taiwan, according to property consultancy CBRE.
"All of this money will go into factory development … and the acquisition of factories or offices," said Erin Ting, research director at Savills Taiwan. "Therefore, we do see some of these companies … purchasing properties" in the coming months.
Apple supplier Pegatron, chip manufacturer Walsin Technology and touch-screen maker General Interface Solution are among companies that have expanded their manufacturing facilities in Taiwan over the first six months of 2020. Over this period, deals involving factory properties worth US$10 million touched US$61.9 million, the highest level in 10 years and a 24 per cent increase over the previous year. Moreover, these deals appear to have triggered an increase of between 5 per cent and 8 per cent in industrial land prices, according to Savills.
The residential segment has been boosted too. "[The total number of] residential units sold in June increased by 15 per cent compared with May," Ting said. "Some of the buyers work in the technology industry, and we do see the Hsinchu residential market becoming very active." Hsinchu is a city southwest of Taipei.
Industrial investors, meanwhile, have flocked to the capital, Taipei, and other cities such as New Taipei, Taoyuan, Taichung and Tainan.
Taiwan's successful response to the Covid-19 pandemic has helped. As of last week, the number of cases in Taiwan remained below 500, with seven related deaths.
"The Covid-19 pandemic adds impetus to manufacturers' plans to diversify manufacturing locations. A total of 24 Taiwanese manufacturing companies applied to relocate back to Taiwan since the outbreak," said Ping Lee, head of research at CBRE Taiwan.
This article appeared in the South China Morning Post print edition as: Real estate demand soars as Taiwanese return home