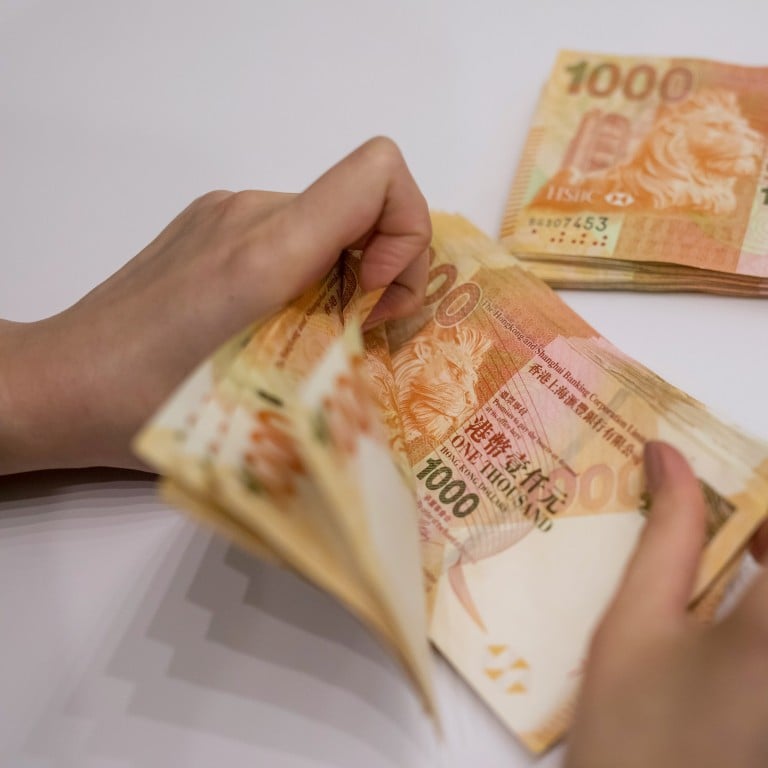 Hong Kong bank deposits expand by US$29 billion in June, biggest jump in over two years as hot money chases JD.com, NetEase mega IPOs
It is the biggest monthly jump since April 2018, at 1.6 per cent, bringing the total cash held in bank accounts beyond HK$14 trillion at the end of June
The wave of hot money has repeatedly pushed the Hong Kong dollar exchange rate above its upper limit, forcing the HKMA to intervene 32 times as of Friday
The amount of money deposited in Hong Kong's banks jumped the most in more than two years in June as investors chased a flurry of big
initial public offerings (IPOs)
and other opportunities.
Deposits held in accounts rose by HK$225.84 billion (US$29.14 billion), or 1.6 per cent, to break through the HK$14 trillion mark at the end of June, according to monthly statistics issued by the Hong Kong Monetary Authority (HKMA) on Friday.
It was the biggest monthly increase since April 2018, and followed a 0.3 per cent decrease in May and a 0.8 per cent rise in April.
The surge came as a result of US$14 billion in hot money – short-term investment cash chasing quick returns – that has flooded into the city since April, Eddie Yue Wai-man, chief executive of the de facto central bank, said last week.
The HKMA has not provided any details of the inflow, but brokers believe it comes from investors chasing recent mega IPOs including those of online shopping giant JD.com and internet gaming company NetEase, which raised almost US$7 billion between them.
The leap in bank deposits was only half that recorded in April 2018. On that occasion, the amount surged by 3.2 per cent as a series of massively oversubscribed IPOs came to market. They included Ping An Good Doctor's US$1.12 billion flotation, which saw its retail portion oversubscribed by about 650 times.
Hong Kong dollar deposits rose 2 per cent in June, while foreign-currency deposits increased by 1 per cent. Each stood at about HK$7 trillion.
In the six-month period bank deposits climbed 2.3 per cent from the previous half, and 3.5 per cent from a year ago.
The wave of hot money has repeatedly pushed the Hong Kong dollar exchange rate above its upper limit of 7.75 per US dollar since April, forcing the HKMA to step into the market 32 times as of Friday. It has sold HK$112.11 billion of Hong Kong dollars buying the same amount in US dollars to bring the local currency back within the permitted trading band and preserve its peg, which is fixed at 7.8 per US dollar.
The HKMA's former chief executive Joseph Yam Chi-kwong, who helped set up the peg in 1983, spoke out twice this week to shore up confidence in the peg and in Hong Kong as a reputable global finance hub.
Yam said the 37-year-old peg remained as robust as ever, helping the city to absorb the various economic shocks of the past year. There had been rumours of capital flight from Hong Kong because of worsening relations between the US and China, and social unrest that dominated much of last year.
But the "substantial capital inflows and a strong exchange rate" belie this, Yam said in an online forum on Wednesday.
This article appeared in the South China Morning Post print edition as: Deposits in HK rise at fastest rate since 2018