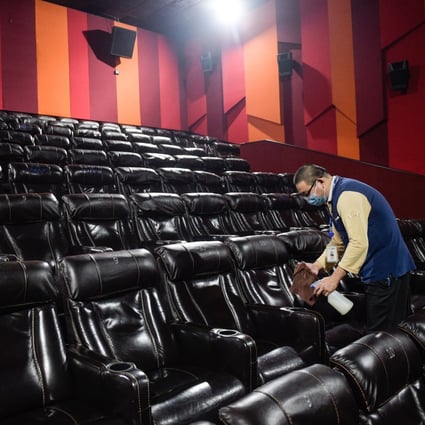 Cinemas have begun reopening in China, but with mask-wearing and social-distancing restrictions that are a reminder that movie-going is anything but back to normal. Here, a worker disinfects seats at a Beijing cinema on July 21, 2020. Photo: Xinhua
Hong Kong-listed old economy stocks are coronavirus roadkill. Will they come back to life?
Airlines, retail, cinemas are among sectors beaten down by the virus
Is there pent-up demand for the old world ready to explode? Or are virus-driven changes in consumer habits permanent?
Cinemas have begun reopening in China, but with mask-wearing and social-distancing restrictions that are a reminder that movie-going is anything but back to normal. Here, a worker disinfects seats at a Beijing cinema on July 21, 2020. Photo: Xinhua