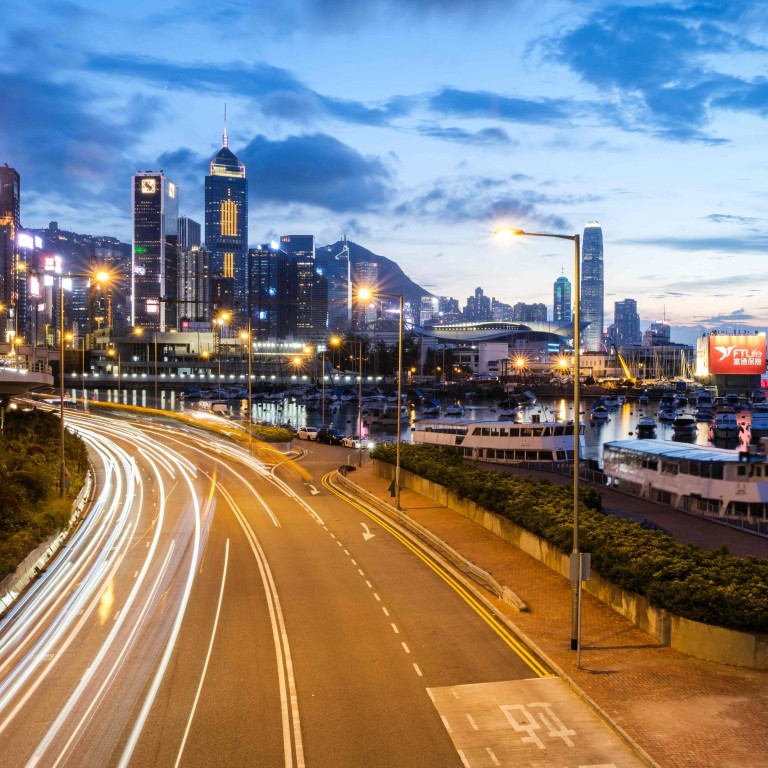 City pins hopes on 'centrepiece' global matchmaking programme for start-ups, as Hong Kong Fintech Week goes online
InvestHK's annual flagship fintech week in November will be conducted online for the first time in its five-year history
Winning projects will receive up to US$1 million in investment commitments from venture capitalists and the Hong Kong government
Hong Kong has launched a fast-track programme for start-ups and will invite applicants from around the world to pitch their innovations to the its de facto central bank, stock exchange and other companies, as part of this year's Hong Kong Fintech Week.
InvestHK, the government department in charge of foreign direct investment, has launched the matchmaking programme to drum up interest in the city's annual flagship fintech event, which will be held online for the first time because of the coronavirus pandemic. The event, slated for November 2 to November 6, is in its fifth year.
The winning projects will receive up to US$1 million in investment commitments from venture capitalists and the Hong Kong government. Last year, Hong Kong Fintech Week drew 12,000 start-ups, investors and regulators from 60 countries.
"The fast-track programme is a centrepiece of this year's event. We are turning this obstacle [of coronavirus travel restrictions] into an opportunity by reaching out to fintech companies from around the world," said King Leung, head of fintech at InvestHK.
Since the programme opened for application last month, InvestHK has received about 100 applications, Leung said. The deadline for applications is end of this month. Applications are open for nine areas, including trade finance, wealth technology, capital markets, commercial banking, retail banking, trade technology, insurance, payments and regulatory technology. The applicants can also apply for support of up to US$2.6 million if they launch their business in Hong Kong.
The Hong Kong Monetary Authority (HKMA), the city's de facto central bank, is inviting pitches for solutions for digitalising trade finance. It has partnered with the Bank of International Settlements Innovation Hub in Hong Kong to organise the vetting process.
Trade finance is an important area where the HKMA is keen on resolving issues that small to medium-sized enterprises (SME) face. Trade contributes 23 per cent to the city's gross domestic product and finance provides 19 per cent, Nelson Chow, the HKMA's chief information officer, said. "SMEs have found it hard to get trade finance. The HKMA has been working with banks to see how, for example, technologies such as blockchain could help," he said.
An advantage cited by some banks is that a blockchain-based trade finance platform could reduce the time needed to complete a transaction from one-and-a-half days to four hours.
Selected companies will be invited to pitch their solutions to other participating companies, which will include Hong Kong Exchanges and Clearing (HKEX), Chow Tai Fook Jewellery Group, Microsoft and Allianz Global Investors, among others. This latter group will vet their innovations for use in their businesses.
The Hong Kong exchange has actively partnered with start-ups and applied their fintech solutions in areas such as market surveillance, said Lukas Petrikas, co-head of the innovation lab at bourse operator HKEX. "This year, we are keen to meet fintech start-ups that are working on [solutions] such as data anonymisation, data fingerprints and the application of legal technology," he said.
Even before Monday's announcement by InvestHK, fintech companies in Hong Kong
were eligible
for US$49 billion in government funding. These funds can be accessed through schemes such as the Innovation and Technology Fund and the Innovation and Technology Venture Fund.
The city
has groomed
several unicorns, or private companies valued at more than US$1 billion. These include real-time logistics platform Lalamove, virtual bank WeLab and travel booking platform Klook.