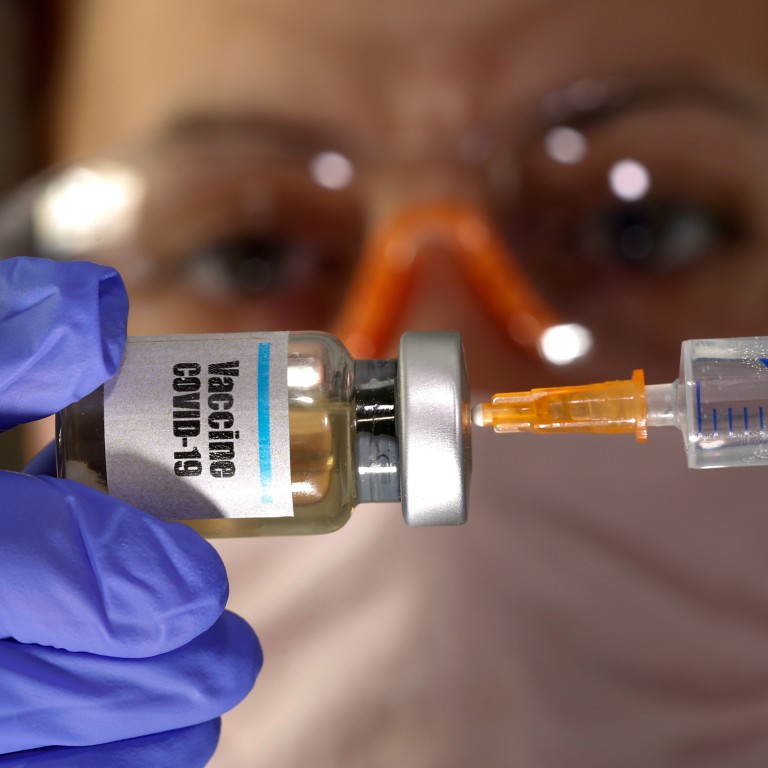 Shanghai's Fosun Pharma inks agreement to supply 10 million doses of Covid-19 vaccine to Hong Kong and Macau once approved
Fosun Pharma and its German partner BioNTech have signed a letter of intent with a distributor for the supply of 10 million doses of vaccine, provided clinical trials prove successful
Fosun has dosed 72 volunteers with BioNTech's vaccine in a phase-one trial in Jiangsu province, and the preliminary safety data are 'good', said CEO Wu Yifang
Shanghai Fosun Pharmaceutical
(Group), which aims to bring German partner BioNTech's coronavirus vaccine to China by the end of the year, has inked an agreement with a distributor to potentially supply 10 million doses to Hong Kong and Macau.
"Fosun Pharma and BioNTech have signed a letter of intent with a distributor for the supply of 10 million doses of the Covid-19 vaccine to Hong Kong and Macau, upon its clinical trial results being approved by regulators," Fosun said in a statement late on Thursday.
The distributor is Hong Kong-listed Jacobson Pharma, according to a stock exchange filing by the company, also on Thursday night.
Fosun Pharma aims to complete clinical trials in China and obtain marketing approval in the next few months.
"We hope to be able to commercialise it by year end, but there are plenty of uncertainties with clinical trials as well as the regulatory approval processes," CEO Wu Yifang said in an interview.
"Pfizer and BioNTech recently said they are on track to seek regulatory review on the BNT162b2 vaccine candidate as early as October this year. If it is approved, we hope to be able to follow suit in Greater China soon."
Fosun Pharma, part of the Shanghai-based conglomerate Fosun International, in March obtained the licence from Mainz-based BioNTech to exclusively develop and commercialise its mRNA
Covid-19
vaccine products in mainland China, Hong Kong, Macau and Taiwan. BioNTech will supply the vaccine should it be approved in the region.
US-based Pfizer is working with BioNTech to commercialise it outside China, and is conducting phase 2-3 clinical trials in the US where it has won "fast track" designation from the Food and Drug Administration.
They plan to supply up to 100 million doses worldwide by the end of this year and 1.3 billion by the end of 2021.
Unlike a normal vaccine, RNA vaccines work by introducing an mRNA sequence – the molecule which tells cells what to build – which is coded for antigens, the proteins that resemble that of the pathogen.
Once produced within the body, the antigen on coronavirus-infected cells is recognised by the immune system which can then fight them.
RNA vaccines are faster and cheaper to produce than traditional vaccines, and an RNA-based vaccine is also safer for the patient as they are not produced using infectious elements, according to health care think tank PHG Foundation, part of the UK's University of Cambridge.
"The advantage of the mRNA vaccine is that it will work even if there are minor changes in the virus," Wu said. "Even if it goes through more significant mutation, scientists can rapidly develop new vaccines based on the changed genomic sequence."
No mRNA-based vaccine – made from genetically engineered virus DNA – has been approved for launch in the world.
Fosun has agreed to pay BioNTech a licensing fee of up to US$85 million, besides sales royalties of 35 per cent of future annual gross profit.
Fosun has dosed 72 volunteers with BioNTech's BNT162b1 vaccine in a phase-one trial in Jiangsu province, and the preliminary safety data are "good", Wu said, adding it is applying for approval to start a separate trial on BNT162b2.
"Because the main purpose of the China trials is to show that the vaccines work among the Chinese population, the number of volunteers we need can be much smaller than the overseas trials done by Pfizer and BioNTech," Wu said.
Beijing is expected to issue regulations on public sector procurement prices of Covid-19 vaccines, which hopefully will allow companies to generate reasonable profits, he said.
"For the self-pay market, our prices will be adjusted based on demand and other companies' prices," he added.
Rival Sinopharm Group chairman Liu Jingzhen earlier told state-owned Guangming Daily it plans to price its vaccine candidates at "several hundred yuan" per dose.
Fosun Pharma on Tuesday posted a 13 per cent year-on-year rise in net profit to 1.7 billion yuan in the first half of 2020, as revenue decreased 0.9 per cent to 14 billion yuan.
It attributed the profit rise to sales of Covid-19 test kits and life-support ventilators, as well as drugs for treating gout, depression, blood cancers and reducing blood cholesterol.
It was also lifted by a 52 per cent profit growth at its India generic drugs subsidiary, Gland Pharma, which Fosun is aiming to separately list in Mumbai by year-end, Wu said.
This article appeared in the South China Morning Post print edition as: Fosun signs deal to supply vaccine doses to HK, Macau