Tesla
Get more with myNEWS
A personalised news feed of stories that matter to you
Learn more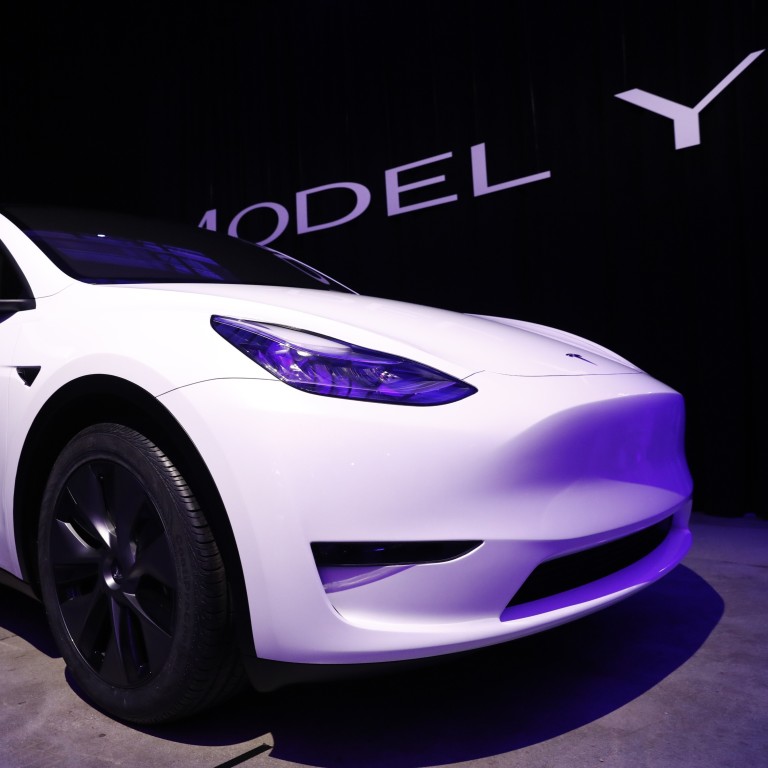 Tesla's made-in-China Model Y launch imminent after resounding success of Model 3 among mainland buyers
Launch of Tesla's upcoming Model Y crossover utility vehicle likely to build pressure on Chinese rivals after Shanghai-made Model 3 is a hit with drivers
Tesla's Model Y could be launched in the first quarter of next year as plans are going as per schedule
The crossover utility vehicle (CUV), the second model to be built at the US$2 billion factory in Lingang, Shanghai, is expected to be delivered to mainland customers early next year. But industry analysts said the first batch of locally built Model Y cars could start rolling off the production line ahead of schedule amid Chinese buyers' mounting interest in Tesla cars.
Photos of a Model Y test car, being transported on a low loader on a highway in Yancheng, Jiangsu province, were widely shared on Chinese social media last week.
Two industry officials with knowledge of Tesla's China operations confirmed that the test vehicle was made in
Gigafactory 3
, Tesla's first plant outside the US and that its plans were going as per schedule.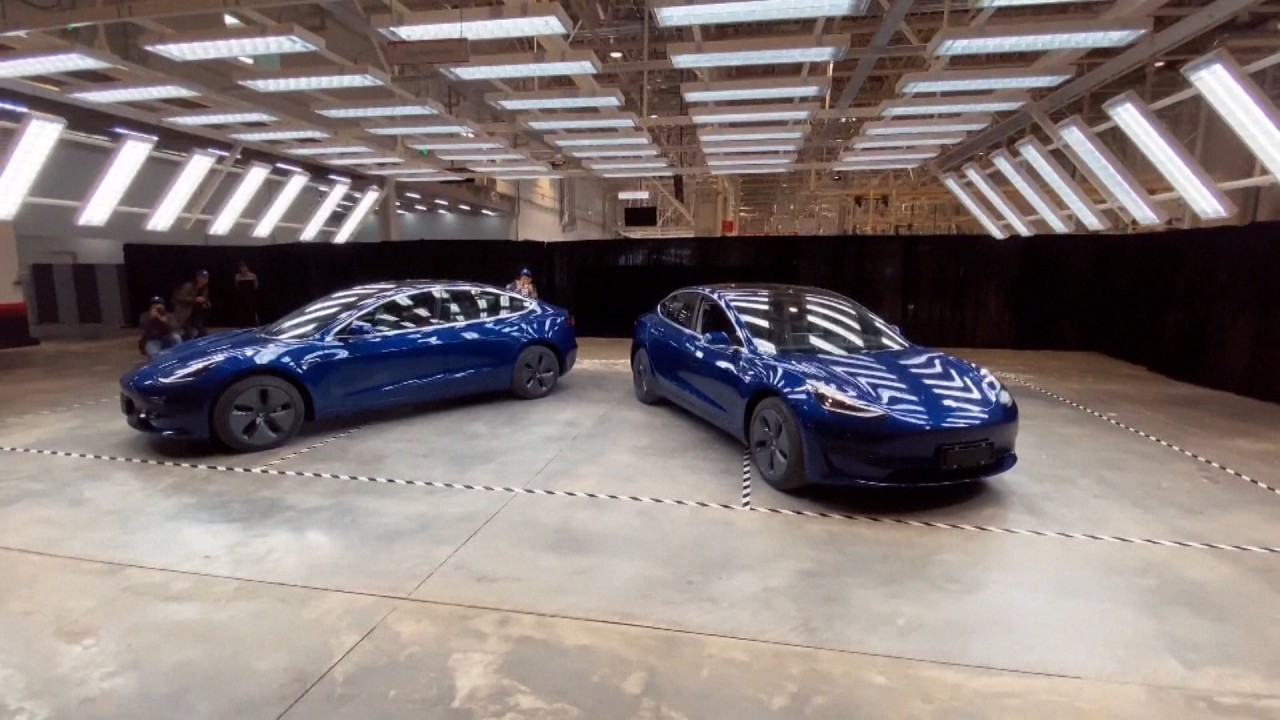 01:20
Tesla starts delivery of made-in-China cars
Tesla starts delivery of made-in-China cars
Tesla could not be reached for comment on Monday.
A sales manager at a Tesla showroom in Shanghai said mainland consumers were already showing keen interest in the Chinese version of the Model Y, which is yet to be unveiled.
"Based on its prices, Model Y is set to grab share from the existing domestic premium electric vehicle builders," said Gao Shen, a Shanghai-based independent analyst covering the manufacturing sector. "The new Model Y will be a stern challenge to the Chinese rivals."
Tesla began accepting pre-orders of the Chinese-made Model Y in early June, pricing the Long Range version at 488,000 yuan (US$71,200) and the Performance version at 535,000 yuan. The carmaker said on its Chinese website that the prices were subject to approval by mainland authorities.
China, home to a clutch of Tesla challengers, is the world's largest new-energy vehicle market, with the US electric carmaker becoming a runaway leader this year following the country's successful containment of Covid-19.
In June, Tesla delivered 14,954 Model 3 cars, representing 23 per cent of the total sales of pure electric vehicles, according to the China Passenger Car Association.
BYD
was a distant second, selling 4,106 Qin EV3 units.
The after-subsidy prices of models developed by Tesla's Chinese rivals start from 229,900 yuan for
Xpeng
's P7 sedan to 328,000 yuan for Li Auto's Li ONE SUV. NIO's ES6 SUV starts at 343,600 yuan.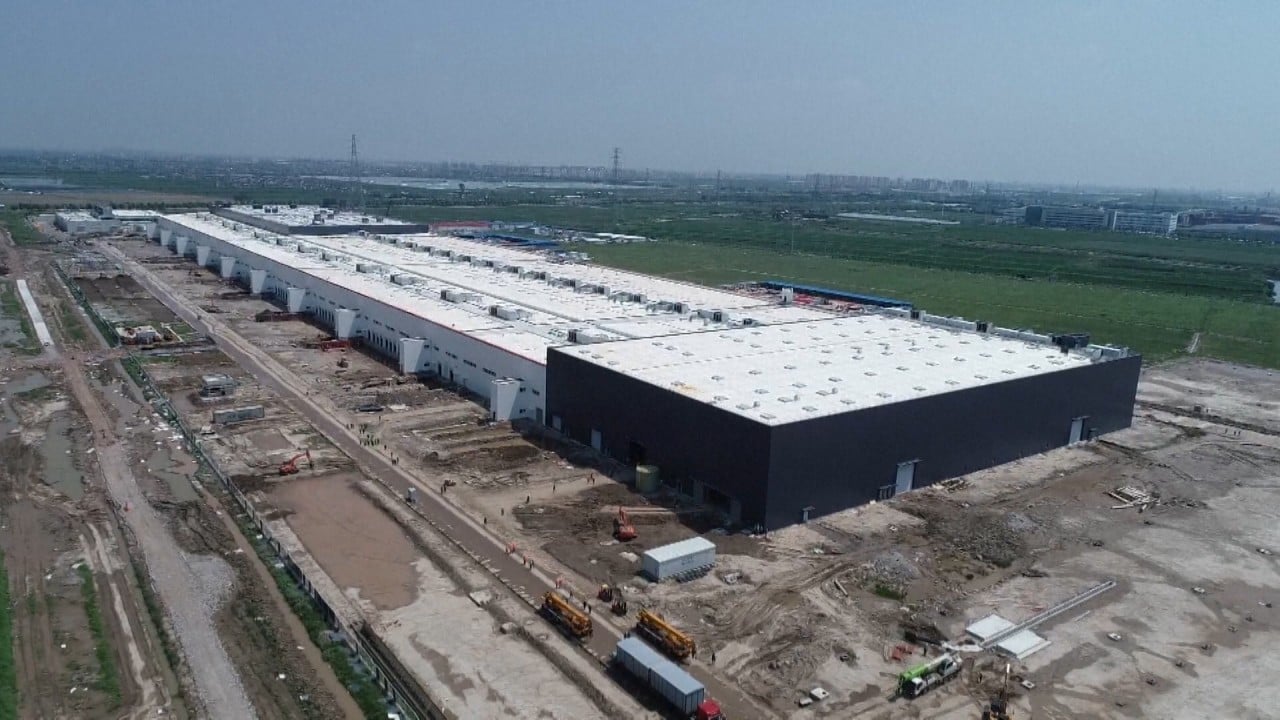 01:14
Tesla's first overseas car plant nears completion in Shanghai, outdoing US-China trade war tariffs
Tesla's first overseas car plant nears completion in Shanghai, outdoing US-China trade war tariffs
Analysts said Model Y could see big price cuts after the carmaker starts using an increasing amount of components supplied by local parts manufacturers. It is also likely to enjoy a 25,000 yuan subsidy granted by the mainland government to buoy sales of new-energy vehicles.
Tesla initially priced its Model 3 cars, the first model built in Shanghai, at 355,800 yuan last October before the plant started operation. A Model 3 now sells for 271,550 yuan after price cuts by Tesla and government subsidy.
The US carmaker is currently expanding the capacity of the Gigafactory 3 from the current 150,000 units a year to 250,000 to accommodate upcoming models like the Model Y, which is proceeding smoothly said sources. The plant will eventually have a capacity to produce 500,000 cars a year.
This article appeared in the South China Morning Post print edition as: Tesla turns up heat in China with new test vehicles